Gold has been doing extraordinarily well recently. So as a result, have you been wondering how to invest in gold stocks? If you have, you've come to the right article.
There are different ways to invest in stocks like gold. And you can also invest in gold directly if you prefer. In this article, we will look at the different ways you can invest.
We'll look at the various types of gold stocks and investments that there are and how to go about investing in them. By the end of this article, you'll be ready to invest in gold stocks and know how to invest in stocks in general too.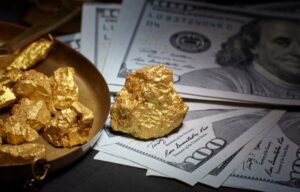 A Little Bit About Gold
The spot market price for gold was about $1,896 per ounce. Of course, if you're interested in investing in gold and don't know how to invest in stocks, you can buy bullion or other forms of the precious metal directly.
Overall, gold has done fairly well in 2022. At the very least, it's done far better than the stock market. It's not too surprising that when the stock market goes down, commodities like gold tend to go up. It's regarded by many as a safer investment.
So far in 2022, the S&P 500 index is down roughly 8%. Gold has always had a reputation as a safe haven investment. But with gold outperforming the markets this year, it has become much more than that.
How to Invest in Gold Stocks
People wondering how to invest in gold stocks may think there's only one right way to do it. But there are in fact multiple ways you can invest that have different pros and cons.
Three of the most common ways of investing in gold stocks are the following:
Individual Stocks
ETFs
Gold Mutual Funds
Let's take a deeper look at each of these three options.
Investing in Individual Stocks
Probably the easiest way to learn how to invest in gold stocks is to simply try to purchase an individual gold stock using a brokerage account like Robinhood or Merrill Edge.
To do so, you will need to make sure you sign up for one of these trading platforms. Unless you open a retirement account like a 401(k) or an IRA, this will likely be a taxable account, so keep that in mind.
Once you have opened your brokerage account, you will need to fund your account by connecting it to a bank account or another source of funds. Once you have funded your account, you can begin making trades.
You can purchase individual gold stocks available on the stock market within this trading platform. For example, you could decide to buy shares of Yamana Gold (NYSE: AUY) or Barrick Gold (NYSE: GOLD).
When you buy individual stocks, it is important to buy into a bunch of different industries and companies to diversify your portfolio. So you may also want to purchase some tech stocks, energy stocks or even pot stocks.
Investing in ETFs
Because diversification is so important, you may be interested in purchasing a gold ETF rather than individual stocks. Looking into ETFs is another way to learn how to invest in gold stocks.
ETF stands for "exchange traded fund," and these are funds of different stocks. So for example, when you buy a share of a gold ETF, you are buying pieces of a number of different stocks.
This strategy provides you instant diversification within the gold industry, which is one of the main advantages of buying an ETF. But it's not the only benefit.
Another one is that shares of ETFs trade on the stock market just like shares of individual stocks. So if you find one you want to purchase, it's very easy to scoop up shares right on your trading platform.
Some ETFs include SPDR Gold Shares (NYSE: GLD), iShares Gold Trust (NYSE: IAU) and VanEck Vectors Gold Miners ETF (NYSE: GDX). You can purchase shares of these ETFs right on Robinhood and other similar trading platforms.
Gold Mutual Funds
A third way to learn how to invest in gold stocks is through buying shares of a gold mutual fund, which is a pool of investments like an ETF, but with shares that don't trade directly on stock exchanges.
Mutual funds are pools of stocks or other assets that can either be actively managed or serve as passive investments. Buying shares of mutual funds is another good way to diversify your investments in gold stocks.
Many people are already invested in some mutual funds through retirement accounts like their 401(k), IRA or Roth IRA. You may already be invested in some mutual funds there too.
One advantage of holding mutual funds in your retirement accounts is that depending on the type of account, it can have positive tax consequences in the present. On the other hand, you have to be careful to watch out for fees that can eat into your investment returns.
Examples of gold stock mutual funds include Fidelity® Select Gold Portfolio (MUTF: FGDAX), VanEck International Investors Gold Fund (MUTF: INIVX) and First Eagle Gold Fund (MUTF: SGGDX).
Concluding Thoughts on Investing in Gold Stocks
As you can see, there are different ways for you to invest in gold stocks. And these methods can also apply to other types of stocks like oil stocks, another commodity you may be interested in.
Now that you've learned how to invest in gold stocks, you can start researching and find out which way of purchasing them makes the most sense for you. Happy investing!
---
Brian M. Reiser has a Bachelor of Science degree in Management with a concentration in finance from the School of Management at Binghamton University.
He also holds a B.A. in philosophy from Columbia University and an M.A. in philosophy from the University of South Florida.
His primary interests at Investment U include personal finance, debt, tech stocks and more.