Crypto
Immutable X Crypto: A Price Prediction Based on Its New Partnership
It's been rumored for months. But the meme stock of a generation has officially found a partner for its NFT marketplace. And this could be a big boon for the value of Immutable X crypto (IMX). Here are the details you need to know…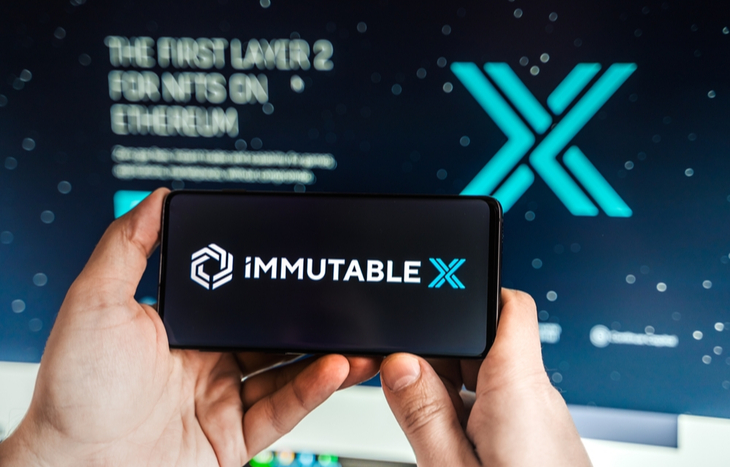 GameStop (NYSE: GME) recently announced it would partner with Immutable X – the company behind the NFT trading card game, Gods Unchained. The venture will result in up to a $100 million fund for game developers that use it. And it will result in GameStop's very own NFT marketplace. This marks its official entrance into the world of cryptocurrency and Web 3.0.
That being said, not everyone is thrilled about this partnership. GameStop's bread and butter is obviously its offerings in the gaming business. And if you were to draw a Venn diagram of gamers and NFT collectors, there's not a whole lot of overlap. This might be surprising to some. Afterall, at least part of GameStop's business is offering gaming-related tchotchkes. Funko Pop! figurines of Fortnite and Halo characters are a mainstay in GameStop stores.
But maybe – just maybe – gamers just haven't found the NFTs that speak to them yet. Perhaps in the not-too-distant future Zelda, Minecraft and Super Mario Bros.-related NFTs will break down that barrier. That is if this is the direction GameStop decides to go in. If so, that could be huge for its NFT marketplace and Immutable X crypto.
Will Immutable X Crypto Help Power the Next Big Online Marketplace?
That's the million-dollar question. What kind of market penetration will GameStop have with this move. At the risk of drawing the ire of the Bored Ape Yacht Club, NFTs are still fringy. Sure, even your mom has probably heard of them. But does she know what they are? GameStop could have the power to bring them into the mainstream. Well, at least the gamer version of mainstream.
Say what you will about OpenSea. But it simply doesn't have the name recognition that GameStop does. And if GameStop becomes the destination for NFTs in the future, it will also raise the status of the Immutable X project and Immutable X crypto in the process.
All of this is as big a gamble for Immutable X as it is for GameStop… If not more so. That's because Immutable X is laser focused on being the first layer-two scaling solution for NFTs on the Ethereum blockchain. This has the chance of opening up Ethereum's low scalability and doing away with gas fees associated with minting and trading NFTs.
The name of the game here is the Immutable X protocol combines thousands of sales records into a single transaction on the Ethereum blockchain. This will help massively with lowering the energy usage of Ethereum. Furthermore, Immutable has made a pledge to make up for the environmental impact it has by paying for carbon offsets. This is a big deal if it goes according to plan. And its partnership with GameStop will be its biggest test yet.
Should this NFT marketplace go off without a hitch, it will be all of the proof necessary of Immutable X's legitimacy. And that could propel Immutable X crypto to a double- or triple-digit value quickly.
The Big Complaint
As was mentioned above, not every gamer is crazy about NFTs. But not every GameStop investor is a gamer either. Some just "like the stock." However, some in the crypto community see Immutable X crypto as potential crypto scam that's merely taking advantage of the recent exposure. And there have been some questionable moves…
In light of the recent announcement, more than 40 million Immutable X crypto tokens were released into circulation. Normally, a big partnership announcement would drive prices up. But the deluge in new tokens actually drove prices down. This led to some sizable losses for those that have been holding from the get go. And it led some investors to accuse Immutable X of treating the news of its partnership as a round of funding.
However, with the increased exposure, it makes sense for Immutable X to release more of its tokens. If nothing else this provides liquidity to the markets. Sure, this drives prices down in the short-term. But nearly three-quarters of the total supply isn't even in circulation yet. What better time to add to circulation? And based on the trading volume alone, the move was probably warranted.
On top of this, it was already planned that a number of tokens would be unlocked monthly over the course of two years. So this was likely part of the plan long before the announced partnership with GameStop.
Furthermore, the chance that this is some kind of scam coin seems unlikely. The founders of Immutable X are the brothers James and Robbie Ferguson. Both were named Forbes 30 under 30 entrepreneurs. The chance that they would be willing to spoil their reputation to turn a quick buck on a scam seems unlikely.
The Bottom Line on Immutable X Crypto
To paraphrase Roaring Kitty himself, I like the token. In fact, I think Immutable X crypto could be a much savvier investment these days than GameStop. But that does come with a caveat. The Immutable X project is far from a done deal. And the actual release date of the GameStop NFT marketplace built on its technology is still many months away. So this is a very speculative investment.
Just because an announcement has been made, doesn't mean both have to stick to it. Even if the signatures on the contracts are dry, there are most likely enough provisions that either (or both) could pull out if they don't see eye-to-eye.
Additionally, a smooth roll out of the marketplace is no sure thing. However, if the two outfits see this partnership through to completion and they're able to pull off a glitch-free NFT marketplace, big things could be in store for the native utility token of the Immutable X protocol. If this all pans out smoothly, Immutable X crypto could easily be trading in the $50 range by the end of the year. And if things don't go so smoothly… Well Immutable X crypto could slowly fade away into the ether.
---