Investors think of grocery stocks, like Kroger stock (NYSE: KR), as defensive. A defensive stock is one that should hold up well in a market downturn. For instance, people still need to eat when the economy sputters or even enters a recession. Even if folks need to tighten their budgets, they'll still visit Kroger grocery stores.
This year, the U.S. economy is facing high inflation and supply chain constraints. Some analysts and other leaders think the U.S. and other foreign countries may see a recession sometime this year. The stock market may be sensing the same thing. The S&P 500 stock index is down this year. So is the Dow Jones index. The tech-heavy Nasdaq index is down more than the other two stock indexes.
If things get worse for the U.S. economy, defensive stocks Kroger stock may hold up better than other stocks. Investors buying defensive stock ahead of weakness could see their accounts perform than the stock indexes.
Kroger is a holding company for many different grocery stores. In addition to Kroger grocery stores, the company runs popular grocery banners like City Market, Fred Meyer, Meto Market, Pick'n Save and others. If you think the U.S. economy is headed for a rough year, Kroger stock is worth a look.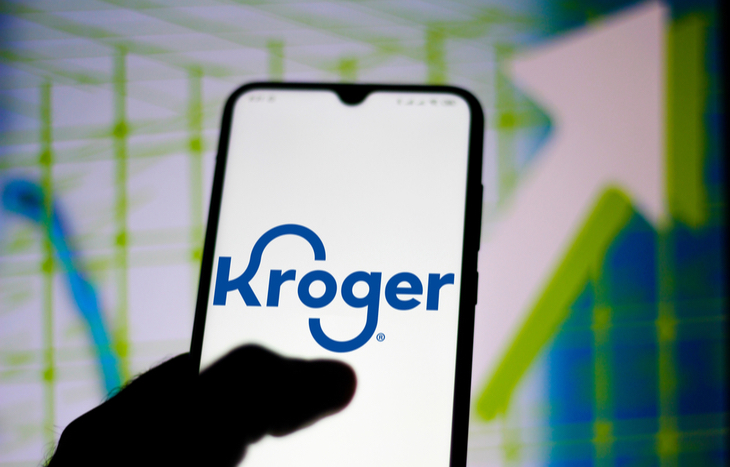 Is Kroger Stock a Good Buy?
Analysts believe Kroger stock is a 'Buy.' There are 19 analysts that have offered their opinion on Kroger stock over the last three months, and they like the stock.
A quick valuation of Kroger stock shows that it trades at a P/E ratio of 24x, much higher than its five-year average of 14x. The higher valuation may be because the stock is up 15% this year. The stock's rise is much better than other stocks. For instance, the S&P 500 index is down 14% over the same time.
Kroger stock doing better than the index may point to its defensive nature. Investors may be selling other stocks due to fear that they will continue to do poorly. At the same time, those investors may be piling into defensive stocks like Kroger.
Kroger stock also pays an annual dividend of $.84 per share. When you compare the dividend to the stock price, it comes to a dividend yield of 1.6%.
On top of the dividend, Kroger has returned earnings to shareholders through share buybacks. In 2020 and 2021, the company spent $1.3 billion and $1.6 billion to retire shares of Kroger stock. When companies retire stock, their share count goes down. By doing that, the company's future earnings are split between a lower number of shares. As a result, the stock's P/E ratio can increase.
Kroger Stock Forecast
Analysts making Kroger stock forecasts have an average price target of $58.30 for the stock. Kroger stock is currently about $52 per share. The average price target is about 12% higher than the current price.
Interestingly, the highest price target is $75, which is 44% higher than Kroger stock's current price. At the same time, the lowest price target is $47, which is only 10% lower. That could be another sign that the analysts are positive about Kroger's stock.
In a press release about Kroger's 2021 financial results, the company issued guidance for the full year 2022. The guidance showed that Kroger thinks same-store sales growth will be between 2% and 3%. Same-store sales growth is growth in existing stores.
Kroger's guidance also showed that the company thinks adjusted earnings per share will fall between $3.75 and $3.85. If Kroger's earnings per share guidance is right, the stock trades at a forward P/E ratio of about 14x. The lower forward P/E may indicate that Kroger stock is cheaper than its current P/E ratio.
Kroger stock analysts tend to agree with the company's earnings per share guidance. On average, the seven analysts forecasting Kroger's 2022 earnings per share think the company will earn $3.84 for the year. Over the last four months, one analyst increased their forecast.
In the press release, CEO Rodney McMullen said, "As we look to 2022, we expect the momentum in our business to continue and have confidence in our ability to navigate a rapidly changing operating environment. We are leveraging technology, innovation and our competitive moats to build lasting competitive advantages."
Kroger Stock Earnings
In 2021, Kroger had adjusted earnings per share of $3.68 and $.91 in the fourth quarter. In March, the company put out a press release showing financial results for the fourth quarter and full-year 2022.
Kroger stock analysts thought the company would only make $.73 in adjusted earnings per share for the fourth quarter. The company beat forecasts by $.18, a wide margin.
The press release showed the company had same-store sales growth of 4% without counting fuel sales. The same-store number was 14.6% higher than in 2019. The press release also noted that cost savings exceeded $1 billion for the fourth straight year.
In the press release, Mr. McMullen added, "Our strategy of leading with fresh and accelerating with digital propelled Kroger to record performance in 2021, on top of record results in 2020. We are incredibly proud of our associates who continue to deliver for our customers through the pandemic."
After Kroger reported its results, managers from the company hosted a webcast to talk about the full year and fourth quarter. When the managers finished their talk, they took questions from listeners. You can find a link to the replay of the webcast here.
Kroger News
Kroger is doing its part to help the community. In May, the company put out a press release saying that it made a $1 million grant to The Asian American Foundation. The press release noted that The Foundation is an incubator and funder committed to accelerating opportunity and prosperity for Asian American Pacific Islander (AAPI) communities.
Also, in May, Kroger put out a press release saying that it partnered with USO to bring mobile food programming to the military community. The press release said the partnership, the USO, and Kroger would provide nutritious meals to military members and bring them a taste of home, whether they're supporting natural disaster relief, serving in remote locations, or at basic training.
The company also added that since 2010, the Kroger family of companies, along with its generous customers and associates, have donated $35.3 million to the USO. Kroger is proud to be the largest USO contributor in the organization's history.
---