LAZR stock is down over 55% from its high of $40.98 per share earlier this year. But share prices are spiking on company plans to increase buybacks to over $300 million.
Luminar Technologies (Nasdaq: LAZR) is a leader in lidar autonomous driving. With this in mind, LAZR stock went public over a year ago via SPAC. The initial hype pushed share prices over 190% within a few months to reach ATH's.
At the same time, growth stocks are having a rough year, with 2020 leaders such as ARK Innovation ETF (NYSE: ARKK) down 25%.
Even more, the auto industry is moving swiftly as electric vehicles gain market share. Yet EV stocks are also taking a hit this year with competition creeping in. For this reason, investing in a supplier like Luminar might present a better long-term opportunity.
Having said that, LAZR stock looks to finally be breaking out of its downtrend with solid momentum going into 2022. Keep reading to learn why Luminar is trending and what to expect next.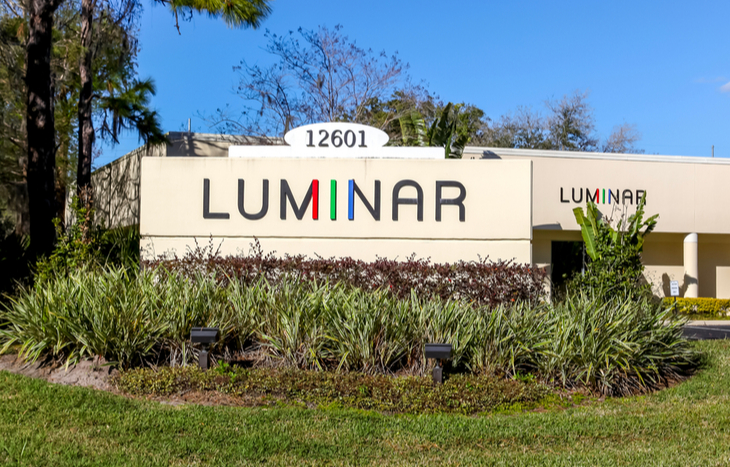 Why Is LAZR Stock Trending
The big news pushing LAZR stock higher is that the company plans to buy more stock. Also, several board members are planning to buy LAZR stock.
Luminar CEO Austin Russell is leading the charge, saying:
"Given our current position and our trajectory, we think our stock price has not reflected the wins and successes we've had over the past year since our public debut…" He also went on to say, "Today, we're putting our money where our mouth is by executing this significant purchase of shares as we accelerate our industry leadership."
As an investor, that's what you like to see from leadership. Since announcing on December 14, directors bought 42,926 shares for a total of $656,129.
The company plans to use the funds to strengthen its balance sheet and, in turn, boost growth. A few things the company can use the funds for.
Expanding production capacity
Accelerating software development
Advancing its technology roadmap
Expanding globally
So far, the move is doing exactly as management hoped by regaining investor confidence.
Q3 Earnings
Despite beating bottom-line results in Q3, Luminar slightly missed Wall St revenue targets. Still, LAZR stock total revenue grew 89% year-over-year (YOY) to reach $8 million.
At the same time, Luminar is still in its growth phase when financial results don't always show the full picture. In light of this, the company is executing at a high level while leading the industry into new territory.
In fact, this year, Luminar hit major milestones on its journey to mass production. Here are a few highlights:
Iris, the company's advanced sensor technology, is entering C-phase as development and tooling are near complete.
Luminar successfully developed its alpha version of the Proactive Safety functionality. The new software features emergency braking and assisted highway driving.
The company also hit its goal of six major commercial wins in 2021. This quarter, two leading AV companies, Embark Trucks and Kodiak Robotics, chose to use Luminar's tech.
Still on track to reach its goal of +60% annual growth in its order book for the year.
Furthermore, Luminar is strengthening its balance sheet with more cash ($544.9 million) and less cash spent ($37.5 million) than 2020.
A Big Partnership
In other LAZR stock news, the company is being chosen by Nvidia (Nasdaq: NVDA) to power its Drive Hyperion AV platform. The platform will use one long-range Luminar Iris lidar in its highway driving mode.
The partnership offers automakers a complete experience with Luminar's sensors and Nvidia's software. CEO Austin Russell praised the deal saying:
"The common thread between our two companies is that our technologies are becoming the de facto solution for major automakers to enable next-generation safety and autonomy."
With the AV market expecting to grow over 22% annually in the next few years, this can be a great partnership for Luminar. The news excited investors as shares of LAZR stock jumped over 30% after the event.
LAZR Stock Forecast – What to Expect Next
So far, Luminar is making a name for itself in the AV market. With significant progress in 2021, the company looks to maintain market control.
With big commercial partners and best-in-class technology, Luminar is firing on all cylinders. Yet LAZR stock is down over 44% this year as investors flee to safer investments.
At the same time, the broader market is selling off, and several high-growth names are down. In particular, industries that saw massive returns in 2020, like EV stocks and software, are giving some back as the market cools off.
In the long run, this could create a buying opportunity for a market leader that's just getting started. And considering self-driving is increasingly becoming a premium feature, Luminar is well-positioned to continue growing.
LAZR stock currently has an average price target of $28, showing over 60% upside from its current price. If the company continues executing the way it has in 2021, the valuation will look cheap today.
Moreover, Luminar's market cap is half that it was at the beginning of the year while achieving big goals. It's promising to see management and board members believing in the company while "putting their money where their mouth is."
---
Pete Johnson is an experienced financial writer and content creator who specializes in equity research and derivatives. He has over ten years of personal investing experience. Digging through 10-K forms and finding hidden gems is his favorite pastime. When Pete isn't researching stocks or writing, you can find him enjoying the outdoors or working up a sweat exercising.