Before getting into the heart of this Lucid Motors stock prediction, there is some electrifying news to report. First off, Lucid Motors (Nasdaq: LCID) has been turning heads with its up-and-coming luxury electric vehicle, the Lucid Air. For now, the car is only available to reserve, but prototypes of the "Tesla killer" can be found in plenty of YouTube videos. Not only does the Lucid Air look great; it promises a range of more than 500 miles.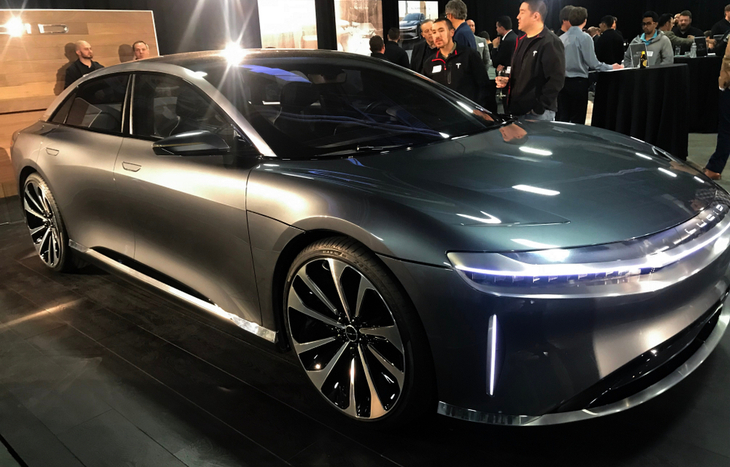 Before you get too excited, though, the Air is a high-end vehicle that will start at $69,900. That said, the first vehicle Tesla (Nsadaq: TSLA) released was the Model S, which starts at $84,490 today. But after that, Tesla released cheaper models. So it's possible Lucid could follow suit.
Given that Lucid is still in the very early stages of its life as an automaker, you might be wondering whether you should consider investing. This Lucid Motors stock prediction will take that question on and look at the good and the bad of investing in this new automaker.
What is Lucid Motors?
Lucid Motors is an electric vehicle manufacturer based in Newark, California. The company was founded in 2007, but at that time it was known as Atieva. Initially, it was focused on building batteries and powertrains for existing vehicle manufacturers.
It wasn't until 2016 that the company changed its name to Lucid Motors. The rebranding was part of its plans to build an all-electric vehicle of its own. At the time, it also announced plans for a manufacturing site in Casa Grande, Arizona. It plans to employ up to 2,000 people at the plant and produce as many as 130,000 cars per year when at peak capacity.
For now, those interested in buying the Lucid Air can configure one of four models on the Lucid Motors website. You can either join the waitlist for the vehicle or make a fully refundable deposit starting at $1,000. In addition to the long range Lucid is promising, the automaker says its luxury vehicle will be able to recharge for 300 miles of range in just 20 minutes.
Making a Lucid Motors Stock Prediction
Lucid hasn't started production of the Air yet. And the company went public on July 26th as part of the Churchill Capital Corp. IV special purpose acquisition (SPAC). This was a reverse merger. And the company's shares did see a bit of a spike shortly after its debut. This gave it a market cap of over $30 billion.
However, after reaching nearly $30 after the SPAC, share price began to slide.
So, what is going on? Not much, really — and perhaps that's the issue. After all, investors don't like uncertainty. Lucid announced 10,000 reservations of the Air in July. This accounted for $900 million in future sales. But those are only future sales as it hasn't yet begun production.
Nevertheless, while Lucid shares are down nearly 50% since their peak in July, the company is still valued at over $30 billion. While it is only promising one vehicle (with four trims) so far, investors remain relatively confident in Lucid. They still believe Lucid can match, and even best the performance of Tesla and other competitors. The company also promises its batteries will be more energy efficient than Tesla's… Yet another key performance indicator for EVs. All of this makes a proper Lucid Motors stock prediction quite difficult.
End of Lock-Up Period and Predictions
It's important to note that one of the reasons Lucid shares have dropped is due to the end of a lock-up period. There was a PIPE (private investment in public equity) included in Lucid's SPAC deal which allowed investors to purchase shares at a favorable price. In return, they would hold those shares for a set period of time, called a lock-up period. Those investors paid $15 a share at the time. The lock-up period ended on September 1st, 2021, allowing investors to sell their shares. (You can read more details about the agreement here.)
The important part though is sell is exactly what investors did post lock-up period. That caused the share price to fall by almost 11%. But now that the lock-up period has come and gone, so too has downward pressure on Lucid's share price.
As a result, there is a bullish sentiment around Lucid Motors stock. Investors remain enthusiastic about the Lucid Air's high performance and bleeding-edge technology. In addition, Lucid is expected to produce 20,000 vehicles in 2022. Those figures are key to this Lucid Motors stock prediction. Look for the share price to increase 20-30% over the next 12 months as Lucid begins and then expands its production.
Lucid Motors News
In 2021, Lucid announced plans to expand its Casa Grande plant by 2.1 million square feet. That plan coincided with an injection of $4.5 billion worth of capital… Leading to a $35 billion valuation for the company at the time.
In July 2021, it was also announced that the Public Investment Fund of Saudi Arabia would invest $20 billion in Lucid and thus own 60 percent of the company.
Also in July of 2021, we found out Lucid plans to produce the Gravity SUV. We don't yet know what the specs will be exactly. But we should be able to expect high performance just like the Air. That means potentially over 1,000 horsepower and a range of 400 to 500 miles.
Should You Buy Lucid Stock?
As mentioned, things are still in the very early stages for Lucid. Production has not yet begun; never mind what the public perception of Lucid's vehicles will be. But investor sentiment remains bullish. If Lucid delivers on what it is promising, its vehicles will be some of the most sought after on the road.
Of course, that is assuming you are optimistic about Lucid's ability to deliver on its promises. While there is no specific reason to have doubts about that, Lucid is new to vehicle manufacturing. Hence, it requires some faith that this new automaker is capable of mass-producing a luxury vehicle… Despite having never done so before. While Tesla certainly hasn't been a failure, it helped us see just how difficult it is to mass-produce a car from scratch.
Thus, if you believe Lucid can deliver, then the Lucid Motors stock prediction is would be a positive one. It already has prototypes of the Lucid Air and a large facility in Casa Grande. At this point, it is just a matter of scaling up and showing the world it can deliver on what it is promising. If it does that, it should be one of the best stocks to hold for years to come.
If you'd like to learn about other investment opportunities in the electric vehicle space, we suggest signing up for the Profit Trend e-letter. In it, engineering strategist David Fessler keeps readers up to date on the latest breakthroughs in the energy sector. All you have to do it enter your email address in the box below to get started.
---
Bob Haegele is a personal finance writer who specializes in investing and planning for retirement. His hefty student loan burden inspired him to pay off his loans, and now he's helping others get their finances in order. When he's not writing, he enjoys travel and live music.