The marijuana banking bill has been reintroduced in the House. It was initially introduced back in 2019. The proposed law was widely celebrated. It had bipartisan support. In fact, the vast majority of Congress voted for it. Our own Matthew Carr wrote of the significant possibilities shortly after the 321-103 vote, saying…
This was historic for the industry! And it takes us one step closer to ending prohibition in the United States… Soon, cannabis companies may no longer be prohibited, penalized or discouraged from being provided financial services.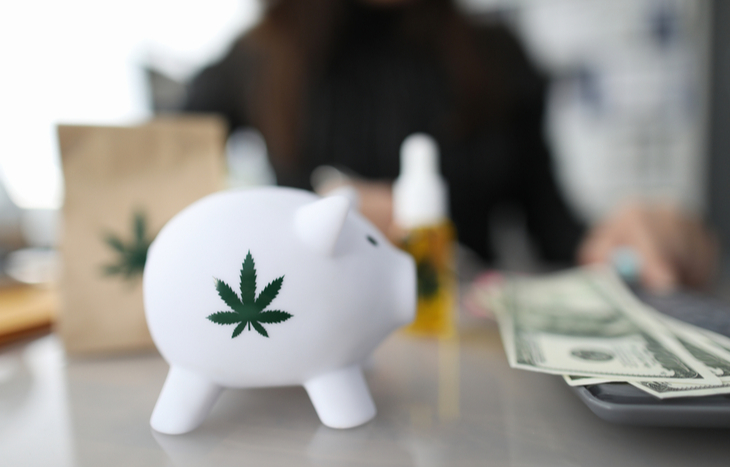 Despite all the support, the Secure and Fair Enforcement (SAFE) Banking Act languished in the Senate. And like that, the marijuana banking bill was no more. For those in the industry, it was discouraging to see this progressive and door-opening legislation simply fade into oblivion.
The new law presented the chance for banks to work with legal marijuana businesses without the fear of being sanctioned. If enacted, it would make it a whole lot easier for dispensaries, growers and cultivators to take out loans. They would be able to make deposits and withdrawals. Plus, they wouldn't have to rely on cash as their primary means for transactions. In other words, they could do regular banking stuff… like every other legal business in the country.
But alas, the bill was lost in the shuffle. However, Sens. Jeff Merkley and Steve Daines have brought the bill back to life. If pushed through into law, it could have major impacts on the industry. And investors should keep a close eye on this…
Ripple Effects of the Marijuana Banking Bill
One of the obvious effects of giving marijuana businesses banking access would be increased safety. Sen. Merkley said in a press release…
No one working in a store or behind a register should have to worry about experiencing a traumatic robbery at any moment,
Because banks deny access to most marijuana businesses, they're forced to operate using cash. This makes tax evasion more likely. And it also exposes businesses to an increased risk of robberies.
In Sen. Merkley's home state of Oregon dispensaries are prime targets. In Portland alone, cannabis shops have lost more than $500,000 to theft in the last year. And at least one marijuana shop employee has been killed during a robbery.
In Colorado, where recreational marijuana is also legal, armed robberies are growing increasingly common. Dispensaries are easy to target. And it's usually a safe bet that there will be cash on hand. And the word is getting out. In one recent robbery, a shop's attorney told news outlets that it appeared the robbers were military- or law-enforcement-trained. These aren't just smash-and-grabs when nobody is around. Lives are at risk and being lost. And this is at least in part due to the lack of a proper marijuana banking bill. According to Sen. Daines…
Montana businesses shouldn't have to operate in all cash – they should have a safe way to conduct business… My bipartisan bill will provide needed certainty for legal Montana cannabis businesses and give them the ability to freely use banks, credit unions and other financial institutions without the fear of punishment. This in turn will help increase public safety, reduce crime, support Montana small businesses, create jobs and boost local economies.
Consequences Beyond Safety
If put into place, this marijuana banking bill might not only reduce robberies. It could also allow U.S.-based marijuana companies to list on the Nasdaq and the New York Stock Exchange. Both exchanges have maintained a stance against listing marijuana-associated companies because the product is still illegal at the federal level.
However, proper banking access could be enough to change those exchanges' minds. While many in the industry think that removing marijuana from the list of Schedule I controlled substances would be more helpful, a marijuana banking bill is more likely to pass expediently.
Meanwhile, institutional investors have been chomping at the bit to invest in U.S.-based marijuana companies. If granted access, it could truly open up the floodgates and change everything about how the industry runs and operates in the U.S.
All of this would allow marijuana companies access to capital markets. And companies with potential (that have been able to avoid being robbed) would be able to scale up more efficiently… like any other business in the country.
The Bottom Line on the Marijuana Banking Bill
There's good reason to be optimistic about the likelihood of the current marijuana banking bill passing. It once again has bipartisan sponsorship and support. The current SAFE Act also has 27 cosponsors in the Senate.
If the bill passes in its current state, it could be a big step forward for the marijuana industry. And there are lots of U.S. marijuana companies listed over-the-counter that would love the chance to uplist. And that could allow them to grow and expand even faster.
As Matthew Carr pointed out, the marijuana industry is booming… and that's while it's been operating without banking access and in a legal gray area. The SAFE Act could be a major shot in the arm for the entire industry. It would make it safer for businesses to operate. And it would help shed another layer of the stigma that continues to hang over the industry.
If you'd like to keep a close eye on the marijuana industry, we suggest signing up for our Profit Trends e-letter. In it, Trends Expert Matthew Carr keeps an ever-watchful eye on the cannabis industry and shares important news and updates about emerging trends. On top of that, these marijuana stocks could see a boost in share price.
---
Matthew Makowski is a senior research analyst and writer at Investment U. He has been studying and writing about the markets for 20 years. Equally comfortable identifying value stocks as he is discounts in the crypto markets, Matthew began mining Bitcoin in 2011 and has since honed his focus on the cryptocurrency markets as a whole. He is a graduate of Rutgers University and lives in Colorado with his dogs Dorito and Pretzel.