Last year was a low point for many marijuana stocks. And to be fair, 2022 isn't off to a great start. Nonetheless, the cannabis industry is firing on all cylinders. That's these marijuana penny stocks look like they're trading at a discount.
We've been researching this industry since it was listed on the Nasdaq. And there are more investing opportunities than ever before. The stocks listed below provide direct exposure to the cannabis industry.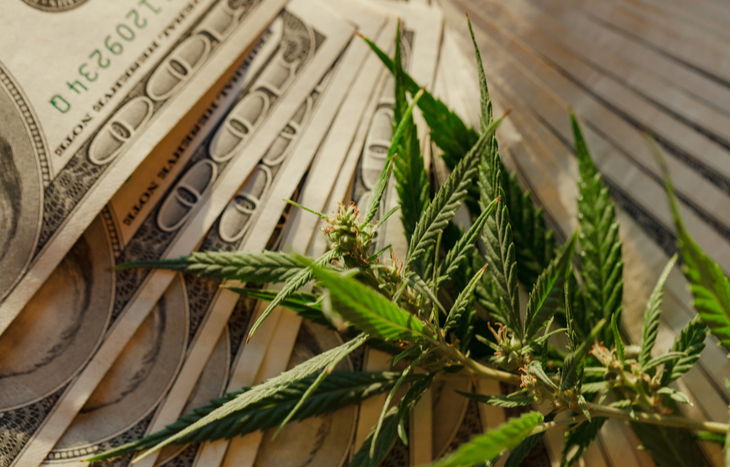 Top 6 Marijuana Penny Stocks
Cannabix Technologies (OTC: BLOZF)
Medical Marijuana Inc. (OTC: MJNA)
Namaste Technologies (OTC: NXTTF)
Terra Tech (OTC: TRTC)
CannaGrow Holdings (OTC: CGRW)
Choom Holdings (OTC: CHOOF)
The stocks on this list trade over the counter (OTC). They're on less regulated exchanges than the New York Stock Exchange or the Nasdaq. As a result, information flow and trading volume is often lower for these companies.
For these reasons, there's more risk with penny stocks… but there's also a higher chance of share mispricing. This creates greater opportunities for investors who do their due diligence.
To get started, let's take a closer look at the companies behind these marijuana penny stocks. There are lots of irons in the fire…
Marijuana Company Highlights
Cannabix Technologies is a Vancouver-based technology company. It's developing tools to detect THC in breath for use by law enforcement and in the workplace. In January 2021, Cannabix announced that it had gained a U.S. patent entitled "Cannabis Drug Detection Device."
As marijuana use becomes more common, demand for testing of recent marijuana use should climb. And Cannabix is gaining momentum with its breathalyzer technologies. This makes it one of the most exciting penny marijuana stocks to watch.
Medical Marijuana Inc. holds the title as the first publicly traded cannabis company in the U.S. It's a holding company with subsidiaries that make and sell different hemp-based products. The company was also the first to deliver prescription CBD products to treat epilepsy, Alzheimer's disease, Parkinson's disease, chronic pain and migraines.
Another reason Medical Marijuana Inc. made the cut is that it was the first to bring medical cannabis products abroad to Mexico. The company is expanding into many countries. It's definitely a great penny marijuana stock to consider for international exposure.
Also, if you're interested in larger marijuana companies, check out that link. You'll find 10 of the top investment opportunities in the sector. They're more established companies but still have plenty of upside potential.
Namaste Technologies is based out of Toronto and has offices around the world. It has one of the world's leading online platforms for cannabis education and products. It also has an impressive management lineup. The CEO alone has close to 20 years of software development experience.
Last year, Namaste also announced that it would acquire the remaining 49% of CannMart Labs. This will help the company produce in-house branded Cannabis 2.0 products. CannMart has one of the only few facilities in Canada with BHO extraction, a leading extraction technology.
Terra Tech is a cannabis-focused agriculture company. It's a leader in the industry that's cultivating and crossbreeding strains to treat different ailments. This marijuana company is also vertically integrated, which can help lower costs and lead to higher profits.
On the dispensary side, Terra Tech focuses on providing high-quality products. Consistency in each patient's experience is also a goal. These high standards help make Terra Tech a marijuana penny stock that's primed for growth.
CannaGrow Holdings operates in Colorado's legal cannabis industry. It designs and builds grow facilities. The company also offers full staffing services, led by a team of botanists, horticulturalists and industry pros.
CannaGrow's launch project, Colorado Buffalo Ranch Facility I, in Colorado's Huerfano County, has exceeded expectations. Within the first month, the company planted clones and seeds to reach its limit of 1,500 plants. Since then, there hasn't been much press on the company… but if the right update comes out, that could send its stock soaring.
Choom Holdings is focused on building a recreational cannabis business across Canada. To do this, the company is curating an assortment of products and brands. Choom has hired the design team behind some of the most recognized stores in Canada.
In 2020, Choom announced the acquisition of Phivida. This move is helping Choom improve its digital growth strategy. It's collecting more data and using it to make better decisions for customer experience and sales.
Penny Stock Risk and Opportunities
As mentioned, penny stocks don't have as much information available as larger public companies. There are also fewer analysts that track these companies and the trading volume is lower…
As a result, we often see larger price swings. So investing in marijuana penny stocks can be a double-edged sword. They have the potential for big gains, but also for big losses.
To minimize the downside risk, diversification lends a hand. If you invest in multiple marijuana penny stocks, it can help reduce big swings. And if that's a route you're interested in, check out these top marijuana ETFs. If high risk is what you're looking for, though, feel free to make some big bets.
---