The MOD Pizza IPO is coming to the market. The company just submitted a draft for its public debut. So, let's look at the details…
Mod Pizza IPO: About the Business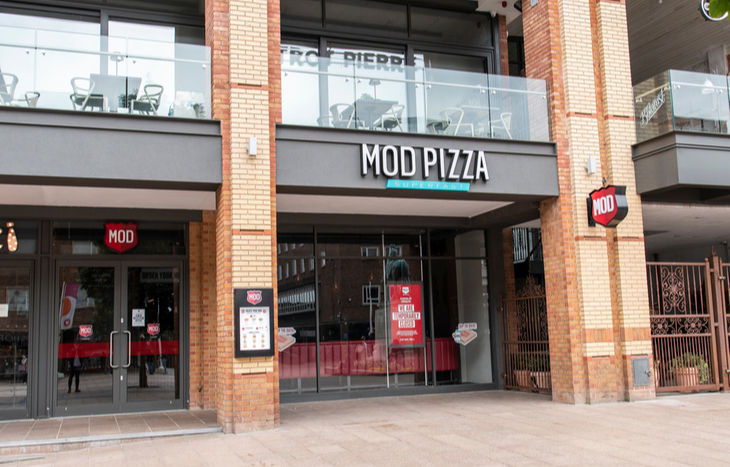 In 2008, Scott and Ally Svenson founded MOD Pizza in Seattle. A pioneer among fast-casual pizza brands, MOD – short for Made On Demand – was one of the first to enter the market. People often refer to the chain as the "Chipotle of pizza."
MOD Pizza offers artisan-style pizzas and salads. Each one is individually made, ready in minutes and made to order. While waiting in line, customers can choose from over 30 topping choices at no additional charge.
MOD Pizza is one of the earliest fast-casual pizza chains. Moreover, a big part of the company's success is its people-first culture, inclusiveness and opportunities for internal promotion. MOD Pizza's website states…
From above-industry pay and benefits, to hiring people with disabilities and those in need of a second chance – our ethos is deeply rooted in acceptance, opportunity and development. The result? An amazing spirit of individuality, teamwork and service has emerged. It's our culture of doing good – and it's catching on.
It's no surprise the chain has seen rapid expansion over the last few years. Today, MOD Pizza is among the fastest-growing chains in the industry. However, the company faced growth challenges due to COVID-19.
Mod Pizza Growth Impacted by COVID-19
Before the pandemic, MOD Pizza was on a growth streak. The company raised $160 million in funding in 2019 and announced plans to increase its store count to 1,000 locations by 2024. Unfortunately, the pandemic slowed growth plans. Still, the company opened 22 new locations in 2020, compared to 64 in 2019. The chain opened its 500th store in May 2020.
MOD Pizza's investments in online channels in 2019 lessened the effects of COVID-19. The company released the MOD Rewards program in 2019 as part of its expansion into digital offerings. In addition, the company partnered with food delivery services and offered curbside pickup for to-go orders. This helped the company bounce back from the pandemic and resulted in 135% growth in digital sales.
Scott Svenson, co-founder and CEO of MOD Pizza, stated that the pandemic helped the company come out stronger…
Not only did we successfully manage through the crisis, but we improved the business in multiple ways that will help us emerge from this crisis stronger than ever. We, therefore, enter 2021 with immense optimism about the future as we look forward to the opening of our 500th location and a pipeline of operational improvements and innovations that will further enhance the Squad and customer experience.
These initiatives help position the company well for the future. The MOD Pizza IPO could be an intriguing prospect for investors. Let's examine the company's finances first…
Mod Pizza Financial Highlights
The MOD Pizza IPO filing is confidential, so finances are not publicly available yet. However, here are some highlights from the company's 2019 and 2020 year-end results…
In 2019, system-wide sales grew 24% from 2018 to reach $493 million. However, in 2020, MOD Pizza recorded $461 million in system-wide sales, representing a 5% decline from 2019.
MOD Pizza's 2019 net revenue reached $393 million, up 26% from 2018. In 2020, the company's net revenue dropped to $388 million. However, digital revenue rose nearly 275% in 2020, representing approximately 40% of sales.
In 2020, the MODS Rewards loyalty program reached 2 million members. The program played a key role in responding digitally to COVID-19. During the pandemic, rewards members remained a reliable source of demand, accounting for more than 20% of system-wide sales.
So, what are the filing details for the MOD Pizza IPO?
Mod Pizza IPO Filing Details
The company recently announced steps toward the MOD Pizza IPO. The company has confidentially submitted a draft to the Securities and Exchange Commission (SEC). ​​In other words, the IPO date, price range and offer shares are unknown. Additionally, the company didn't announce a market or ticker symbol.
The company plans for the IPO to take place after the SEC review process. So, investors should start preparing for the public debut. You can learn more about the IPO process here in this step-by-step guide to going public.
Check back here for the latest updates on the MOD Pizza IPO. Otherwise, for more food-related investing opportunities, check out the Freshworks IPO and Sweetgreen IPO. Also, check out these top 6 restaurant and fast-food stocks.
As always, make sure to research before you invest. IPOs can be volatile for the first few months and share prices are constantly changing. Furthermore, if IPO investing interests you, check out our top recent IPOs and our IPO calendar. We update the calendar daily to give you the latest news on upcoming and filed IPOs.
---
Aimee Bohn graduated from the College of Business and Economics at Towson University. Her background in marketing research helps her uncover valuable trends. Over the past year, her primary focus has been researching IPOs and other trends.