Nestlé stock is a Swiss company. And, the largest food business in the world. That is, measured by revenue and other metrics, since 2014. It formed in 1866, and first called the Anglo-Swiss Milk Company. Founded by Henri Nestlé, the Farine Lactée was his first product. It was a sort of infant formula. Nestlé has 354 factories and operates in 79 countries. Also, it employs around 339,000 people.
In 2021 Nestlé ranked 1st among the world's food and drink companies. And this award is the 2021 Access to Nutrition Index. Nestlé stock trades on a couple exchanges. Including the Swiss and OTC markets.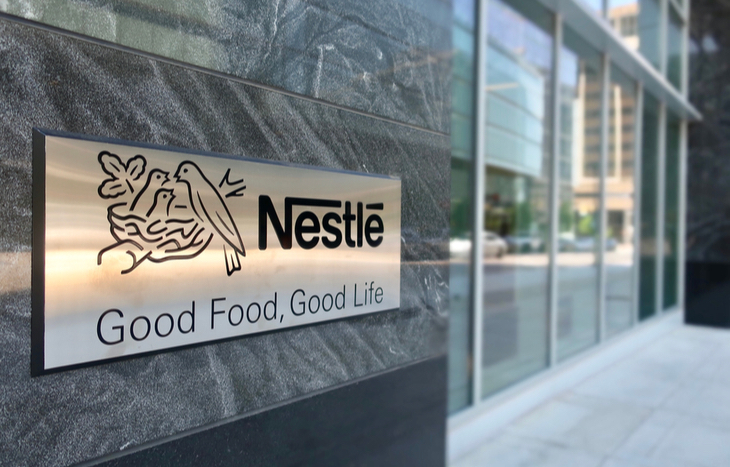 A Little More About Nestlé Stock
Nestlé headquarters in Vevey, Switzerland. and their products cover several areas. Some of those include bottled water, cereals, pet foods and snacks. Plus, Nestlé's portfolio consists of over 2,000 brands. As a result, 2021 revenue topped out at well over $94 billion USD. And with a market capitalization of over $338 billion?
Nestlé is the largest food company in the world.
Nestlé's stock has been one of the top performers in the food and beverage industry. The company's share price has almost doubled in the last five years on the OTC market. And, more than doubled over the past five years on the Swiss Exchange. As a result, Nestlé has become one of the best-performing stocks on both platforms.
So, investors have drawn to Nestlé's strong results year after year. Because the company has delivered strong earnings growth. And, share price appreciation. Plus, Nestlé is a dividend aristocrat. Which means it has increased its dividend payout for more than 25 consecutive years. Nestlé stock's dividend yield is currently around 2.3%.
And I mentioned they're listed on the OTC market. Nestlé stock trades on the over-the-counter (OTC) market. This means that it is not traded on a formal exchange like the New York Stock Exchange (NYSE). You can buy and sell it through brokerages that specialize in OTC stocks. Here's more info about how to trade OTC stocks.
Stock History
Nestlé has a long and storied history. It went through several different logos and brands. And Nestlé's first product was Farine Lactee. It was a type of infant food made from cow's milk, wheat flour and sugar.
In 1905, Nestlé merged with Anglo-Swiss Condensed Milk Company. Which brought such iconic brands as Nescafe and Carnation into the Nestlé family.
Nestlé stock continued to grow throughout the 20th century, acquiring many other companies. And, eventually became one of the largest food and beverage companies in the world. Nestlé's stock has performed well in recent years. And the company will likely continue to grow.
Nestlé Stock Price
Nestlé has had its ups and downs in the stock market throughout the years. Of course, COVID-19 had a say in price. But, after a quick bearish hiccup, its price kept on climbing. By December 2021, Nestlé stock reached its current all-time high. So, it's had some shallow ups and downs in the stock market. But, it has remained consistent in gaining shareholder value. Nestlé's investors have seen a return of over 67% in the last five years.
And Nestlé stock is giving a great opportunity to buy right now. Because it has been correcting from its all-time high, there's a bear to take advantage of. So, I expect Nestlé's strong performance to continue.
Nestlé Stock News
Recently, Nestlé announced that Luca Maestri and Chris Leong will join its Board of Directors. And, this news has likely caused Nestlé's stock to rise.
Maestri is the current Chief Financial Officer (CFO) of Apple. And he has been with Apple since 2013. He's even helped steer the company through some tough times. Including the iPhone "batterygate" scandal.
Leong is Schneider Electric's current Chief Marketing Officer. She has been serving in that role since 2015. So, it's safe to say she's helped the company grow.
With Maestri and Leong on Nestlé's Board, investors are betting that the company is in good hands. And this information should help boost Nestle's price significantly. Both now and in the future.
And here's another recent announcement from Nestlé stock. They've been increasing their agricultural efforts. As oil prices have risen, so has the price of fertilizer. This has caused a rise in food prices as well. And Nestlé's increased agricultural efforts are helping offset some of these rising costs. Or, maybe they have something else planned.
Either way, it's a good piece of info to have. Because it shows Nestlé is responding well to current events. And making sure they're prepared to thrive.
Nestlé Stock Outlook
Nestlé is a good investment for those who are seeking consistent, long-term growth. Because their stock has been on the rise in recent years. And I'm confident it'll continue to expand in the years ahead, too.
They're a company that provides goods that are necessary, no matter what the market does. So, it makes sense that when times get tough, Nestlé stock bounces back quickly. They've been around for over 150 years. And in that time, they've built a strong reputation. One that shows they're a reliable source of high-quality products. This reputation has helped Nestlé weather many storms, including the 2008 financial crisis.
Nestlé stock is currently undervalued, making it a great time to buy. And they have a strong track record of bouncing back from difficult situations. So, investors can be confident that Nestlé will weather the current market conditions. And come out ahead.
Conclusion
Are you looking for an investment that provides necessary goods? How about one that comes out ahead no matter what the market does? Nestlé is the right choice. Because they've been around for a long time. They've established a reputation for providing high-quality items that are consistent and dependable. This reputation has helped Nestle weather many storms. And one of those is the recent 2020 market crash. And even better, come out ahead.
Nestlé's stock is highly undervalued, making it an excellent opportunity to buy. On top of that, it's obvious they are strengthening the leadership within. Thanks to Nestlé's reputation and history, Nestlé stock is a safe bet. Especially for anyone looking for a reliable investment.
---