Ecommerce is a vast and growing industry. In fact, online shopping is now one of the most popular activities, with global e-commerce sales expecting to grow nearly 50% by 2024. But, the latest Newegg (Nasdaq: NEGG) stock news suggests the company is much more than just another online retailer.
Best known as an electronics e-retailer, Newegg serves a customer base of +40 million in over 20 countries. Additionally, the online platform offers four crucial services, including:
Logistics
Marketing
IT Support
Customer Service
With this in mind, Newegg offers the most complete tools for sellers to host its products. The Newegg DTC program allows vendors to control pricing, inventory, and more to help them get closer to consumers.
That said, the company has riled up investors since going public via SPAC in May. After becoming publicly traded, Newegg was dubbed a "meme stock" after rallying over 500% in less than a month.
Since Newegg's explosive rally, the stock has fallen back to earth, dropping 78% from its highs. Can the latest Newegg stock news turn things around? Let's take a look.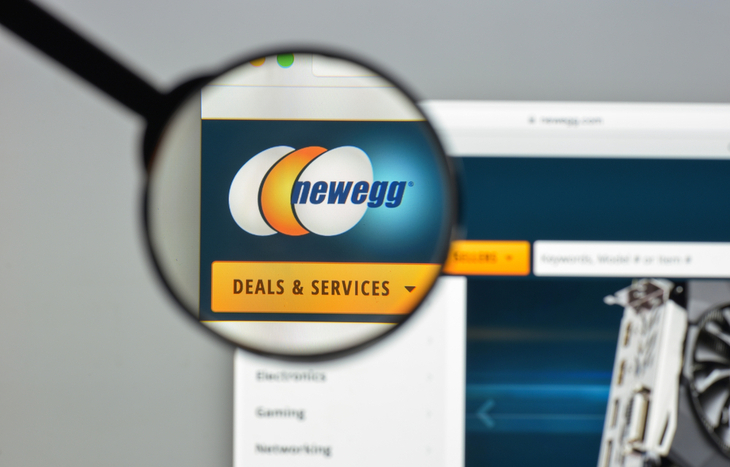 Newegg Stock News – Becoming a Meme Stock
It wasn't long after its merger that Newegg was trending on social media, particularly the Reddit crowd. The infamous community of stock traders behind GameStop (NYSE: GME) and AMC Theaters (NYSE: AMC).
But, Newegg's rise to fame comes differently than the others. The new interest came as a result of the company having supply of hard-to-find graphics cards. In particular, the Nvidia (Nasdaq: NVDA) GeForce RTX 30, popularly used for crypto mining and gaming, was in limited stock following its release.
Investors took the Newegg stock news as positive in regards to its inventory. Traders took to social media as the news spread of the supply, and Newegg stock was off to the races.
Since then, the stock has been relatively quiet. In fact, Newegg stock is bouncing in a range of $12 – $20 in the past three months.
Teaming up With PromoteIQ
In the latest Newegg stock news, the company is planning to partner with PromoteIQ. The move comes as the company looks to further its tools for vendors.
The partnership gives Newegg sellers the ability to connect with shopping customers. In other words, it provides vendors with extra marketing tools to enhance brand awareness.
Furthermore, sellers will also have access to new data into how their product is performing. Attracting online sellers is a competitive industry. Anything that can give them a leg up can help further their market share.
2021 Gametober
As a leading online tech e-retailer, Newegg has the unique ability to connect with online consumers. It also gives them the ability to support its sellers.
For instance, this past month, Newegg ran its 'Gametober' to support the large number of gamers that use the site. The promotion ran the entire month of October, featuring deals on gear and devices.
As analysts predict the gaming market will reach $314 billion by 2026, Newegg has a lot of room to grow. If they can continue attracting gamers, then the company might be able to create a niche market for itself.
Introducing 'Newegg Live'
The e-commerce platform makes it easier than ever for sellers to connect with customers with its mobile Livestream feature.
The new platform allows vendors to connect with customers through its live-streaming app. During the session, users will have access to exclusive deals and the ability to engage with hosts.
Although the app is currently in beta, Newegg is expected to scale production later this year. Moreover, the company is running live streams weekly as a way of promoting the service.
Keep reading for more information on Newegg stock news.
Newegg's First Half 2021 Financial Results
During the first half of the year, Newegg grew its business by building strong customer relationships and maintaining solid inventory. Not only that, but by furthering its relationships with vendors, the company is getting customers the products they need.
With this in mind, here are a few highlights from the report.
Net Sales: Grew by nearly 40% to $1.2 billion from the first half of 2020.
Net Income: Increased 14% to $21.6 million, or $.05 per share.
Unique Active Customers: Reached $4.2 million.
Repeat Buy Rate: 32.5%
Average Order Size: $359
All in all, the report shows the company is growing its market position while retaining nearly a third of its customer base. So far, Newegg's strategy is paying off with growth accelerating in the past year.
Newegg's CEO Anthony Chow had this to say about the results:
"Today, due to the successful execution of our strategy, Newegg is a much stronger organization and well-positioned to take advantage of several growth opportunities…"
Does The Latest Newegg Stock News Suggest It's Time to Buy?
Most people think of Amazon (Nasdaq: AMZN) or Alibaba (NYSE: BABA) for e-commerce. But, with the recent focus on tech and loyal customer base, it's looking to carve a niche for itself.
And on top of this, recent Newegg stock news shows the company is doing everything it can to further its position. Through excellent supplier relationships and focusing on the customer experience, the e-commerce platform is making a name for itself.
Moreover, the company's innovative platform is continuing to attract new vendors while offering a customer base of over 40 million shoppers. If Newegg can continue growing at this rate, look for the company to continue trending on socials.
Keep up with the latest Newegg stock news with Trade of the Day. Enter your email below, and you'll receive a free newsletter highlighting the events moving markets daily. Be the first to know and sign up today!
After an extended drawdown since going public, Newegg looks to be finally breaking out of its downtrend. Although the company doesn't have its next earnings scheduled, we should see clearer results then.
---
Pete Johnson is an experienced financial writer and content creator who specializes in equity research and derivatives. He has over ten years of personal investing experience. Digging through 10-K forms and finding hidden gems is his favorite pastime. When Pete isn't researching stocks or writing, you can find him enjoying the outdoors or working up a sweat exercising.