Crypto
The Only NFT Cryptos That Are Worth Buying
Over the past year or so we've seen some slight maturation in the NFT space. Older NFT projects are starting to grow their ecosystems, which has led to the creation of a few NFT cryptos. For the most part, these native cryptos act as a currency within their respective community. They also sometimes come with ownership rights and voting power.
Right now, the market cap for NFT cryptos is around $33 billion. The global market cap for all cryptos is closer to $2 trillion. This means that NFT cryptos make up under 2% of the total crypto market. It's safe to say that this space is still very, very young. As such, many of these projects and coins are still a little bit obscure, which makes them risky. However, there are five projects that are actually starting to gain real traction. These projects are very legitimate and definitely worth keeping an eye on in you're interested in the NFT space. With that said, let's examine the only NFT cryptos that are worth buying (ranked in order!).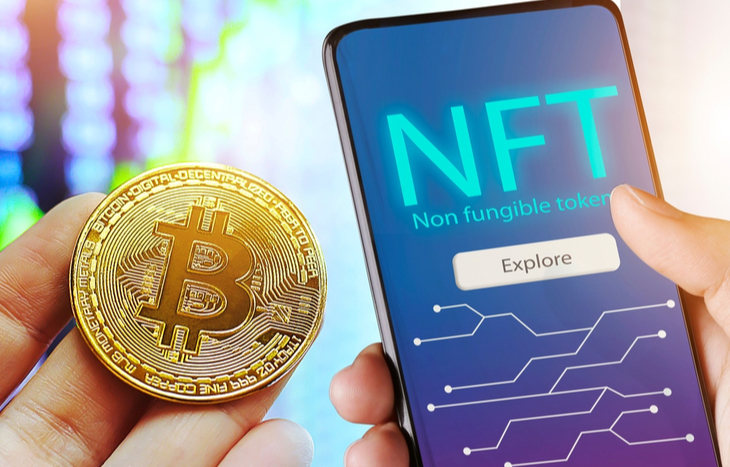 NFT Cryptos
No. 5 The Sandbox Game
The Sandbox Game is currently one of the top metaverse projects. It is mainly a game, however, it also lets players buy plots of land  as well as customize their avatars. These land plots are NFTs minted on the blockchain, which allows for true ownership of the digital land. For this reason, The Sandbox Game has gained momentum in the investment community.
This metaverse has raised $93 million in funding led by SoftBank. It also partners with Snoop Dogg, DeadMau5, Atari, Adidas, and more. The Sandbox metaverse is powered by SAND, which currently has a market cap of $3.5 billion. If it continues to raise money at this rate, there's a good chance that it could be one of the top NFT cryptos to own in the coming years.
No. 4 Theta Network
There are two main reasons that Theta is one of the top NFT cryptos to buy. First, Theta Network is tackling a massive need in the market. Second, it has an elite team of managers and advisors.
Theta Network is a decentralized peer-to-peer video and entertainment blockchain. It will be able to offer improved video delivery at lower costs. This solves the very expensive problem of delivering high-quality video to remote parts of the world. Theta could potentially be the future of video streaming on the internet.
This project was founded by Steve Chen, who is no stranger to disrupting the video industry. Back in 2005, Steve co-founded YouTube, which changed the way that people watch videos.  Now, he feels that the industry is ripe for another evolution. He believes that Theta Network is that evolution. Sometimes with investing, you don't need to be the smartest person in the room. You just need to follow what the smartest people are doing.
So far, Theta Network has raised money from over 20 investors. Additionally, its advisory board includes top talent from companies like Twitch, Verizon, Microsoft, and YouTube (Chen). Theta currently has a market cap of $3.5 billion.
No. 3 Decentraland (MANA)
Decentraland is another one of the top metaverse projects. It operates less like a game and more like a digital world. Users can hang out in Decentraland, attend virtual events, and buy stuff. In fact "buying stuff" is a central selling point of Decentraland. This metaverse portrays itself as "the virtual destination for digital assets." It allows users to buy and sell digital land, estates and wearables for their avatar.
MANA is the token that lets you participate in Decentraland. If you own it, you'll also be able to vote on key decisions about the future of the community.
The biggest selling point for MANA is that many people consider Decentraland as one of the top metaverse projects. As new consumers and investors enter the space, it will be one of the most obvious starting points. It basically has a slight first-mover advantage. This is incredibly powerful in entirely new industries like the metaverse.
If the defi space starts to become more popular, MANA could become one of the top NFT cryptos to own. MANA currently has a market cap of $4.4 billion.
No. 2 Axie Infinity (AXS)
Axie Infinity is sort of a blockchain version of Pokemon. Users can roam this virtual world with the goal of collecting, training and battling "Axies" (digital monsters). However, there is one major fact that separates Axie from other metaverse projects (and Pokemon for that matter). Axie Infinity rewards its users for playing.
AXS (Axie Infinity Shards) is the crypto that powers Axie Infinity. Owning it comes with the typical benefits of owning a crypto token. Holders will be able to transact with their shards, stake them, and participate in key governance votes. By playing the game, users will also have the ability to earn AXS. This type of model is known as "play-to-earn."
This small benefit gives users a much stronger incentive to start playing Axie Infinity. If you're going to spend time in the metaverse, you may as well get paid! Some savvy investors even buy Axies and rent them out to players. The two parties then split the rewards. According to its website, the most expensive Axie sold for $820,000.
This benefit makes Axie a much more attractive metaverse to spend time in (as opposed to Decentraland). It's a key reason why AXS is one of the best NFT cryptos to buy. AXS currently has a market cap of $3.3 billion.
No. 1 ApeCoin
If you knew nothing about it, ApeCoin sounds like just another crypto scam. It actually sounds like something the WallStreetBets community would create and rally behind. In actuality, ApeCoin might just be the best NFT crypto out there. ApeCoin is the new digital currency that powers the Bored Ape Yacht Club NFT collection. This collection is rapidly expanding into a digital ecosystem.
Bored Ape Yacht Club is the biggest blue-chip collection of NFTs out there. Pictures of these digital monkeys were scooped up by celebrities like Tom Brady, Madonna and Steph Curry. Now, the BAYC universe is expanding. If you haven't heard about this yet, check out the promo video here. Here are a few reasons why BAYC is turning into a very legitimate project:
This promo video is clearly very high quality (expensive).
It features a popular song by The Doors (expensive).
Features other NFT collections like MAYC, CryptoPunks, World of Women and CrypToadz.
Teases a new metaverse (The Otherside).
BAYC is launching its own metaverse and bringing other NFT projects along with it. Since BAYC is already defi royalty, it's easy to see The Otherside quickly becoming the most popular metaverse. If this happens, there's little doubt that ApeCoin will become much more valuable.
YugaLabs is the company making all of this happen. It is the owner of the following NFT collections:
Bored Ape Yacht Club
Mutant Ape Yacht Club
Bored Ape Kennel Club
Cryptopunks
Meebits
The company is now valued at $4 billion and has investments from Mark Cuban and Andreesen Horowitz. This puts it on par with silicon valley's hottest tech startups. So where does ApeCoin fit into all this?
ApeCoin's Role
ApeCoin is the native currency of BAYC. It is owned and operated by the ApeCoin DAO. This means that anyone who owns ApeCoin will be eligible to vote on the future of the community. Keep in mind that this future is still a little uncertain. However, it should include a virtual community, metaverse and game of some sort.
At this stage, Yuga Labs is basically the decentralized version of a startup company. It's raising money so that it can launch new projects. It could be a little bit like hearing the concept for Facebook back in 2005 when nobody knew what a social network was.
Granted, ApeCoin and the BAYC are still highly speculative. They have not actually delivered much, outside of a high-quality promo video. However, with the resources and credibility behind YugaLabs, it's easy to see this project growing incredibly quickly. If this happens, ApeCoin could quickly become one of the top NFT cryptos to own. ApeCoin was also just released at the end of March, so this could be a great chance to invest while it's new.
Please remember that I'm not a financial advisor and am just offering my own research and commentary. As usual, please base all investment decisions on your own due diligence. With that in mind, I hope that you've enjoyed learning about the only NFT cryptos that are worth buying.
---