Nio (NYSE: NIO) has been garnering a lot of attention lately. That comes as no surprise given that the Shanghai-based automaker was founded in 2014 and already has five production models. Plus, several more pre-production models. This article will cover NIO stock forecast and what to expect next.
Given the inevitable transition to EVs, it's not too difficult to see why investors like NIO. Plus, four of its current models are SUVs. Electric SUVs represent still mostly untapped potential, especially in the American market.
This is not to say there aren't issues for NIO, though. The company has had persistent growing pains and hasn't yet shown it can consistently turn a profit. That matters, particularly from the perspective of investors. Hence, a big question is whether NIO can shift the tides as it matures. For now, investors are left to speculate.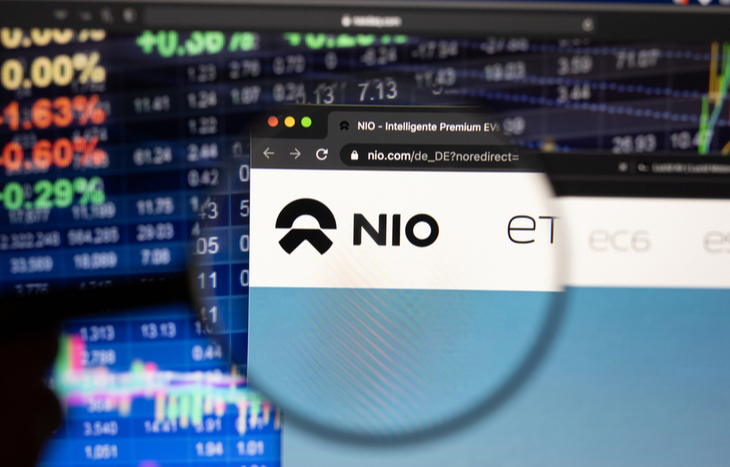 What is NIO?
NIO is an automaker based in Shanghai, China. Founded in 2014, all of the company's vehicles are electric, its homepage is titled "next generation smart electric vehicles." In addition to a myriad of electric vehicles, NIO also offers home charging equipment, battery swaps and a mobile charging service.
Anchoring its sales so far has been the ES6, which accounted for nearly half of the company's total deliveries in December 2021. The ES6 is a five-seater mid-size SUV with a 615 km (382-mile) NEDC range. It also has good performance for an SUV, going from 0-60 in 4.5 seconds.
After the ES6 is the ES8, which accounted for about a quarter of the company's December 2021 deliveries. The ES8 is a full-size SUV and has a 580 km (360-mile) NEDC range. It comes in two configurations, one of which has a middle seat in the second row allowing it to seat up to 7. You can also leave the middle space empty to seat six, providing easier access to the third row.
NIO Stock Earnings Date
The next NIO stock earnings date is projected to be March 7, 2022. NIO hasn't confirmed this date as of yet, but the company reports its earnings a little later than some of its American counterparts. Its Q4 2020 earnings report was released on March 1, 2020.
NIO's last quarterly report did have some encouraging numbers, such as more than double the number of deliveries compared to Q4 2019, and more than four times its deliveries in Q1 2021. Global supply chains halted many supply chains at the beginning of 2020 which would explain why NIO only delivered 3,838 vehicles that quarter.
Still, there are some areas where investors would undoubtedly like to see improvements. The number that stands out the most is the net loss NIO posted on its most recent quarterly report of 1.38 billion RMB. That's equal to about $218 million, quite the loss for a single quarter.
But here's another positive: NIO has consistently increased its cash reserves despite posting net losses. At the end of October 2021, it had $7.28 billion in cash on hand compared to $3.27 billion in October 2020.
NIO Stock Forecast vs. Tesla
The outlook is good for both NIO and Tesla. Both are good investments, but NIO is better right now because the company is newer, its stock is much cheaper, and it still has lots of room to grow. Tesla is still a great company, but growth in its share price should be modest because it's already expensive.
NIO shares are currently trading around the $20 mark. That certainly isn't as good a price as it traded throughout 2019 when it was around $3. Still, $20 is quite affordable for a company that is scaling up rapidly; NIO delivered 91,429 vehicles in 2021. For perspective, Tesla didn't reach that level of deliveries until 2017.
This helps explain why analysts are enthusiastic about NIO stock. Price targets are generally above $50 for the next year and they call it a strong buy. One thing investors should be aware of is that NIO is not yet profitable.
It's tough to compare Tesla (Nasdaq: TSLA) directly to NIO because Tesla is much more mature and has had more time to perfect its production process. Tesla, for example, delivered nearly 1 million vehicles in 2021.
But with TSLA's already-high share price, analysts call it a moderate buy. Price targets have shares of TSLA once again crossing the $1,000 mark in the next year. Tesla, however, has been profitable each of the past four quarters, something that had been a concern in the early days.
Should You Buy NIO Stock?
Overall, NIO looks like a very attractive buy right now. The company is expanding production much more quickly than competitors like Li Auto, and even faster than Tesla did in its early days. It delivered nearly 100,000 vehicles in 2021 and is rapidly scaling up.
Meanwhile, NIO stock is still affordable, and the forecast looks strong. If all goes well, its share price could more than double in the next year, and analysts call it a strong buy. There is also the possibility of future expansion into the American market, where its SUVs would likely be well-received.
The main concern right now is profitability; NIO hasn't yet crossed into the realm of positive net margin. However, it continues to expand both its production volumes and its cash reserves. 
Thus, with its still affordable share price and its great potential for the future, NIO stock still looks like a strong buy for those who want to take advantage of potential future growth.
---