Anytime high-profile investors back a company, investors tend to pay attention. The latest example comes as Nu Holdings (NYSE: NU) made its Wall Street debut in December. The company is attracting a lot of attention as Berkshire Hathaway (NYSE: BRK.B), led its $750 million funding round in June.
Nu Holdings is a digital banking company based in Brazil with a growing user base. The company is changing the industry by offering its no-fee credit card to a market plagued by high fees.
With this in mind, the fintech company is rapidly expanding its products. So far, Nu Holdings offers financial products for:
Saving
Investing
Spending
Borrowing
Protecting
Despite its growth, NU Stock is down over 20% from its IPO price with tech stocks selling off recently. IPOs have also underperformed, with investors flocking to safer bets like value stocks.
At the same time, the tech selloff is creating lower entry points for top growth prospects. Keep reading to learn more about what to expect from Nu Holdings.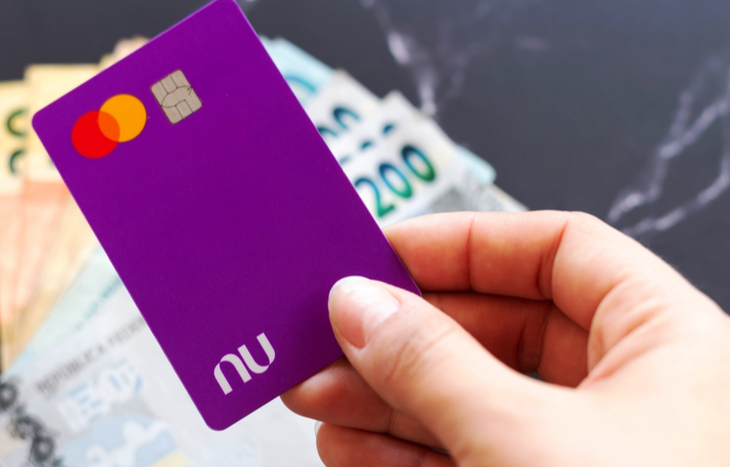 A Growth Story
Since its first product release, the zero-fee credit card, Nu Holdings is seeing massive demand for its services. Until now, the banking sector is seeing little change, which comes at a cost to citizens. In fact, research shows, six banks still control over half of the assets in Brazil.
With little competition, big banks are free to do as they please. As a result, high fees can drain user accounts, leaving them with even less.
Even David Velez, Nu Holdings CEO, had a frustrating banking experience which led him to create the digital platform.
For this reason, Nu Holdings is blowing up in popularity. So far, over 48 million customers are using the digital platform in Brazil, Columbia, and Mexico. In fact, these are the three most populated Latin American countries. In total, they have a population of over 390 million.
Furthermore, Nu Holdings has six tech hubs around the world. The hubs are designed to help spread awareness and expand its market.
But more importantly, the services are helping users. For example, Nubank was just voted the best financial institution in Brazil for the 3rd straight year by Forbes. And on top of this, the company's fully digital platform is reaching new markets. The older population is even trying the new technology, with +60 customers growing over 20% from last year.
Nu Holdings Stock Analysis
Since Nu Holdings is still new, finding a fair value can be challenging. During its market debut, Nu Holdings stock reached highs of $12.24 per share.
Yet since reaching the highs, Nu stock is trending downwards. Despite a few attempts to push the stock higher, NU is sitting near lows, just over $8.50. Which still gives Nu Holdings a value of over $40 billion. For an unprofitable company, it may seem a bit stretched.
Seeing as the digital bank is still expanding, the company is using extra cash to fuel growth. Thus, NU Holdings could remain unprofitable for years as it continues growing.
With this in mind, the market has been ruthless to unprofitable stocks with high values. Although Nu Holdings is in the banking industry, it's still considered a growth stock as the startup navigates early-stage growth.
Even more, inflation in Brazil is soaring in the double digits, with severe droughts running prices up. Inflation is expected to affect Latin American countries especially hard. Economists are even forecasting a recession is likely.
And lastly, IPOs are underperforming as private investors look to escape the public markets right now.
A Big Opportunity With Several Risks to Consider
The Latin American financial system is in desperate need of a makeover. If Nu Holdings continues attracting new users it can surprise investors.
The population in Latin America exceeds 662,800,000, ranking it the fourth most populated region. But, more importantly, over half of the population is currently without a bank. With this in mind, Nu Holdings makes it easy for these users to sign up and access financial support.
Additionally, the company has plenty of cross-selling opportunities with several valuable products. For example, a user may sign up for a bank account and see they also offer investing or borrowing options.
Yet if economic conditions worsen in Latin America, it can slow the bank's growth. A large part of the company's revenue comes from people borrowing loans. If borrowing slows because of economic worries, it could impact its top line.
Likewise, there is already competition in the space with fintech companies like StoneCo (Nasdaq: STNE).  Even though the company is growing quickly right now, investors may start looking elsewhere if growth slows.
Nu Holdings Stock Forecast – Where Do We Go from Here
Sitting near its lowest price point, it's tempting to pick up a few shares of Nu Holdings. But, with a value of over 40 billion and no profits to show, it seems tough to justify.
At the same time, growth isn't the issue. The problem is more to do with the world economy and particularly Latin America. As countries try to calm inflation, rising interest rates are expected.
If interest rates go up, it can discourage borrowing and limit growth. And when this happens, the financial sector feels the pressure. Several economists are predicting that many of the LA countries will fail to reach pre-pandemic levels by the end of 2022.
That said, Nu Holdings is still growing. Its products give users access to financial services that they wouldn't have otherwise. With an easy-to-use interface, look for the company to continue attracting large amounts of users.
The big question for the company will be, can they sustain this growth? And if they can, will they be able to turn a profit? Until we see more results from Nu Holdings, the stock will likely remain under pressure.
---