If you've held stock in Occidental Petroleum (NYSE: OXY) prior to 2022, it's impossible not to get excited about the returns this stock has offered year-to-date. Since January 1, the stock is up more than 92% and continues to climb, even while the broader market languishes. The question is, what's causing Occidental Petroleum stock to jump back up to levels not seen since the early-to-mid 2010s?
The answer is a combination of things. Namely, a major investment from famed investor Warren Buffett and the sudden bullishness of the oil and gas sector amidst conflict in Ukraine. Here's a closer look at the driving factors behind the rise of Occidental Petroleum stock and a forward-looking hypothesis about where it's headed in the year to come.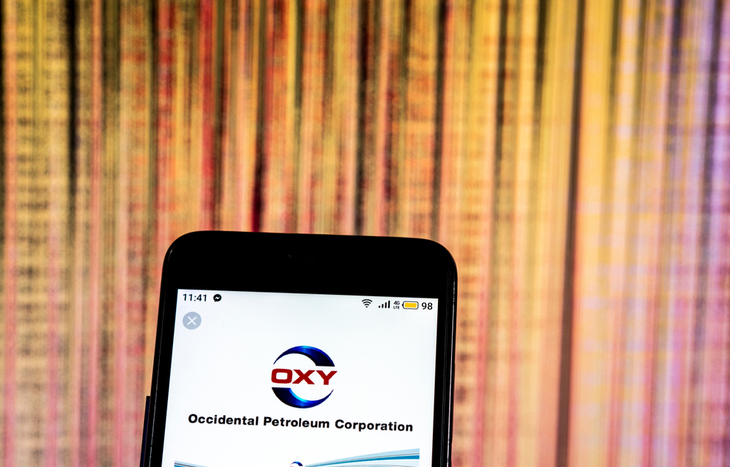 Berkshire Hathaway Increases its Holding
The biggest driver of Occidental Petroleum's stock price is the news that Warren Buffett has taken a significant interest in the company. Buffett purchased roughly 18.1 million shares in early March, causing a commotion among investors when the transactions were disclosed. According to current filings, Berkshire Hathaway now owns a total of 136.4 million common shares. The total stake represents roughly $7.2 billion. 
Beyond holding roughly 13% of the company through acquired shares, Buffett also holds warrants to more than 84 million more shares. Combined with shares already owned, it makes for a potential 22% stake in the petroleum giant. Now considered a minority ownership stake, investors believe it's the first step toward Berkshire Hathaway's eventual acquisition of Occidental Petroleum. It's a formula the holding company is well-known for, evident in previous acquisitions like insurer Geico and paint company Benjamin Moore. 
Whether Buffett will pursue full acquisition of Occidental Petroleum remains unknown. Investors reading the tea leaves have become a primary force pushing OXY stock higher in 2022.  
Looking Toward the Sustainable Future
The prospect of a super-investor acquisition isn't the only timely news driving up Occidental Petroleum stock. Part of the reason Buffett remains interested is because the company is well-run, evident in the headlines its making for itself in 2022. 
For example, the company signed a four-year deal with European airframer Airbus for carbon credits. This caused its stock to jump 9.47% on the news. Airbus has agreed to purchase credits for 100,000 tons of carbon per year, attributable to Occidental Petroleum's new Permian Basin direct air capture facility. The agreement represents roughly a tenth of the facility's expected annual carbon capture capacity, signaling a significant sum.
This news, announced on March 17, is part of Occidental Petroleum's push toward a more sustainable future. On March 23, the company hosted an investor day for its low-carbon ventures business. It showcased forward-looking strategies that will solidify the company's success in the energy sector as it undergoes significant evolution. 
Investors looking for long-term exposure to the energy sector see Occidental Petroleum as both an established player and a strong innovator. As a result, the company's stock price is on the rise in 2022. 
Ban on Russian Fuel Exports Continues to Drive Demand
In spite of its forward-looking investments in carbon capture and sustainable energy, Occidental Petroleum is still heavily invested in hydrocarbon exploration and petrochemical manufacturing. This is where the company has experienced significant upside over the last 60 days. And its due largely to the Russo-Ukraine war and the global embargo on Russian energy exports. 
Russia is the world's largest oil exporter. Unable to obtain oil from Russia due to sanctions, countries are looking elsewhere for oil. This is leaving a tremendous gap in the market. Companies like Occidental Petroleum have stepped in to fill the void. And its benefited tremendously from stock price appreciation as a result. A rising tide lifts all boats. The year-to-date 24.8% uptick for the oils-energy sector has played a big part in the continued strength of Occidental Petroleum stock. 
With no end to the Russo-Ukraine War in sight, domestic oil and gas companies can expect to see continued demand for the foreseeable future. Occidental Petroleum stands poised to welcome this influx of demand. And, by comparison, see continued price appreciation in the months to come. 
More Key Positives to Consider
As mentioned, part of the reason OXY stock has done so well is because the company itself is well-run. This is evident in financial metrics. 
Following healthy fourth quarter results, the company increased its quarterly dividend, while also decreasing net debt. It still remains highly leveraged from its 2019 acquisition of Anadarko Petroleum. Moreover, the company has made great strides to pay down debt. On its Q4 earnings call, the company reported that "net debt will be below $25 billion by the end of the first quarter of 2022," from $45.8 billion. 
Aside from paying down debt, Occidental Petroleum has done a great job of utilizing shareholder capital. The company has an ROE of more than 16%. Moreover, its quarter-over-quarter sales have increased 89.40%. While still leveraged, the company has a clear path forward to a healthier balance sheet. A forward P/E of 13.5 suggests that it might even be undervalued at its current price. 
Occidental Petroleum Stock Will Continue to Outperform
It's difficult to conceive that Occidental Petroleum stock will continue to rise after closing in on triple-digit ROI in 2022. Yet, the company has strong tailwinds that are well-capable of propelling it to new all-time highs. The potential for Berkshire Hathaway to acquire it, positive industry outlook and strong fundamentals suggest that OXY stock will only continue to gain in 2022.
---