Investors have been selling off stocks in droves since the beginning of the year. There are a few culprits to the market's sour mood year-to-date. We need to go back in time to understand why stocks are down. This article will also examine where investors need to look for oversold stocks in 2022.
One reason that the stock market is throwing a tantrum is interest rates. Over the last several years, stock markets near-zero interest rates have graced stocks. When rates are so low, some investors are turned off by the unimpressive yields paid on interest-bearing investments like bonds, CDs, or money market funds. So, many investors turned to stocks.
When the market has an appetite for riskier investments like stocks, stocks tend to climb. For instance, as of last month, the S&P 500 stock index has advanced nearly 15% per year over the previous five years. A 15% annual return is significantly higher than the long-term average.
Toward the end of 2021, the Federal Reserve has decided that it will likely begin raising interest rates starting this spring. As the stock market digested the potential for rising interest rates, it began to decline. More recently, the S&P 500 index has been down about 13% since the beginning of the year.
Keep reading to learn about oversold stocks in 2022.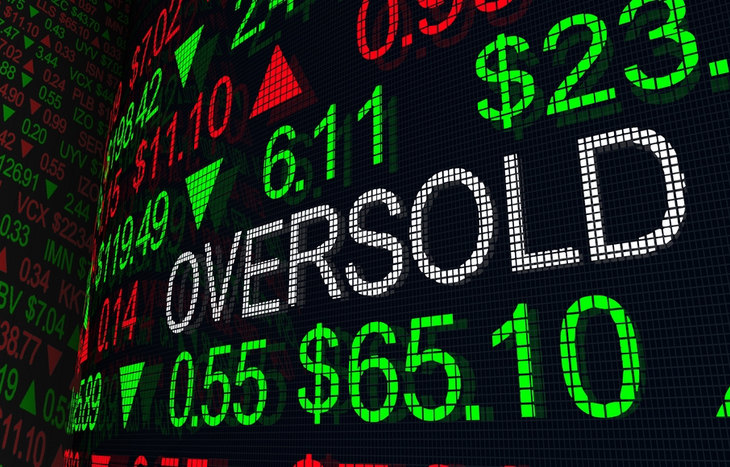 More Bad News for the Stock Market
Stocks are facing a few more issues than just rising interest rates. As the US economy exits the COVID-19 pandemic, inflation has been higher than in 40 years. Federal stimulus money has kept demand for products high. At the same time, workers stayed home from work due to sickness, childcare, and many other reasons. Workers staying home made it difficult for businesses to keep up with demand. Thus, inflation started to creep up.
In addition, tensions between Russia and Ukraine have escalated. Many stock investors have been uncertain about how the tensions will affect stocks. When uncertainty is high, stocks tend to decline.
Oversold Stocks in 2022
Specific sectors of the stock market have been hit by concerns harder than others. For instance, many tech stocks rely on low interest rates to finance their companies. Many tech companies haven't yet reached profitability. Rising interest rates would many reaching profitability much more difficult. The potential for higher interest could be why the tech-heavy Nasdaq stock index is down over 20% year-to-date.
On the other hand, plenty of tech stocks are very profitable and might not be affected by rising interest rates. Profitable tech stock could be an excellent sector for investors looking for oversold stock in 2022.
Inflation is another concern for investors. High inflation can negatively affect companies. When inflation is high, companies have higher costs to produce goods and services. Often, higher costs can cut into companies' profits and hurt their stock.
Although, many companies sell popular products. These companies might charge a higher price for their products and negate higher costs. If that is the case, these companies could stay profitable even if inflation remains high. Name brand stocks or the stocks of companies that sell needed products might be a great place for investors to look for oversold stocks in 2022.
Value and Growth Stocks
There has been an ongoing debate about which style of investing is better. Value investing is a style designed to buy stocks with a low valuation with the potential to increase over time.
On the other side of the debate is growth-style investing. In the growth style, investors buy the stocks of companies that grow sales faster than average. Growth investors hope to buy the stock of fast-growing companies and sell them before growth slows.
Historically, the value style has done better than the growth style. However, in the low interest rate environment since the financial crisis of 2008-09, growth has dominated. Now that the Federal Reserve has said it will increase interest rates, value investors believe the value style is here to stay. Meanwhile, growth investors believe growth stocks have been oversold this year.
Undervalued and Overlooked Stocks for 2022
Whether you're a value investor looking for undervalued stocks or a growth investor looking for overlooked stocks in 2022, the recent stock market selloff could provide some great opportunities. Here are a couple of stocks to consider for both styles.
Berkshire Hathaway (NYSE: BRK-B; BRK-A)
Investors are in good hands, though the stock is up so far this year. Berkshire is a conglomerate of value-style companies. These companies range from railroads to insurance companies. In addition, Berkshire uses the profits of its companies to invest in value-style stocks. The CEO of the company is world-famous value investor, Warren Buffett.
Amazon.com (Nasdaq: AMZN)
Most readers already know about Amazon's popular Prime service. What may surprise readers is how Amazon continues to grow profits every year. In addition to increasing its Prime service, Amazon is also growing its cloud computing and advertising businesses. The stock is down this year. Amazon stock could be an overlooked growth stock to consider.
---