Penny stocks in 2022 are doing well. Inflation naturally helps small and mid-cap companies. So, these stocks are growing. And taking advantage of any boost they can get. Check out these penny stocks that are great to pay attention to in 2022.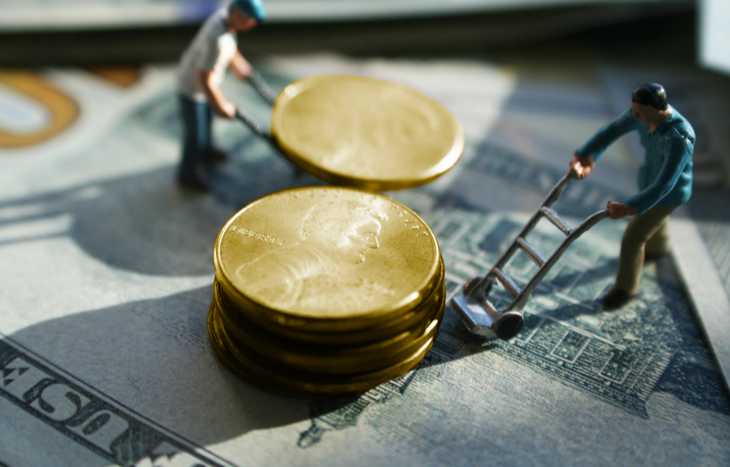 Best Penny Stocks for 2022
Microvision Inc. (NASDAQ: MVIS)
Meten Holding Group Ltd. (NASDAQ: METX)
Phunware Inc. (NASDAQ: PHUN)
Denison Mines (NYSE: DNN)
Uranium Energy Corp (NYSE: UEC)
Hive Blockchain Technologies Ltd. (NASDAQ: HIVE)
Taseko Mines Ltd. (NYSE: TGB)
Ambev ADR (NYSE: ABEV)
Sundial Growers Inc. (NASDAQ: SNDL)
Top Penny Stocks 2022
No. 9 Microvision Inc.
This penny stock provides image sensing and laser technology for projections. Plus, it carries out many other services that are related to that. After a long bear, they've recently had a big rise in price. And, the correction has followed, too. That's great for investors to buy in, though.
Microvision's most important and exciting project is its technology that helps cars "see." This is tech that senses where objects are, and how far away. And, it could be very useful soon. That is, because many auto companies are beginning to develop self-driving cars. This neat tech that Microvision is creating is automotive lidar.
No. 8 Meten Holding Group Ltd.
Meten is a penny stock that focuses on bringing the English language to China. And the company capitalizes on the fact that there's a growing need for global workers who can speak English. Meten offers ELT (English Language Training) to both students and professionals.
And it's recently been trying classes on the Metaverse. Plus, the company owns a crypto mining business in Pennsylvania. This penny stock holds over 1.6 million online students and 135 learning centers. Meten has a very small market cap of $70 million. And, it has a small but highly capable team that's brought them that far. The company is ready for growth and expansion. Both in stock and market cap as well as within the team.
No. 7 Phunware Inc.
This penny stock crosses blockchain with mobile advertising. And they use the best of both industries to bring memorable digital experiences to users. Plus, they leverage these experiences to provide advertising for their clients.
Phunware offers solutions to at least nine different industries. And, the company offers custom solutions. A few of these industries are aviation, healthcare and retail.
Recently, Phunware has allowed trading of its crypto, Phuncoin. Plus, they've attended the HIMMS Global Health Conference. Those two pieces of news allow them to market themselves. Additionally, they also allow them to attract some success to themselves.
No. 6 Denison Mines
This penny stock is another company I've written a full report on. DNN mines for uranium. And as you can see below, uranium is fast becoming an attractive energy source. And recently, Denison Mines has found more uranium than they expected there to be. Upon digging down, they found "cross-veins" of uranium. This is great for profits. Since they are already down there, there isn't much extra work necessary to dig up that extra material.
Naturally, they don't have to spend much extra money to bring up those valuable resources. So, that means the profits for the dig will be much higher.
No. 5 Uranium Energy Corp.
Uranium is becoming a go-to option for those who want more green energy. Some companies are trying their best to abandon gas and oil. Since there aren't many other options for sustainable energy. So, uranium becomes the answer.
This penny stock owns projects all over the United States and Canada. And as uranium is emission-free, it's becoming a very attractive source. Recently, this company has become completely debt free. And this is huge news for anybody. But especially for UEC and investors, as it means from here on out, they are making a higher profit margin.
No. 4 Hive Blockchain Technologies Ltd.
Blockchain has really taken off within the past few years. Plus, momentum for this industry is speeding up faster and faster. Many companies are beginning as blockchain businesses. And they're attracting millions and billions of dollars in capital. Plus, even large, well-known enterprises are creating something valuable for their customers.
Hive Blockchain is a penny stock that's had a couple large spikes upward. So, it's seen some massive, fast growth. But, it has come back down, and right now is a great time to take advantage of the low price.
No. 3 Taseko Mines Ltd.
I recently wrote an entire post about whether Taseko Mines is a good investment or not. You can find it here.This penny stock is a copper mining company. And, with so many unending uses and high demand, copper is a solid material to invest in. On top of that, the company runs one of the largest copper mines in all of Canada. And we all know how popular Canada is for its high-quality natural resources.
Taseko also recently made an estimation for a newer mine they own. And they've reported it to have five billion pounds of copper and 13 million ounces of gold. Understandably, this is great news for Taseko.
No. 2 Ambev ADR
Ambev is a company that offers all kinds of drinks on a commercial scale. Some of the main ones are soft drinks, hard liquor and beer. This penny stock is in Brazil, and works with some of the most prestigious drink companies.
For example, Ambev recently created a project in partnership with Coca-Cola Brazil. It is meant to help recycling efforts, while raising awareness for both brands.
Recently, one of Ambev's water brands hit the $1 million mark in profits. With this project, Ambev plans to bring clean water to poor communities that don't have access to it. And they are proud of the work they've done already.
Penny Stocks for 2022 No. 1 Sundial Growers Inc.
With a market cap of over $1 billion, this penny stock has taken full advantage of everything it can. So, it has used world events, inflation and a growing market to reach high goals. Sundial is a cannabis company. And it's headquartered in Canada. Which is known for having some of the best natural resources. That's helpful to Sundial because that means they can give their plants high quality soil for a low cost.
And, Sundial is doing very well on the business side of things. The company's marketing is very professional. Sundial offers four different types of cannabis. They all do something slightly different for the user. And they're offered in lots of different applications. Including vapes, rolls, drops and oils.
---