Americans are devoted to their pets. Millennials tend to refer to themselves as pet parents rather than pet owners. It's a shift in the way people think about the animals sharing their lives. That devotion extends to purchasing the best pet foods for their furry companions. Pet food stocks have done well in the past few years.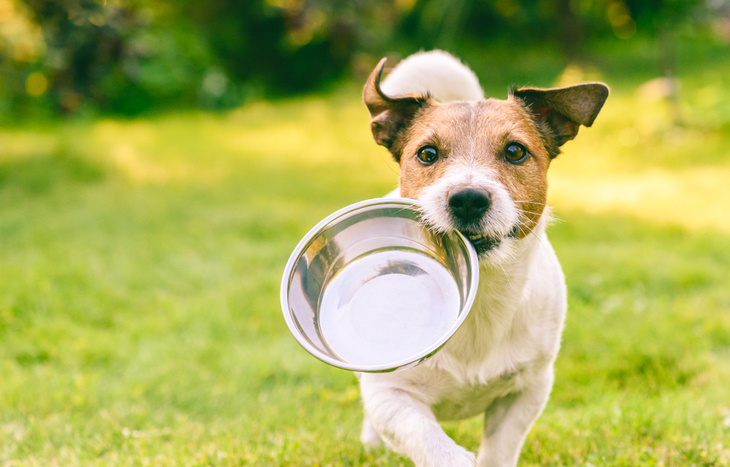 Pet Food Stocks vs. Brands
Some of the best-known pet food brands don't appear on this list of top pet food stocks. That's because brands such as Pedigree, Cesar, Royal Canin, Nutro and Whiskas are all owned by the privately-held Mars Inc. The family-owned company has been in existence for 111 years. And it's committed to staying private.
Mars Petcare Inc. has long been the leading pet food company in the U.S. In 2020, its annual revenue exceeded $18 billion.
Many of the most familiar pet food brands are owned by Nestle. For instance, the Swiss conglomerate purchased Ralston Purina in 2001. Most of the Ralston Purina businesses now fall under the Nestle Purina PetCare Inc. umbrella. These include Purina One, Alpo, Friskies, Beneful and many more. After Mars Petcare, it is the second-largest pet food company worldwide.
General Mills (NYSE: GIS) is another player in the pet food industry. Its products include super-premium Blue Buffalo. J.M. Smucker (NYSE: SJM) produces such household name pet foods as Meow Mix, Milk Bone and the Rachael Ray line. When trading shares of Nestle, General Mills and J.M. Smucker, make your buying and selling decisions based on factors beyond the pet food market. Their stock performance relies more on the demand for their other products.
The bulk of the top pet food stocks focus on e-commerce, retailers or related pet products and services rather than solely pet food.
Top Pet Food Stocks
Chewy
In 2017, pet retailer PetSmart acquired Chewy for $3.35 billion. At the time, it was the largest e-commerce deal ever. The pandemic and the demand for pet food deliveries helped Chewy (NYSE: CHWY) grow significantly. In 2021, Chewy's revenue was up 24.14 percent over 2020. In addition, the stock reached a high of $120 per share in February 2021. One year later, its price has dropped to $52.63.
Chewy's sales far outnumber those of its major competitors. For example, this includes parent company PetSmart, as well as Petco and 1800petmeds. However, Chewy did not enjoy its first profitable quarter until Q4 of 2020. This was after almost a decade in business. It still posted a net loss of $92.5 million for the year.
Along with pet food and product sales, Chewy boasts a robust prescription market. Certainly veterinary practices cannot match Chewy's prescription drug prices. Similarly, more pet owners are turning to this e-commerce giant to have prescriptions filled as economically as possible. And most importantly, the company is famous for its first-rate customer service.
Freshpet
Freshpet's  (Nasdaq: FRPT) "single-minded mission" involves improving the lives of cats and dogs everywhere through the power of fresh, natural food. For instance, the company offers fresh foods requiring refrigeration. It carefully sources ingredients from suppliers local to Freshpet Kitchens, where the food is produced.
As of mid-February, the stock's 52-week range was $80.08 to $186.98. The company's 2021 growth of 33.5 percent marks the fifth consecutive year of accelerating net sales. CEO Billy Cyr notes in a press release to investors that, for 2022, the company was in a significantly improved position from a manufacturing standpoint. Freshpet's target market has grown by 25 percent between 2019 and 2021. That's an increase of 5 million households, from 20 million in 2019 to 25 million in 2021.
Petco
If there's a product or service your pet needs, it's likely Petco Health and Wellness (Nasdaq: WOOF) offers it. The company has been in business for 55 years.
Petco sells pet food and supplies along with an array of services. The latter includes grooming, obedience training, vaccination clinics and vet care. For example, customers can buy small animals and fish at many Petco locations. They can adopt dogs and cats through partnerships with shelters and rescue groups. In other words, Petco can supply everything your pet needs, as well as the pet.
Approximately 1,500 Petco stores are located across the U.S. and Mexico. About 10 percent of these stores include veterinary clinics. In January 2022, Petco announced a pilot program with home improvement giant Lowe's to open Petco shops inside select stores in Texas and North and South Carolina. Moreover, in February 2022, Petco announced it will offer pet sitting, boarding, doggy daycare and dog walking services through a collaboration with Rover.
Petco's 52-week range is $28.73 to $17. In the third quarter of 2021, Petco delivered net revenue of $1.4 billion, up 15 percent from the prior year. The third marked the sixth consecutive quarter of double-digit growth.
Trupanion
Vets bills are expensive. When veterinary emergencies strike, an uninsured pet owner may have to go into debt. In a worst-case scenario, they may consider euthanizing the animal. Trupanion (Nasdaq: TRUP) provides pet insurance for dogs and cats. It was the first veterinary insurance company to utilize technology. This technology allows clients to have vet bills paid directly to the provider. In addition, this means no reimbursements, as with many insurers, but bills paid in full minus deductibles.
Veterinary hospital chain VCA , with over 1,000 clinics nationwide, was acquired by Mars in 2017. Trupanion has long served as VCA's preferred provider of pet medical insurance.
Most pet insurance companies offer annual deductibles. However, Trupanion offers a lifetime "per condition" deductible. For example, the owner pays a deductible only when the animal develops a new condition. Clients can choose a range of deductibles to meet their needs.
Trupanion self-insures, as its policies are underwritten in the U.S. by American Pet Insurance Company. Trupanion acquired this company in 2007.
The number of households with pet insurance is relatively small. And veterinary costs are likely to continue increasing. More sophisticated procedures mean better outcomes. However, this results in significantly higher vet bills. In addition, the demand for veterinary medical insurance is expected to grow.
Trupanion's 52-week range is $158.25 to $69.74.  In Q3 2021, its total revenue was $181.7 million. This is an increase of 40 percent compared to 2020's third quarter. The total number of enrolled pets increased 37 percent over the third quarter of 2020.
Thoughts to Gnaw On For Pet Food Stocks
In 2020, 67 percent of U.S. households had a pet. Just a year later, fueled by the pandemic, that number had increased to 70 percent. That's approximately 90.5 million homes.
As the pandemic winds down, the number of people adding pets to their homes has also slowed. However, the pet food and related markets are large. They are expected to grow annually by 2.01 percent CAGR between 2022-2026. While average revenues per capita are not expected to exceed the heights of 2021 until 2025, pet food stocks are relatively recession-resistant.
---