Publix is a privately held grocer with nearly 1,300 stores mainly in the Southeast United States. Florida has the most stores, with over 800 locations. Publix also operates nine distribution centers and 11 manufacturing facilities that make private-label goods for Publix grocery stores. The company recently announced a 5-for-1 Publix stock split.
Because Publix is employee-owned, shares are not available to the investing public. Company shares are only available to associates and board members. A stock split occurs when a company increases the number of shares outstanding and adjusts the stock so that the value of each investor's holdings remains unchanged.
For instance, according to the company website, Publix will increase its share count from one billion to four billion. So, a shareholder owning one share will have four additional shares for a total of five shares. Because shareholders will own five times as many shares as before the split, the share price will be divided by five. Publix will reduce its share price from $68.80 to $13.76.
Say an employee-owned 100 shares valued at $68.80 before the split. The employee's stock would be worth $6,880 (or 100 times $68.80). After Publix stock split, the same employee will own 500 shares valued at $13.76 each. After the split, the employee's stock would still be worth $6,880 (or 500 times $13.76). There would be no change in total value for shareholders.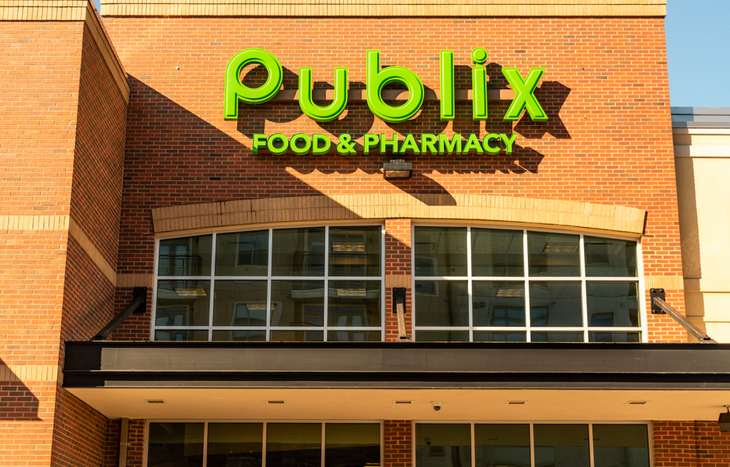 Why Do Companies Do Stock Splits?
Since there is no change in value for shareholders, readers may be wondering why Publix would split its stock. One of the most common reasons for a stock split is to make the stock available to more investors. For instance, Publix's private shares have grown in price over several years. When share prices are high, fewer people can afford a share.
Stock splits are common in publicly traded stocks. For example, Apple (Nasdaq: AAPL) has split its stock several times. In 2014, the company did a 7-for-1 stock split. Back then, Apple's share price was above $600 per share. After the split, the share price was below $90. The company split shares 4-for-1 again in 2020 after the share price rose above $400 per share.
When more investors can access the stock, it can increase liquidity. When liquidity increases, more shares can be bought and sold with less affecting the stock price. In addition, increased liquidity can reduce the bid/ask spread for the stock. A narrower bid/ask spread can mean investors get a fairer price when buying or selling the stock.
There are alternatives to stock splits. Some public companies like Berkshire Hathaway (NYSE: BRK-A and BRK-B) have two different share classes. Berkshire's Class A shares are currently about $529,000 per share. Class A shareholders can convert Class A shares into 1,500 Class B shares. Class B shares are currently just above $350 per share.
Keep reading for more info on Publix stock split.
Recent Stock Splits
On February 1, Alphabet (Nasdaq: GOOG), formerly known as Google, said it would be splitting its stock later this year in July. Alphabet's stock split will be 20-for-1. The stock has risen dramatically over the years. Recently, Alphabet's stock traded above $2,700 per share. At that price, the 20-for-1 stock split would reduce the share price to $135.
Amazon.com (Nasdaq: AMZN) also recently said it would be doing a 20-for-1 stock split later in June. At the stock's current level of around $3,100 per share, a 20-for-1 stock split would bring the shares to about $155.
An Amazon spokesperson said, "This split would give our employees more flexibility in how they manage their equity in Amazon and make the share price more accessible for people looking to invest in the company." Like Publix, Amazon is splitting its stock to make shares more accessible to employees.
Publix Stock Split
The Publix stock split will take effect as of the close of business on April 14. On the following business day, shareholders' accounts will show the new share amount and stock price.
In addition to the stock split, Publix's board of directors said the company would pay a dividend of $.09. The company will pay the dividend to shareholders of record on April 15. The dividend will be payable on May 2.
More on Publix
Publix was founded in 1930 and is the largest employee-owned company in the U.S. The company currently has over 230,000 employees. Over the years, Publix has received countless awards for its service, including being in Fortune's 100 Best Companies to Work for every year from 1998 to 2021.
In addition to groceries, Publix stores have coffee shops and pharmacies. In 2020, sales reached nearly $45 billion. A similar publicly traded grocery store, Albertson's (NYSE: ACI), had just over $62 billion in sales in 2020. Albertson's market cap is almost $18 billion.
Kroger (NYSE: KR) is another publicly traded grocery company. The company operates many smaller value grocery stores like Fred Meyers and Pick'n Save. In 2020, Kroger had sales of over $126 billion. The market cap for Kroger stock is nearly $45 billion.
---