Real estate penny stocks are a great combination of two factors. One-a strong industry. And two- high-potential investments. Real estate has been sky-high for some time now. And, there's been some slowing of the market. But homes and land have still been flying out the window. It's from the combo of a housing shortage, public fear and millennials buying first-time homes. And that demand continues to stay ahead of the supply.
Construction efforts will eventually catch up. But, it could be a while. Yes, interest rates are going up right now. And that will push many buyers out of the market. But, there are still more first-time buyers looking for a home. On top of that, there continues to be a $4 million home shortage. And, with construction companies busy playing catch-up, building still requires a pretty penny.
It's likely real estate will continue to feed off these high prices for a few years. So, I've come up with some real estate penny stocks for you to check out. They're all under $5. And real estate penny stocks could be a great combo right now also because of inflation. Small businesses thrive in inflation. So, that means these stocks have all the right environmental factors to thrive.
Keep in mind, real estate penny stocks are very volatile. You could lose your investment easily and without warning, since it's very easy to get caught up in emotional investing. I encourage you to start with a small amount of money. And learn all you can about them.
These penny stocks have high potential to do well in the future.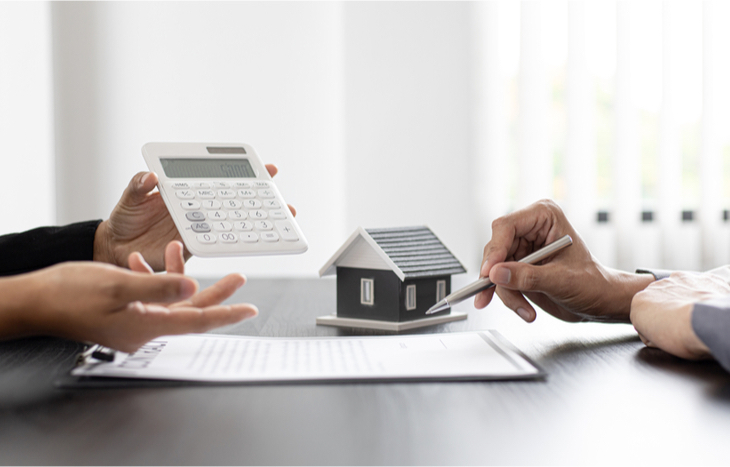 Best Real Estate Penny Stocks
MDJM Ltd. (Nasdaq: MDJM)
Lument Finance Trust (NYSE: LFT)
Leju Holdings Ltd. (NYSE: LEJU)
Presido Property Trust Inc. Class A (Nasdaq: SQFT)
Invesco Mortgage Capital Inc. (NYSE: IVR)
New York Mortgage Trust Inc. (Nasdaq: NYMT)
Real Estate Penny Stock Under $5
No. 6 MDJM Ltd.
This real estate penny stock has its headquarters in China. MDJM offers real estate services. And there isn't much information on the stock. But recently, there was some possible pumping and dumping going on. That would explain the rise in price and fast fall to new lows. But, this drop bumped up shortly afterward. And that could be a good buy signal for longer-term investors.
With a $24 million market cap, the sky is the limit for MDJM. There is so much potential for growth within this company. It's very small, and in a strong industry. Plus, it's starting to get some attention from the media. Which will obviously help this real estate penny stock.
No. 5 Lument Finance Trust
The first thing that stands out with this real estate penny stock is its dividend yield of about 8.5%. And its market cap stands at around $148 million. So, there's plenty of room to grow. And with a high dividend, many wonder whether it's healthy or not. Is Lument trying to attract investors? Or is it that profitable of a company? Based on what the company does, it's likely paying its profits forward to investors. Lument is a REIT in the mid-market family niche.
No. 4 Leju Holdings Ltd.
Leju had a big bull spike in February 2021. But since then, it's been declining. And now could pose a perfect opportunity for investors to buy. It seems this real estate penny stock is a broker for China. And, high end homes and buildings are always profitable deals. Especially in high-end areas of the city or country. The company sells new and used homes. So, there are a few different income streams.
No. 3 Presido Property Trust Inc. Class A
This real estate penny stock has headquarters in California. And, it boasts a dividend yield of over 11%. Even with a market cap of only $43 million, it's a REIT at heart. So, the company is constantly on the lookout for more overlooked opportunities. And the buildings it owns now are being rented out by its tenants. Something interesting that sets this company apart is a unique feature on their website. It allows tenants to pay rent with a few different options for cryptocurrencies.
No. 2 Invesco Mortgage Capital Inc.
Invesco Mortgage Capital tanked in February 2020. And unfortunately, it hasn't made that ground back up again. Somehow, its dividend yield is an incredible approx. 17%. But it seems as though the company is focusing its efforts much tighter. Because while revenue is down, profit is up. The company has a way to go before it breaks "large company" status. But, Invesco Mortgage Capital is almost there with a $700 million market cap. And as a company only founded in 2008, that's a respectable achievement.
Real Estate Penny Stocks No. 1 New York Mortgage Trust Inc.
Like many other real estate penny stocks on this list, New York Mortgage has a high dividend. And this one sits right below 11%. This stock had a terrible downfall from 2005- 2008. Prices stayed low this entire time. And, they even dropped again in 2020. For investors, this presents a buying opportunity.
New York Mortgage holds a portfolio of almost $4 billion in assets. Most of that portfolio is mortgage loans. And the next biggest part is multifamily structures. The rest are mortgage-backed securities. The leadership of NYMT looks good. All of them have experience and successes in their field.
Final Thoughts on Real Estate Penny Stocks
Real estate penny stocks are definitely an investment that should get your attention. Especially right now. The market is at that tipping point where it could start dropping. Or it could keep its current momentum. And, if something major were to develop, it could keep rising.
However, since real estate has gotten so high, it's possible. But not probable. Likely, it'll be a combination of both major outcomes. It's also likely that prices will stay high for some time. And slowly drop while the supply of houses catches up.
For now, the major inflation and still-high real estate market makes a great combo. It allows these real estate penny stocks to spread its wings and fly.
---