"The Streaming Wars" is one of the most interesting ongoing business stories. The industry is ripe with competition but also has incredibly high barriers to entry. So many major companies are scratching and clawing to gain an edge. Right now, Netflix has the advantage. But down the road, it's easy to see Disney+ becoming the most popular. With that said, regardless of who comes out on top, there's one company that will win alongside them, Roku (Nasdaq: ROKU). Roku stock has been one of the best-performing stocks since 2018. At one point, it was up over 900%. However, a recent sell-off has sent it tumbling back down from its all-time high.
Is this the perfect time to buy the dip on Roku stock? Or is it smarter to not try and catch the falling knife? Let's take a look!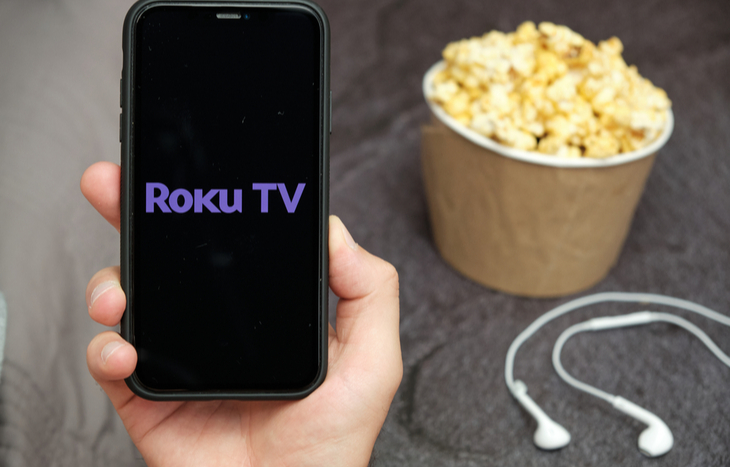 Roku Stock Forecast
Roku is a content streaming company. It is most well-known for its dongles that plug into the back of your TV. Roku's dongles give users access to all of the most popular streaming platforms like Netflix, Disney+, HBO Max, etc. Roku has also developed its own Roku TV and streaming channel.
Roku currently has 56.4 million active accounts as of Q3 2021.
Recent Announcements:
New show starring Daniel Radcliffe – Roku is creating a new biopic about Weird Al Yankovic featuring Daniel Radcliffe. This show will be featured on the Roku Channel.
No. 1 smart TV OS in the US – In 2021, Roku's product was the best-selling smart TV operating system in the U.S. This is the second year that Roku has led the industry.
Scott Rosenberg stepping down – Scott Rosenberg is Roku's SVP and General Manager of Platform Business. He plans to step down sometime in Spring 2022.
So, how have these recent announcements impacted Roku's business?
Stock Predictions
None of the above announcements are really Earth-shattering. There's no reason why any of this news would have sent Roku's stock tumbling. It's also been weeks since Roku last reported earnings. Its next major report is not until February 17, 2022. However, Roku's stock is still down over 60% from its high in July 2021. This creates a little bit of a head scratcher.
After looking through Roku's most recent financial statements, its business remains solid.
In 2020, Roku reported annual revenue of $1.78 billion. It also reported a net loss of $17.51 million. These numbers were up 57.53% and 70.79% respectively. More recently, Roku reported Q3 2021 revenue of $679.95 million. This was up 51% year-over-year (YOY).  It also posted a net income of 68.94 million. This was up 432% YOY. After never posting an annual profit, Roku has now posted five profitable quarters in a row.
Here are a few other takeaways from Roku's Q3 2021 earnings:
Users clocked in 18.0 billion streaming hours. This was an increase of 0.7 billion hours from Q2 2021
Average Revenue Per User (ARPU) grew to $40.10. This was up 49% YOY.
The Roku Channel was a top five channel on the platform by active account reach
So, does this mean that it's a good time to buy the dip on Roku stock? Let's take a look at a few of the pros and cons of doing that.
Should I Buy Roku Stock? Potential Upsides
Roku has a business that is growing incredibly fast. Its annual revenue has grown by around 50% over the past three years. It also generates $40.10 per user. When you consider that even a premium Netflix plan only costs $19.99, this is an impressive figure.
Roku also considers itself in a transitioning industry. In the past, companies used to shell out big bucks for TV and newspaper ads. Newspaper ad spend has largely transitioned to platforms like Facebook and Google. These digital platforms are now the best way to reach consumers. Roku believes the same thing is happening with TV ad spending. Traditional TV advertisers are slowly transitioning to advertising on streaming platforms like Roku.
On top of that, Roku is centered squarely in a growing industry. It feels like another major streaming service is announced nearly every single year. While this is bad news for existing streaming giants, it's great news for Roku. Right now, there are about 8-9 major streaming platforms. This means that consumers will basically need to pay for at least 2-3 of these services to get the content they want. Either that or they'll at least need to borrow a friend's password. When it comes to putting all of these services in one place, Roku has one of the best solutions on the market. Regardless of which streaming service consumers prefer, they'll also need to pay for Roku to access it.
Granted, Roku does have a few major competitors. Namely, Apple TV, the Amazon TV Fire Stick and Google Chromecast. The difference is that streaming services are a side hustle for these other companies. Streaming is Roku's entire business.
So what explains the 60+% dip recently?
Should I Buy Roku Stock? Potential Downsides
The biggest risk with buying Roku stock right now is a macro risk. By this, I mean that the Federal Reserve has recently transitioned its policy. It went from a dovish policy to a hawkish one. It's impossible to say for sure but analysts are expecting four interest rate hikes in 2022. It's a little nuanced to fully explain here, but this is typically bad news for growth stocks.
In a rising interest rate environment, investors prefer value stocks over growth stocks. Roku is still very much a growth stock and was trading at a high multiple. Recently, major investment funds have reallocated their portfolios to shed growth stocks and buy value stocks. Roku investors can sleep a little easier knowing that Roku stock isn't the only one tanking. Many other high-growth stocks are down 60-70% from their all-time high. For this reason, I would definitely proceed with caution.
Roku still has a strong business model and has posted impressive numbers. However, in the short term, its price could be very volatile. It's also a fool's errand to try and time the Fed's decisions. They could raise interest rates tomorrow. Or they could raise them 12 months from now. They could even revert on their decision to raise them at all. Due to this uncertainty, it's difficult to say how long it will take Roku to recover. However, I still consider it a great long-term hold.
Looking for a few other tech stocks to buy and hold for the 2020s? Check out my article on that here.
I hope that you've found this Roku stock forecast to be valuable! As usual, please base all investment decisions on your own due diligence and risk tolerance.
---