The Savage X Fenty IPO is on its way. Rihanna's company is reportedly working with banks for its public debut preparations. Here's what we know…
Savage X Fenty IPO: About the Business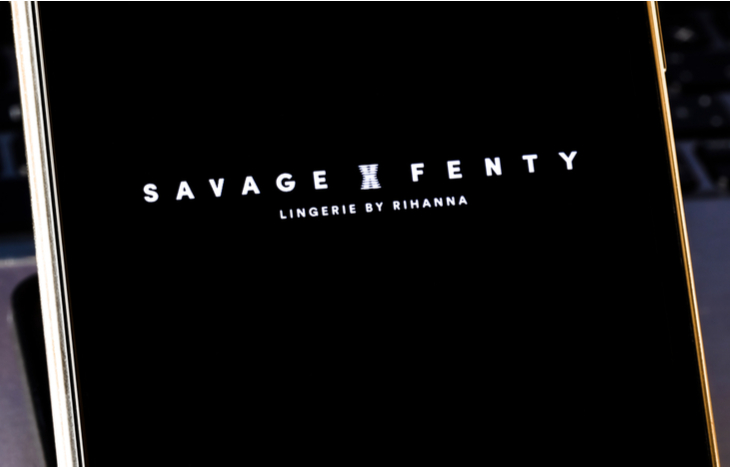 The success of Rihanna's music has led to collaborations with various cosmetics and apparel brands. Savage X Fenty is Rihanna's lingerie brand that launched in 2018. The company sells affordable lingerie and underwear for men and women in sizes ranging from XS to 4XL. In addition, the company offers sleepwear and loungewear.
The company started as an online-only brand. Since then, it's become a global leader in inclusive lingerie. In January, Rihanna took to Instagram revealing five cities that will be getting the brand's first-ever brick-and-mortar locations. This year, the five retail stores opened in…
Las Vegas
Los Angeles
Houston
Philadelphia
Washington, D.C.
Moreover, Rihanna has said that she wants her fans to leave stores 'feeling confident.' The new physical locations feature a tech-enabled fitting experience. This innovation presents a huge opportunity for the Savage X Fenty IPO. So, here are the details…
Savage X Fenty Stores Feature 3D Avatar Fitting Experience
The first physical Savage X Fenty store opened in Las Vegas. Retail Dive reported that the store offers a technology-driven fit experience, called Fit Xperience, that lets customers receive a body scan and 3D avatar similar to their body type. Customers then receive recommendations based on their body size and shape, identified by Fit:Match technology.
Rihanna's major focus for the brand is on inclusion. As she told told Refinery29…
The whole idea of the retail space is that I wanted women and men to come in and feel represented, to walk away from the experience feeling confident and that they belong.

I've experienced being a customer and shopping in the lingerie space and have felt as if I didn't fit the mold of the product.

But Savage X Fenty is very inclusive, and I want to continue to expand on that so that our consumers can feel our commitment within the retail space.
The Savage X Fenty stores offer a first-of-its-kind retail experience. There are chrome and lavender mannequins in the stores created using 3D technology to fit a wide range of body types. As a result, the brand is able to attract customers who generally don't see their physique shown in stores.
In a statement, Rihanna added…
We wanted to be able to connect with our customers in real life and give them something they have never seen before. Creating the space took a lot of imagination, married with things I've always wanted to change about my own experiences as a customer, from mannequins to the Fit Xperience, to customer service.
In part, the company's booming performance is due to Rihanna's mission to include people of all sizes. As a result, the Savage X Fenty IPO could land a staggering valuation of $3 billion.
An IPO Could Value the Company at $3 Billion
Rihanna is the wealthiest female musician in the world with a $1.7 billion net worth reported in August 2021. However, the Savage X Fenty IPO could raise the stakes even more. The Savage X Fenty IPO could value the company at $3 billion or more, Bloomberg reported.
Savage X Fenty has raised $185 million in funding to date throughout four funding rounds. The company landed a $1 billion valuation after its Series B funding that took place in early 2021.
The company's most recent funding round took place in January. The Series C funding round raised $125 million. L Catterton, Avenir Growth Capital, Sunley House Capital Management and Jay-Z's Marcy Venture Partners are among the company's investors.
In a statement, Jon Owsley, managing partner of L Catterton's Growth Fund, said…
Savage X Fenty has achieved remarkable success by disrupting the intimates category. The brand strikes a unique balance between affordability, fashion and comfort, stands deeply for inclusivity and diversity, and has differentiated itself by building an extraordinary level of affinity and unmatched customer loyalty. We believe the opportunities ahead for Savage X Fenty are enormous.
Because the company is still private, its finances are, too. Until an official filing becomes public, most financial information about the company is private.
However, the company reported 200% revenue growth in 2020. Moreover, its VIP member base grew more than 150% the same year. These figures indicate that a $3 billion valuation in the event of the Savage X Fenty IPO could be within reach. Here's what we know about the potential debut…
Savage X Fenty IPO: Filing Details
​​Savage X Fenty is working with Goldman Sachs and Morgan Stanley, Bloomberg said. Reports state that the company is working with the banks to assess its worth and gauge demand. But the Savage X Fenty IPO is looking promising.
The company hasn't made an official decision on when, or if, it will go public. Right now, a Savage X Fenty IPO is only a rumor. However, people close to the matter predict the company could go public as soon as the end of 2022.
Plans for the Savage x Fenty IPO are still in their infancy. However, stay tuned for the latest updates on Savage X Fenty stock. You can learn more about the IPO process in this step-by-step guide to going public.
As always, make sure to research before you invest. IPOs can be volatile for the first few months and share prices are constantly changing.
Furthermore, if IPO investing interests you, check out our top recent IPOs and our IPO calendar. We update it daily to give you the latest news on upcoming and filed IPOs.
---