Shoes are one of the most universal goods on the market. And sneakers are one of the most popular types of shoes. So chances are you own a pair yourself, if not multiple pairs. They're versatile, practical and commonplace in most households.
And nowadays, it seems there are sneakers to fit every style, need and price range. With pairs ranging from thousands of dollars to under $50. There is an equally wide range of different types too. From running shoes to casual everyday sneakers to sneakers that even have heels. It's almost impossible to own just one pair.
For all these reasons, it might not be a bad idea to consider adding a few sneaker stocks to your portfolio. But now the question is, which ones?
I've put together a list of the top sneaker stocks on the market to answer that very question…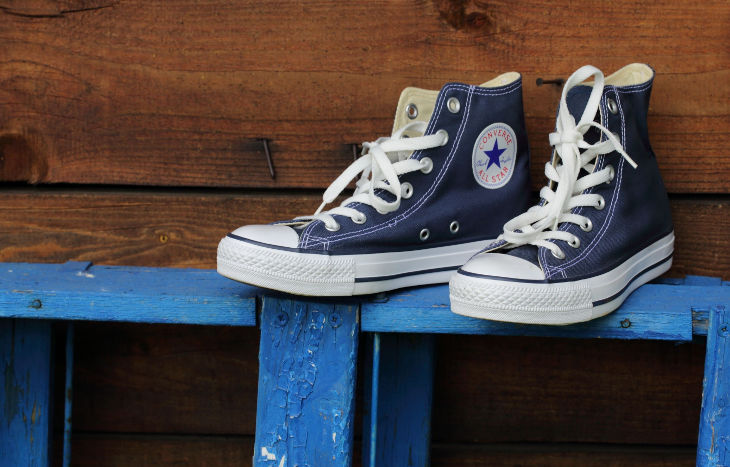 Best Sneaker Stocks
Skechers (NYSE: SKX)
Skechers may not be the first name that comes to mind when you think of sneaker stocks, but it has been a top player for years. Its main original products were skate shoes and work boots. But its product range has expanded since its founding in 1992.
It's now mostly known for its casual and athletic footwear, particularly its sneakers. In fact, it's one of the largest athletic footwear companies in the United States. Which is no small feat when you think of the massive competitors.
One thing that Skechers has mastered is celebrity promotion. It's teamed up with Martha Stewart, Willie Nelson and Demi Lovato, to name a few. Its performance division also sponsors 10 professional golfers from around the world. It's hard to find better promotion for you sneakers than top athletes wearing them on the biggest stages.
Skechers posted revenue of $6.3 billion in 2021, up 37% from the previous year. Its net income also grew 652% from 2020 to 2021, showing a solid rebound from the pandemic. Its stock is up about 30% over the past five years but is down 17% so far this year.
Nike (NYSE: NKE)
Nike is probably one of the first names that comes to mind when thinking of sneakers. It has been at the forefront of the industry for years. This Oregon-based giant is currently the biggest supplier of athletic shoes and apparel.
It's hard to find a sport these days that is untouched by Nike. It has deals with some of the top soccer clubs worldwide and is the official uniform sponsor for the NBA and MLB. Nike also sponsors some of the top tennis and golf players around the world. It even now includes a line of cricket sneakers.
In addition to being a leader in the athletic apparel and sneaker industry, Nike is also a leader in streetwear. Its Air Jordans and Air Force 1s are some of the most popular sneakers on the market. But that's not all; in 2003 Nike acquired Converse for $309 million. This means Nike owns three of the most popular sneaker brands currently on the market, making it a top sneaker stock.
Nike has already posted its fiscal year revenue for 2022. It came in at $46.7 billion, up 5% from the previous year. In this same period, net income also grew about 5%, from $5.7 billion to just above $6 billion. Its stock is up 75% over the past five years.
On Holding AG (NYSE: ONON)
On Holding is somewhat of a newcomer when it comes to sneaker stocks, but that doesn't mean you should count this Swiss company out. Founded in 2010, it's known for its high-performance sneakers and athletic apparel.
This company focuses on the performance side of sneakers. It designs them to give the wearer the perfect running sensation. Today you can find these running sneakers in more than 8,700 stores across more than 50 countries.
On top of that, this up-and-coming sneaker brand has 20-time grand slam winner Roger Federer as a co-entrepreneur. He joined the team in 2019 and has since launched two tennis sneakers with On. It also sponsors more than 60 elite athletes competing in sports ranging from skeleton to triathlons.
It's a recent debutante, having only gone public in September 2021. It brought in close to $800 million (724 million CHF) in annual revenue in 2021. On also posted a net loss of about 173 million CHF in the same period. However, some analysts believe the company could breakeven and become profitable soon.
Allbirds (Nasdaq: BIRD)
Allbirds is that last company on our list of sneaker stocks, and it also happens to be the newest. This San Francisco-based company was founded in 2016 and went public in early November 2021.
It started in New Zealand with just one product, the Wool Runners sneakers meant for casual everyday wear. Since then, its product line has expanded to include other sneakers, footwear and even some apparel. You can only find these trendy sneakers in one of its more than 30 dedicated stores or on its website.
Like many companies these days, Allbirds is making a commitment to sustainability. Some of its goals include using 75% recycled and sustainably sourced materials by the end of 2025. It also hopes its carbon footprint will be almost zero by 2030, making this a great sneaker stock for the environmentally conscious.
Allbirds had somewhat of a rough IPO, but this means some analysts are calling it a potential buy right now. It is not yet profitable, having posted a net loss of $45 million in 2021, which is not uncommon for new companies. Its stock is also down about 70% so far this year.
Other Sneaker Stocks to Consider
These sneaker stocks are, of course, not the only ones on the market. But they are some of the easiest to buy for American investors.
It's almost impossible to write about sneaker stocks without mentioning massive brands like Adidas (OTC: ADDYY) or Puma (OTC: PUMSY). But as you might have noticed, these companies trade over-the-counter (OTC), meaning they aren't listed on any major US exchanges.
There is always some additional risk that comes with trading OTC stocks, given that these exchanges are less well-regulated. However, with companies as giant as Adidas and Puma, they are less likely to completely disappear one day. But you still may want to read more about OTC stocks and exchanges before investing.
The Bottom Line on Sneaker Stocks
I hope this article has helped identify some of the best sneaker stocks on the market. As always, make sure to do your own research and assess your risk tolerance before making any investment decisions. And remember, there are plenty of investment opportunities to explore today…
---