Could Relativity Space stock be the next big thing? As the race to space heats up, investors are looking for opportunities. And a Space Relativity IPO could be one of them.
But will this space company go public any time soon? Here's what we know…
Relativity Space Stock: The Business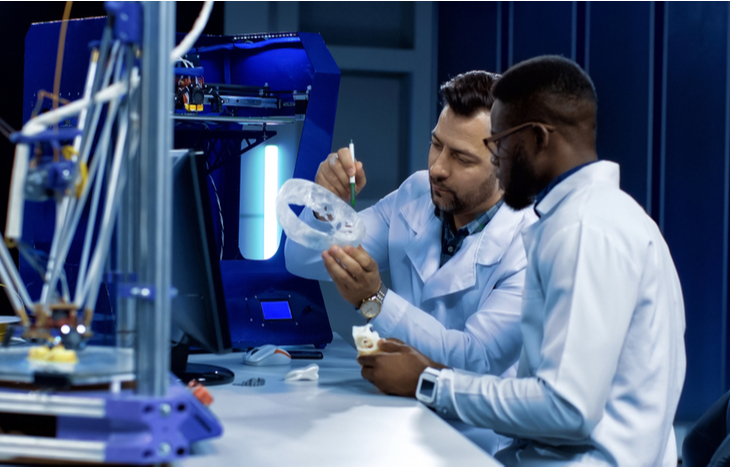 Tim Ellis and Jordan Noone co-founded Relativity Space in 2015. After founding the 3-D printing division at Blue Origin, Ellis moved on to establish his own space company. Relativity Space is an aerospace company using 3-D printing technology to manufacture its aircraft.
In an interview with TechCrunch, Ellis stated…
I think really the thing people haven't gotten about our approach, or 3D printing in general, is it's actually more like transitioning from gas internal combustion engines to electric, or on-premise service to cloud. 3D printing is a cool technology, but more than that, it's actually software and data-driven manufacturing and automation technology.
Relativity Space claims it can manufacture a rocket in less than 60 days. And not only does it print rockets, it also prints the engines. The company's newest engine, Aeon R engines, will be capable of 302,000 pounds of thrust.
The company has two aircraft it's printing. The first rocket debuted was the Terran 1. Not only is this Relativity Space's first aircraft to be made, it's also the first 3-D printed rocket. The Terran 1 is an expandable rocket designed for small payloads.
Relativity Space's second rocket is the Terran R. Standing at 216 feet tall, this rocket is designed for payloads up to 20,000 kg for low-earth orbit (LEO). It will also be reusable, similar to SpaceX's aircraft.
But if you're wondering when Relativity Space stock will be here, let's look at where the company is in its progress.
Company Mission Progress
In December 2020, Relativity Space announced its first mission aboard the Terran 1. The agreement is with TriSept, a provider of launch integration and program management services. Some of its customers include the U.S. Department of Defense and NASA for classified payload missions. Although the agreement is for 2022, Relativity Space is hoping to launch the Terran 1's first orbital flight by the end of 2021.
Additionally, it wasn't until June 8, 2021 the company revealed the Terran R. Relativity Space hopes to start launching the new rocket by 2024. It plans to launch the Terran 1 later this year from Launch Complex 16 at Cape Canaveral, and it hopes to launch the Terran R from the same site.
The Terran R marks a number of events for the hope of Relativity Space stock. The rocket was designed for the growing demand for large constellation launch services, such as SpaceX's Starlink. And the company already secured nine contracts from private and government customers.
But Relativity Space is excited because it claims the Terran R puts the company leaps forward to its mission of multiplanetary human life. Ellis said…
When we founded Relativity, the inspiration was watching SpaceX land rockets and dock with the space station. They were 13 years old and they were, despite all of that pretty inspiring success, the only company that wanted to make humanity a multi-planetary and go to Mars. And I thought that 3D printing tech was inevitable to actually build an industrial base on another planet. No one else had actually even tried to go to Mars or said that was their core mission. And that's still true today, actually, even five years later, it's still just us and SpaceX. And I really do hope to inspire dozens to hundreds of companies to go after that mission.
However, Jeff Bezos made it clear he has the same lofty goal for Blue Origin. Now, investors are waiting to see which space IPO will come first. But why do some analysts think a Relativity Space IPO could be near? The answer is pretty simple…
Relativity Space IPO: Series E Funding
On the same day Relativity Space revealed its Terran R rocket, the company also announced the closing of its latest funding round. The Series E funding brought in $650 million in equity. Fidelity led the round with participation from BlackRock, K5 Global, Soroban Capital, and Shark Tank's Mark Cuban, just to name a few.
As a result, the company has raised a total of $1.34 billion since founding. And Relativity Space's valuation is unicorn status at $4.2 billion. This is a big increase from its November valuation of $2.3 billion.
Relativity Space will use the newly raised funds to accelerate company growth, both in increasing the number of employees and staying on schedule. The company claims its Terran 1 rocket that should be launched by the end of 2021 is about 85% completed.
So, the big question: when will Relativity Space IPO?
Will Relativity Space Go Public?
Unfortunately for investors, there are no plans for Relativity Space stock any time soon. Ellis believes he won't need to take the company public any time soon and continues to find what he needs in the private market. Ellis also told CNBC that Relativity Space received higher offers for fundraising. The company decided to go with Fidelity, however, due to its prestigious reputation.
Are you looking for the latest investment opportunities? Then sign up for our free Profit Trends e-letter! It's full of useful tips and research from our investing experts. And if IPO investing interests you, check out our IPO Calendar and Top Recent IPOs to stay up-to-date on the market's latest opportunities.
It looks like investors won't see a Relativity Space IPO date any time soon. But once the company has successfully launched a mission, investors may want to keep an eye out for Relativity Space stock.
---
Amber Deter has researched and written about initial public offerings (IPOs) over the last few years. After starting her college career studying accounting and business, Amber decided to focus on her love of writing. Now she's able to bring that experience to Investment U readers by providing in-depth research on IPO and investing opportunities.