Creating new and attractive websites is becoming easier every day. Companies like Squarespace (NYSE: SQSP), Wix.com (Nasdaq: WIX) and GoDaddy (NYSE: GDDY) allow everyday folks to make websites just like the pros. So, it stands to reason that investors are interested in Squarespace stock.
These platforms offer templated website designs that are both user-friendly and professional. Readers can view the templates provided by Squarespace here.
In years past, if you wanted to create a competitive website, you had to hire a team of designers at a hefty cost. Nowadays, the templated website designs provided by Squarespace allow savvy users to create websites by themselves. Not a savvy user? No sweat. Local freelance designers can use Squarespace to make the website at a fraction of the cost. Alternatively, freelance designers are available on freelance websites like Fiverr or Upwork.
In addition to being easy, Squarespace's templates are great for tons of different website types. For example, the company has website templates for e-commerce, travel, real estate, restaurants, professional services, local businesses, fashion and many more.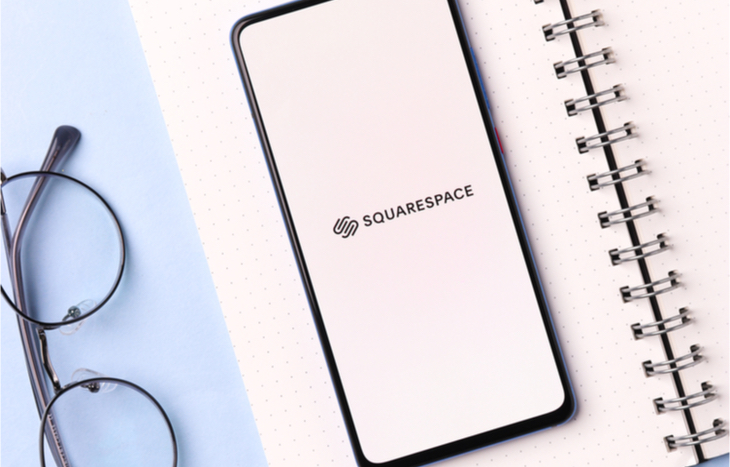 Squarespace Stock Earnings
The company will release financial results for the fourth quarter and full-year 2021 on March 7, 2022. On the same day, Squarespace managers will host a webcast to discuss the results and field listeners' questions. The webcast will begin at 8:30 a.m. ET. Readers will find a link to the webcast here.
On the last Squarespace stock earnings report, management reported that revenue was up 24% for the quarter. At the same time, they said that net income was down for the quarter.
Management also gave their outlook for the full year on the previous call. The company estimated that for the full year 2021, Squarespace would have sales between $780 million and $783 million. The company sales estimate increased from its prior estimate of $772 million to $780 million. This increase was due to higher-than-expected demand for the company's services.
Squarespace Stock Forecast
If you haven't used Squarespace, you might still recognize the company from its popular Super Bowl commercial featuring Zendaya and Andre 3000. If you have used Squarespace, you know that Squarespace offers services in addition to website design. These services include tools that support online businesses. For instance, the tools integrate marketing, scheduling and online payment into website design. These tools give every customer a noticeable online presence.
For these services, Squarespace earns an ongoing subscription fee from its customers. There is only a small cost associated with the fees, and there are few ups and downs in fee revenue. Recurring fee revenue for these services is very desirable.
A growing number of businesses are using Squarespace, Wix and GoDaddy to save costs and create a great website. Because there is such a demand for website design, there are also many competing website design companies.
When creating your Squarespace stock forecast, don't forget to consider the risks.
What's Up With Squarespace?
Squarespace stock went public through an IPO in May 2021. The starting price of each share was $50. Currently, shares are below $27. It hasn't been a fun ride for investors.
The stock has performed poorly so far in 2022. Squarespace stock is down around 10% year-to-date. At the same time, the Nasdaq index is down nearly 15% for the year. Even though the stock is down, it has performed better than its tech stock peers.
Tock is a company that helps its customers make online reservations. Before Squarespace's IPO, in March 2021, the company acquired Tock for $400 million. The purchase price was paid for by a mix of cash and shares of Squarespace stock.
Squarespace plans to combine the reservation service into its platform. Squarespace customers can now use the reservation technology on their websites. Restaurant websites love the new feature.
New Company Vision
Last fall, Squarespace announced many platform upgrades and product releases. The announcement supports the company's new vision called "Everything To Sell Anything." CEO Anthony Casalena said about the company's new vision:
"Squarespace has always supported a diverse array of entrepreneurs on our platform. Today, we are excited to announce a number of new releases and upgrades that help our creators share their stories and sell in a myriad of ways. With Squarespace's platform, in addition to selling physical products, you can sell access to gated content, manage reservations, take to-go orders, manage an event, make appointments, and more. No other online hosting platform provides both the breadth and depth of the services Squarespace offers."
Is Squarespace Stock a Good Buy?
Being a newly public company, they haven't issued many quarterly financial statements. So, there isn't much history for investors to gain information. Here's what we do know. Free cash flow has been just over $100 million for the last twelve months. The current market cap for Squarespace is about $3.7 billion. Those metrics would imply a price-to-cash-flow ratio of about 37x. Investors might think the Squarespace stock price is on the expensive side. In addition, Squarespace stock does not pay a dividend.
Investors interested in buying the stock are likely banking on the company's future growth. If the company can keep growing revenue and cash flow, the current share price might be okay. If not, the price could be pricier than it seems.
---