Reviews
TD Ameritrade Review: Tools, Fees and Capabilities
This TD Ameritrade review will break down the reasons why this platform may be right for you. We've done a deep dive into TD Ameritrade, breaking down the pros and cons of the platform, including its tools, fees and capabilities. We'll answer the most important question for investors: is TD Ameritrade good?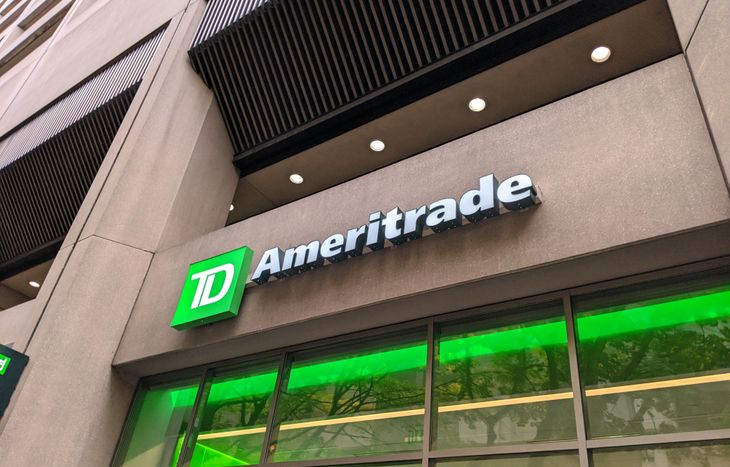 What is TD Ameritrade?
TD Ameritrade was founded in 1971 and has since evolved into one of the premier online trading platforms during the Internet Boom of the 1990s. Today, the company is an offshoot of Charles Schwab and may be folded into the company sometime in the next several years. TD Ameritrade has more than $1.2 trillion in assets under management.
The Benefits of TD Ameritrade
Most TD Ameritrade reviews focus on the many free tools the company offers to investors — and for good reason! TD Ameritrade is one of the most prolific brokers out there in terms of information accessibility and investor support. Some of the chief benefits of trading through TD Ameritrade include:
Virtual trading simulator: Access up to $100,000 in "practice money" to simulate real-time trades. It's a great tool for new investors and those exploring new securities and strategies.
Resource library: TD Ameritrade has an extensive library of educational materials for investors, including videos, articles, quizzes and much more, on virtually every topic.
Investor support: With more than 300 branches, there's always someone available to help you at TD Ameritrade. The company also has a robust chatbot and FAQ section.
In addition to these resources, one of the biggest advantages of using TD Ameritrade is low-to-no cost trading. Some of the best financial reasons to open an account include:
No account minimums
No-fee stock trades
More than 4,100 no-fee mutual funds
No-fee ETF trades
No base commission on options ($0.65 per contract)
TD Ameritrade offers a large selection of investments, including cryptocurrencies and IPOs on qualified accounts. With no-commission trades, it aligns well with the move to no-fee services across the industry. The platform also offers a great trading app (iOS only), browser-based trades and even a desktop trading application (thinkorswim).
TD Ameritrade Drawbacks
While some TD Ameritrade reviews mention high fees for broker-assisted trades, this really isn't a drawback, per say. The company currently charges $45 for broker-assisted trades, which is between $15-20 higher than other brokerages. For many investors, this isn't a major concern.
While not a drawback, investors considering opening an account with TD Ameritrade need to be aware that this service is likely to change in the next 1-2 years. Charles Schwab officially acquired TD Ameritrade for $26 billion in stock on October 6, 2020. Schwab has maintained that the brokerages will operate separately for the next 18-36 months; however, the company's intent is to fold TD Ameritrade into Schwab's brokerage services in the future.
It's uncertain if TD Ameritrade will remain an independent broker under the Schwab umbrella or if TD Ameritrade accounts will become Schwab accounts as part of the merger. In either case, this isn't a bad prospect, as Charles Schwab is consistently rated as one of the top brokerages.
Is TD Ameritrade Right for You?
As many TD Ameritrade reviews mention, this is a platform that caters to new investors. Low-to-no fees and a prolific library of educational materials make it easy for new investors to dip their toes into the world of securities and learn the basics of investing as they go.
This isn't to say experienced investors can't get value from TD Ameritrade. Who doesn't love free trades? While the brokerage's stock screener and research tools are valuable, seasoned investors with advanced needs may choose to look elsewhere for more in-depth analytical tools. Fortunately enough, Charles Schwab offers many of these tools, which may mean more functionality from your TD Ameritrade account in the future.
The bottom line? It's hard to beat the features and benefits offered by a TD Ameritrade account — especially if you're a new or casual investor. With the looming prospect of the Charles Schwab merger, the prospects only look better for TD Ameritrade users.
For the latest stock market trends and analysis, sign up for the Trade of the Day e-letter below. This TD Ameritrade review is a great guide to finding the perfect platform for your investment journey. You may just find the next big investment opportunity!
Read Next: TD Ameritrade thinkorswim Review: A Flagship Trading Platform
---