Lately, Tellurian (NYSE: TELL) has been a hot commodity (pun intended). Last week alone, the was up over 44%. The company operates in the Liquified Natura Gas (LNG) sector. The LNG sector has been trending lately for a few reasons. First, LNG is a clean-burning alternative to other fossil fuels. As the world slowly becomes less dependent on fossil fuels that are harmful to the environment, Tellurian stock has been making its way onto many investors' radar.
Second, but more impactful to Tellurian stock, is the current state of affairs in the commodities sector. Russia's aggression toward Ukraine has caused many countries to support Ukraine. In doing so, ally countries have sanctioned Russia by not importing or phasing out imports on Russia's largest exports. Those exports include major commodities, including LNG.
LNG is abundant in the U.S., and there is plenty to be exported to support ally countries. Because of the sanctions, countries worldwide are looking for alternative sources of LNG. One option for these folks is U.S, LNG companies like Tellurian.
Around the world, LNG is used to make electricity, fertilizer and heat homes. The most prominent use of LNG is electricity production, traditionally produced by burning coal. Though LNG is a cleaner option than coal, switching is not an overnight process.
Tellurian plans to expand its capacity by building new facilities in 2022.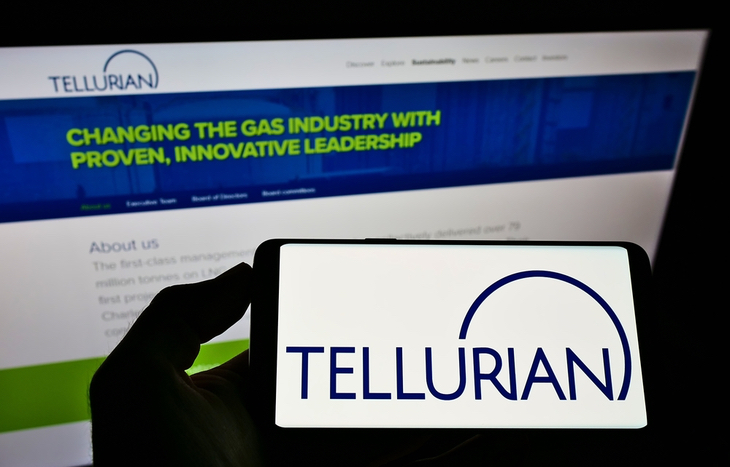 Tellurian Stock 2021 Full Year Results
Tellurian's management team issued a press release with the company's financial results and comments. The company reported fourth-quarter and full-year 2021 results on February 23. The press release noted that sales for the year came in at about $71 million. In addition, earnings for the year were negative $115 million.
The press release quoted President and CEO Octavio Simoes as: "Tellurian will continue our natural gas development program and expects to drill, complete and place into production additional operated Haynesville wells during 2022."
Tellurian stock analysts predicted earnings per share of negative $.04 per share for the fourth quarter. The company missed the analyst's expectations, reporting a negative $.09 per share. For full-year 2022, analysts estimate that Tellurian will earn negative $.23 per share.
On the revenue side, analysts are bumping up their estimates quite a bit. For full-year 2022, Tellurian analysts are penciling in almost $200 million in sales. That's nearly triple the revenue from this year.
One source of optimism could be rising LNG prices globally. Tellurian stock could have a great year if LNG prices continue to increase or even remain high throughout 2022.
The Price of LNG Has Increased Lately
As European countries seek sources of imports from countries other than Russia, different solutions have popped up. One of those solutions came last week. According to a report from Reuters, the U.S. has agreed to ship LNG to ally European countries.
The deal was negotiated between countries and not in the open market and may not reflect a normal situation. The slowdown in Russian LNG will likely decrease the supply of LNG worldwide. Typically, a decrease in supply would mean an increase in LNG prices.
Interestingly, there are three different global benchmarks for LNG in Europe, China and the U.S. Prices for LNG on each market can be significantly different from each other. If supply moves from the U.S. market to the European market, that could mean that the European price is stable and prices in the U.S. increase.
There are plenty of different possible outcomes from the announcement. One thing is likely, extra business may be heading to U.S. LNG producers very soon. If one of those beneficiaries is Tellurian, the stock could get a bump in 2022.
Driftwood Expansion
Tellurian is working on a major expansion of its LNG capacity called the Driftwood Project. The project will include two plants and increase LNG production capacity substantially. Construction will begin in April 2022.
One major obstacle for the project is how Tellurian will pay for the Driftwood Project. Funding for the project will include debt and eventually an equity raise. A short video by Executive Chairman Charif Souki spells out the company's strategy.
The company may not finish the Driftwood Project in time to take advantage of increased demand from U.S. LNG in Europe. On the Brightside, LNG prices have been higher in China and Europe. Analysts believe that future LNG prices will be higher in the future, regardless.
According to a recent investor presentation, Tellurian already has contracts in place to sell all of the LNG that the Driftwood Project will produce. Though there is risk associated with the project, it could be a significant long-term success. If the project is indeed successful, it could mean great things for shareholders. Readers can learn more about the project on its dedicated website.
---