More people are traveling again and this bodes well for the best Thanksgiving stocks. With the stock market near all-time highs, they might not be gravy trains. Although, they're still great ways to expand your portfolio.
There's plenty of pent-up demand for getting friends and family together. And with that comes more consumer spending. We're seeing increases in categories such as food and drinks. This increased demand, along with some shortages, is pushing up prices.
Inflation has already spiked above 6%. And the classic Thanksgiving feast will cost 14% more than it did last year. That's according to the Farm Bureau. This inflation impacts both savers and investors…
If you're holding cash, this isn't great to see. Your purchasing power is dropping at a faster rate. Although, by investing in the companies below, you can hedge against inflation.
The Thanksgiving stocks below are large food and drink companies. They should be able to pass on inflation costs to customers thanks to their large brands. This pricing power is great for investors.
Without further ado, let's dive into these holiday investing opportunities…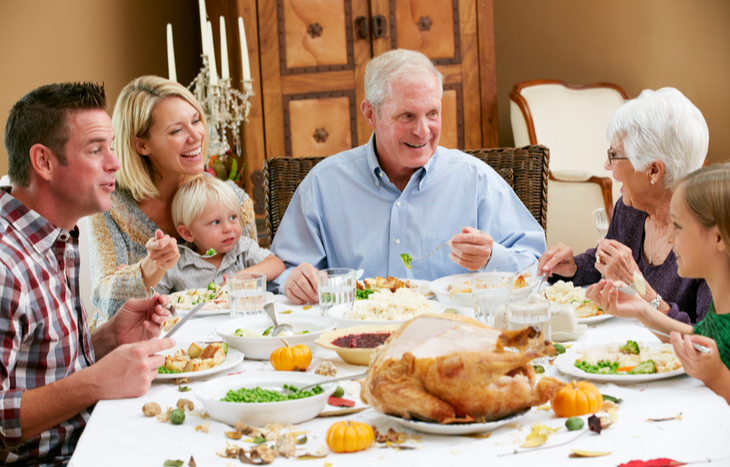 Thanksgiving Stocks to Invest in Food Inflation
Flowers Foods (NYSE: FLO)
Molson Coors Beverage (NYSE: TAP)
Starbucks (Nasdaq: SBUX)
Campbell Soup Company (NYSE: CPB)
These Thanksgiving stocks should see a little sales boost from Thanksgiving week. Although, it's just a drop in the bucket compared to their total sales. Nonetheless, this week could be a good indicator for their future growth.
Let's look at some highlights from each company. You'll see why they made the cut…
Flowers Foods
Flowers Foods sells bakery foods and many staples for Thanksgiving meals. The company has 46 bakeries in 18 states. You can find its foods under brands such as Dave's Killer Bread, Canyon Bakehouse, Nature's Own, Tastykake and Wonder Bread.
In fiscal year 2021, Flowers Foods brought in close to $4.4 billion in sales. That's up 6.4% over the previous year and it's great growth for the food industry. With some good numbers in the rear view mirror and continued growth, investors have bid up the stock price. As a result, it doesn't look as cheap as it used to… but the recent momentum is positive.
Another big benefit to Flowers Foods is the dividend. It comes in close to a 3% yield and that more than doubles the S&P 500's dividend yield. Thanks to steady cashflows from food sales, Flowers Foods keeps rewarding investors with more income.
Molson Coors Beverage
For the next of the best Thanksgiving stocks is Molson Coors. You might know this company for its Coors and Molson beers. Although, that's only scratching the surface. Founded back in 1873, it's become one of the largest brewers in the U.S.
Molson Coors provides other beers such as Miller, Miller Lite, Crispin Cider and Blue Moon. There are close to 100 different brands and there's a good chance you'll see of few of these at your Thanksgiving events.
Unlike Flower Foods, Molson Coors stock is well off its highs. The pandemic hit the company hard, but over the past few quarters, it's been moving in a better direction. As social outings like Thanksgiving pick back up, Molson Coors should benefit.
To find more stocks in this industry, check out these top beer stocks. Molson Coors is just one of the top beer companies available to investors. You can also gain more international exposure with those companies.
Starbucks
For another one of the best Thanksgiving stocks, Starbucks makes the list. As families travel and schedules change, they seek out coffee for some extra energy. After a big meal, a cup of coffee can help you stay awake as well.
Since its start in 1971, Starbucks has expanded to more than 32,000 stores in 83 countries. This reach gives the company stable cashflows and it continues to grow. For the holiday season, Starbucks offers special drinks to attract more customers. Customers know what to expect and this keeps them coming back for more.
The pandemic disrupted many restaurants and Starbucks stock took a hit… but it's rebounded faster than some other restaurant stocks. That's largely thanks to its improved online and drive-thru services. Starbucks is leveraging technology to help keep customers around and expand its business.
To find even more caffeine investing opportunities, check out these coffee stocks.
Campbell Soup Company
Turkey, stuffing and soup are classics for any Thanksgiving meal. And this makes Campbell Soup Company another one of the best holiday food stocks to consider.
Many people know this company for its iconic soups like Campbell's tomato soup. Although, it's picked up many products and brands over the years. Under the larger business, you'll find Pepperidge Farm, Pace, Prego, V8 and many more.
Following Starbucks on this list, shares of Campbell haven't done nearly as well. It's down over the past year and even the past five years. However, the company still remains profitable and continues to reward shareholders with dividends.
With a lower share price today, its yield comes in well above 3%. It might be a better value investing opportunity.
Investing Beyond Thanksgiving Stocks
As mentioned, Thanksgiving week will just be a small fraction of these companies' sales. But it might help indicate performance and sales going forward. Keep an eye out for updates from these companies. As more people travel, consumer trends will change and investors should be prepared.
The Thanksgiving stocks above can also help investors hedge against rising food costs. No matter what happens in the economy, people need to eat. And thanks to these large food and drink brands, sales should continue to climb.
If you're looking for more investing opportunities, sign up for Profit Trends below. It's a free e-letter that's packed with insight. You'll hear directly from investing experts who cover seasonal trends, as well as some of the best technologies to invest in today.
---