Crypto
The TRON Crypto Token Is on the Rise. Should You Follow the Bulls?
Of the new generation of cryptocurrencies, TRON crypto (TRX) is one of the best performers. When we last talked about it back in April, it was up more nearly 3,000% in value. And in the past month, it's up more than 30%. So what is it investors see that looks so promising in this project? Quite a bit actually. We'll go over some of that in a bit. But know that there are some reasons to be cautious as well.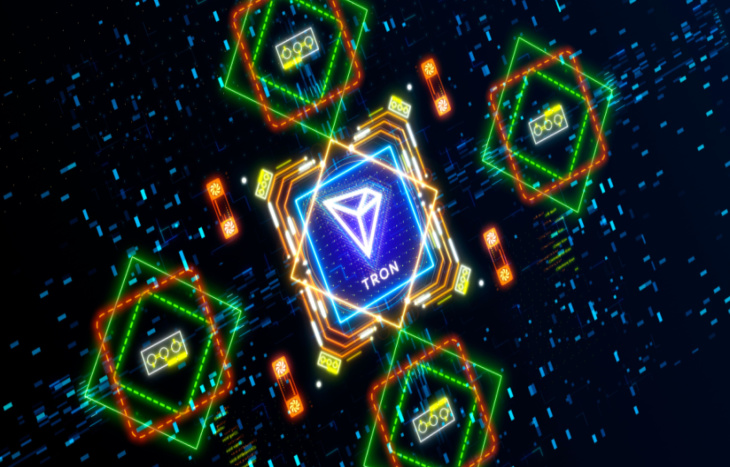 The goal for TRON crypto and the blockchain it powers is a big one. The plan is to develop a fully decentralized internet and accompanying infrastructure. But to be fair, this isn't a completely unique vision. That's also the proposal behind DFINITY and its Internet Computer token ICP. Same goes for Cosmos (ATOM). But these two competing tokens are way down year-over-year. Meanwhile, TRON is going in the opposite direction.
The performance of TRON crypto amidst the widespread crypto crash is a head-scratcher on the surface. But there's actually some sound reasoning behind its rise. Namely, that some whales have taken a serious shining to the project and the token that powers it.
Why TRON Crypto Is Up
Last month, TRON crypto was one of (if not the) best performing tokens out there. Like we mentioned above, it shot up more than 30% while the rest of the market trended lower. At least part of the reason behind this was some major investments from folks with deep pockets.
An estimated $3.56 million worth of TRON crypto was transferred from Binance to various wallets last month. Then as May drew to a close, some huge purchases took place, according to our new favorite Twitter feed, Whale Alert:
🚨 🚨 🚨 🚨 🚨 🚨 🚨 939,999,999 #TRX (76,870,005 USD) transferred from #Binance to unknown wallethttps://t.co/BqyZusirwi

— Whale Alert (@whale_alert) May 30, 2022
On top of the big money going after this token, there's a lot of other things happing in this ecosphere as well. TRON is now the third largest DeFi blockchain in terms of total locked value. It's positioned behind Ethereum and BNB Chain, respectively. However, TRON is the only one of these three that's seen continued growth.
Then of course, there's the announcement of TRON's algorithmic stablecoin, USDD, which also took place last month. Coincidentally, the release of USDD took place less than a week before Terra's LUNA and its stablecoin imploded.
Nonetheless, investors don't appear worried about TRON's USDD facing a similar disaster. At least for the time being.
About That Stablecoin 
Traditional stablecoins are backed by some sort of asset. For the most part, Circle's USD Coin (USDC) and Tether (USDT) are examples of this. But TRON's USDD isn't. This one is governed by smart contracts. And the accompanying algorithms keep it pegged to the dollar.
If someone holding USDD wants to, they can swap it out for $1 worth of TRON crypto at any time. This offers investors an opportunity for a crypto arbitrage trade. Should the price of USDD fall below $1, investors can buy it at the discounted rate and then trade it for TRON crypto. They can then simply pocket the difference by selling TRON.
Furthermore, those that use the stablecoin platform SUN can make as much as 64% for staking USDD-TRX liquidity tokens. This project has led to a massive uptick in users of these TRON-based platforms. All of this has added a whole lot of justified interest in the TRON crypto and the platforms it helps power.
However, those massive rewards for staking could be seen as a red flag. Returns like that simply aren't sustainable for the long-term. And due to the fact that USDD bears a striking resemblance to Terra's stablecoin project, the rules of caveat emptor certainly apply here.
The Bottom Line on TRON Crypto
Whether investing in the stock market or crypto market, there's something to be said for momentum. And TRON crypto certainly has that on its side. The case is made doubly strong by the fact that it's surging in an otherwise down market.
But does all of this make it a "buy?" That's a tough call. The attacks on algorithmic stablecoins shouldn't be ignored. And this makes TRON crypto vulnerable now that USDD is in circulation. While it's held up just fine since launch, this is still worrisome. And that alone is enough to keep us at bay.
If we had a better idea of who the wales were behind last month's acquisitions of TRON crypto, maybe we'd be a bit less hesitant. However, one of the whales could have been TRON founder Justin Sun, who has that kind of money to spend. It would be an easy way for him to drive up prices and get more exposure for this project. But again, that's just speculation.
For the time being, we suggest keeping a healthy distance from TRON crypto. This is despite the fact that it's powering one of the biggest blockchains out there and has been surging in value. There are just too many uncertainties and risks with this coin. Maybe the sentiment would be different if we didn't just see what could happen to a project like this with LUNA. But it's there for us to see. And it's a memory that will help guide our investments for a long time to come.
---