Taiwan Semiconductor Manufacturing Company (NYSE: TSM) is the world's largest semiconductor foundry. According to its website, TSM stock holds 26% of the non-memory semiconductor market. TSM stock works with its customers to create the chips and semiconductors they need to advance technology to the next level.
The company also boasts that it produced over 12,000 different products in 2021. TSM stock's Open Innovation Platform enabled the new products. The platform was built by collaborating with TSM Stock, its customers, and partners.
TSM stock was listed on the New York Stock Exchange in 1994. Since then, sales have grown at an annual rate of 17.5%. Over the same time, earnings have grown 17.1% annually. TSM stock believes it can keep growing rapidly. For instance, the company projects that sales can grow 15% to 20% through 2026. TSM stock's balance sheet is also strong. The company has the highest credit rating in the semiconductor industry.
TSM stock is committed to its dividend, which it started paying in 2004. In the company's history, it has never reduced its dividend per share. In 2021 TSM stock paid $9.5 billion in dividends to shareholders. Currently, Taiwan Semiconductor Manufacturing pays a dividend yield of 3%.
Unfortunately, the TSM stock is down 38% this year. Here's why.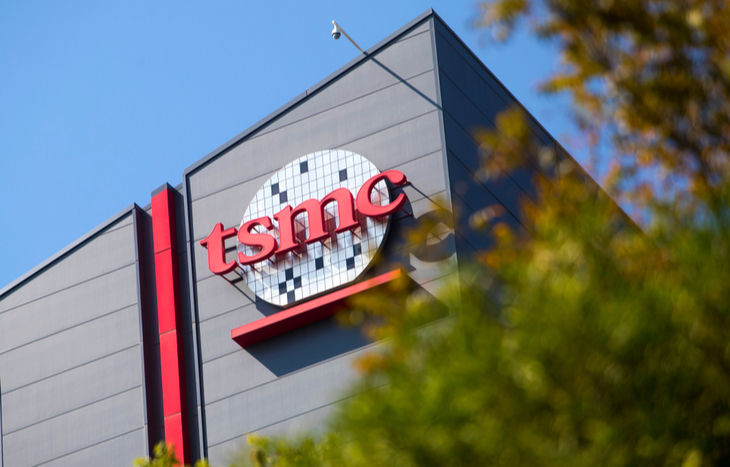 Why is TSM Stock Dropping?
In 2021, the company got about 41% of its revenue from selling chips to personal computers. As many folks began to work from home in 2020 and 2021, personal computer sales skyrocketed. Now the market has cooled, and fears of a global recession are looming. If there is a slowdown, sales of personal computers may fall drastically.
Another 40% of TSM stock's 2021 revenue came from chips that go into smartphones. With higher-priced smartphones on the market, a global recession may cause buyers to forego the latest smartphone to save money. If that happens, another bight could be removed from TSM's revenue.
Earnings Report
TSM stock had earnings per share of $1.40 in the first quarter of 2022. Industry analysts had expected TSM to report $1.31 of earnings per share. TSM stock's quarterly earnings press release said that first-quarter sales were up 36% year-over-year to $17.6 billion. Though sales grew over the first quarter of 2021, they fell 11.6% from the fourth quarter of 2021.
In the press release, TSM's CFO Wendell Huang said, "Our first-quarter business was supported by strong HPC and Automotive-related demand. After TSM put out its first-quarter results, managers from the company hosted a webcast to talk about the results. When they finished talking, they took questions from listeners. Interested readers can find a link to a replay of the webcast here.
During the quarter, TSM stock's board of directors approved a share buyback program to offset dilution by shares issued to employees. When a company buys back its shares, it reduces the number of shares outstanding. By doing so, the company can increase its earnings per share and reduce its P/E ratio. In addition to the buybacks, the board also approved a quarterly dividend of $.365 per share.
TSM Stock Forecast
Analysts have a 12-month price target of $100 for Taiwan Semiconductor Manufacturing. The $100 price target is based on analysts' forecasts over the last three months. TSM Stock is currently trading at $79. If the price target is correct, the stock will give investors a 26.5% return over the next 12 months.
TSM's first-quarter earnings report offered its outlook for the upcoming second quarter. The company forecasted that sales would fall between $17.6 billion and $18.2 billion. TSM's sales forecast is based on an exchange rate of $1 to 28.8 NT dollars. In addition, the company forecasts that the gross margin will be between 56% and 58%. TSM's forecast also predicts that the operating margin will be between 45% and 47%.
Three analysts making TSM stock forecasts think the company's second-quarter earnings per share will be $1.47. The highest earnings per share forecast is $1.49, and the lowest is $1.46. So, it appears all three analysts are forecasting similar numbers. None of the three analysts have changed their forecasts over the last four months.
For the year ending in December of 2022, the three analysts forecast that TSM stock will make $5.89 in earnings per share on average. The high and low forecasts are $6.11 and $5.75, respectively. Based on the average earnings per share forecast, the stock is trading at a forward P/E ratio of 13.4x.
The company will release its second-quarter financial results on Thursday, July 14 at 2 p.m. Eastern Time. After the results are released, managers from the company will host a webcast to talk about the results. After they finish talking, they will take questions from listeners. Interested readers can find a link to the webcast here.
Is TSM Stock a Good Buy?
Industry analysts rate TSM stock a strong buy. Six analysts have offered recommendations for TSM stock over the last three months that like the stock. So far this year, though, the stock is down 39%. The stock's fall is even worst than the broader S&P 500 stock index, which is down 20%.
Chip demand should increase in the coming years as technology advances, and folks keep buying consumer electronics. Savvy investors may see the stock's fall as an opportunity to buy a good company while it is down. On top of the potential gains, TSM stock pays a dividend yield of 3%.
There is a lot to understand about a company as large as Taiwan Semiconductor Manufacturing. But if you believe that TSM's end markets will be fine or even grow in the long run, now might be a good time to invest.
---