TSX stocks are listed on the Toronto Stock Exchange. Sometimes, an investor needs to branch out. Buying TSX stocks can prove to be a fun and stimulating way to do that. However, that's not to say that the U.S. exchange isn't great. But sometimes, it can pay off to dive down a rabbit hole. You can learn a lot by getting into something different and interesting.
Of course, it's smart to make sure you conduct your due diligence. And keep in mind that you're just investing in a different country's stocks. However, that doesn't mean your portfolio will be better or worse without them.
Just like any other investment, you need to make an intelligent decision. Because some countries' economies grow faster than others. And just because that happens, it doesn't mean your investment will grow larger.
Most importantly, just like a business, each country has its own nuances and ways of doing things. But, Canada is a great choice if you want to branch out. They do lots of business with the United States. In fact, the U.S. is the main country they trade with.
Canada's top industries are real estate, manufacturing and mining. These all have the potential to grow in the next few years. Especially with the infrastructure bill put into the mix.
Below are some of the best companies to buy if you're interested in TSX stocks.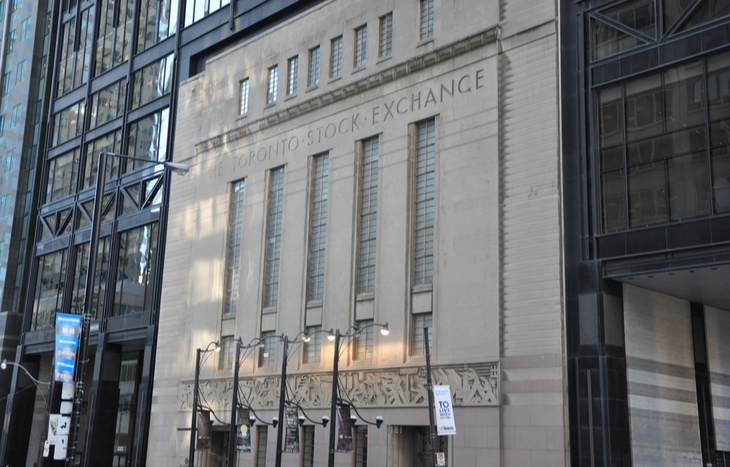 TSX Stocks to Buy
Shopify Inc. (TSE & NYSE: SHOP)
Royal Bank of Canada (TSE: RY)
Toronto- Dominion Bank (TSE: TD)
Brookfield Asset Management Inc. (TSE: BAM.A)
Enbridge Inc. (TSE: ENB)
TFI International Inc. (TSE: TFII)
Nuvei Corp. (TSE: NVEI)
Algonquin Power & Utilities Corp. (TSE: AQN)
Nutrien Ltd. (TSE: NTR)
Suncor Energy Inc. (TSE: SU)
Best TSX Stocks
No. 10 Shopify Inc.
Yes, this TSX stock is also a U.S. stock. However, it's headquartered in Canada. And the fact that it's listed on several exchanges shows that it's growing.
Shopify is a great TSX stock to buy. It offers services to support e-commerce businesses. And that industry is still growing larger and larger each year.
In addition, it has a scalable model and a market cap of almost $115 billion.
No. 9 Royal Bank of Canada
Royal Bank of Canada is a huge TSX stock. With a market cap of $203 billion, it is the largest bank in Canada by market cap. Additionally, it offers a very comfy dividend yield of about 3.4%.
Right now, the stock is at an all-time high. And it doesn't look like it's about to slow down, either. For instance, profit margins for Royal Bank are very high, even for a bank.
No. 8 Toronto- Dominion Bank
Toronto is a TSX stock that operates internationally. It offers a nice dividend of over 3.5%. And it has a large market cap of over $183 billion. Additionally, profit margins are also very high.
No. 7 Brookfield Asset Management Inc.
Brookfield focuses on alternative investments. The company collects them too. Including real estate, infrastructure and private equity. It holds assets all over the globe. Thirty countries to be exact.
And it holds over 2,000 investments. Plus, the company employs over 150K people worldwide. Brookfield likes to invest in global industries with staying power. So, it could be a great stock for someone wanting to profit from  the U.S.'s rise in infrastructure development.
No. 6 Enbridge Inc.
Enbridge is a TSX stock that offers a whopping dividend of over 6.5%. It moves a large amount of the United States' crude oil and gas.
In fact, about 30% of our oil is moved by Enbridge. And, about 20% of the U.S.'s gas. That creates an amazing opportunity for those interested in oil and gas investments. And, it's even invested into offshore wind energy.
The company has many awards and recognitions. Including being named one of the Best 50 Corporate Citizens in Canada for 18 years in a row.
No. 5 TFI International Inc.
TFI is a TSX stock that provides companies with transportation of materials. It moves freights, and operates in over 80 countries around the globe.
TFI strives to keep shareholders happy by putting excess capital back into the company. Thus, growing the company, and allowing shareholders to benefit.
In addition, it offers next-day delivery in Canada. And, it's working to make its processes more and more efficient. It even seems as though it's trying to get into the decentralized space.
No. 4 Nuvei Corp.
Nuvei is a TSX stock that has done incredibly well. It went public in 2020 with an IPO of $700 million. The company is now worth over $10 billion.
As an e-payment processing company, it has tons of room to scale and grow. Profit margins are nice and high right now. Which could mean they are putting some of that back into the business. And that's a win for them. But, that's also a win for investors.
In addition, its payment systems accept hundreds of types of currencies. Including those tied to a specific country. And, it accepts 40 cryptocurrencies.
No. 3 Algonquin Power & Utilities Corp.
Algonquin is a TSX stock that focuses on providing energy. For example, water, gas and electricity are the main resources it provides. But, they have also recently announced they plan on net-zero emissions by 2050.
Algonquin has created a brand called Liberty. This is the collection of all its renewable energy initiatives. Most importantly, the company plans on creating a system that will provide Earth-friendly resources. And it's striving to keep these safe and cost-effective.
No. 2 Nutrien Ltd.
Nutrien produces fertilizer. This TSX stock produces the most potash in the world. Not only that, but they are the third largest producer of nitrogen in the world.
Nutrien also owns over 1,500 retail stores. The company knows that they are a major link in the supply chain when it comes to producing food for the world. Nutrien seems to be farmers at heart. So, they focus on making sure they are reliable and sustainable for generations to come.
Best TSX Stocks to Buy No. 1 Suncor Energy Inc.
Suncor is a TSX stock that ranks as Forbes 2020 Global 2,000. And it was put in spot number 252 for largest companies in the world. With a market cap of over $52 billion, it's easy to see why. And, Canada has a plethora of natural resources to offer.
So, it's easy to understand how Suncor was able to build to that amount. Of course, it takes more than just great resources to build a huge company. But, it certainly helps when your stock is local and high-quality.
---