Most readers know Verizon as one of the big three nationwide wireless carriers in the U.S. Readers may also know that Verizon has taken steps to become a leader in 5G. In addition, the company has ambitions to become a leader in edge computing and internet provider for businesses. The new strategy is enticing for investors interested in Verizon stock.
In February of 2021, the Federal Communications Commission completed an auction of airwaves that buyers will use for 5G. Verizon was a big winner in the auction, spending $45.5 billion for the most significant chunk of the airwaves.
With the airwaves, Verizon now gives customers the option to join its 5G wireless network. The company's 5G network offers internet speeds up to 10 times faster than 4G LTE coverage. In addition to wireless internet for your smartphone, Verizon can also provide fixed wireless to your home.
Verizon's fixed wireless access gives home internet subscribers 5G internet speeds without cable or fiber. Previously, many suburban and rural areas could not get reliable internet. This was due to the fact that it was too costly to dig in-ground cables to a small number of customers. Now, more folks in hard-to-reach areas can get the same fast 5G internet speeds as everyone else.
The company also intends to grow its edge computing business. As companies increasingly move their businesses to the cloud, Verizon's 5G edge computing service can allow them to take advantage of the cloud quickly and efficiently.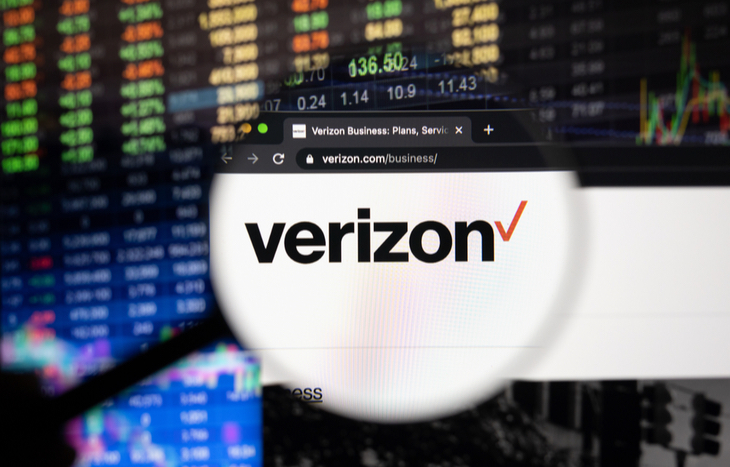 Company Expectations
In January, Verizon stock reported its fourth-quarter and full-year results. The results said that the company made $5.39 in earnings per share for the full year. The full-year earnings per share improved over 2020 earnings per share of $4.30.
The report also said that Verizon increased its 2021 sales to $133.6 billion from $128.3 billion in 2020. Sales growth for the year was 4.1%
On the business side, Verizon noted that they added many new customers. Notably, the number of new fixed wireless customers grew quickly as the company's 5G rollout kicked off. In addition, Verizon added 391,000 wireless customers to its wireless service.
The report also spelled out the company's 2022 guidance. The guidance called for $16.5 billion to $17.5 billion in capital expenses. The company will use about a third of the capital expenses to build out Verizon's 5G network.
Also, the company thinks earnings per share for 2022 to be between $5.40 and $5.55. The earnings per share forecast is a slight bump over 2021 earnings per share as the company invests its profits for the future.
Industry analysts tend to agree with Verizon's earnings per share guidance. They predict that the company will report $5.43 of earnings per share for 2022. Interestingly, five analysts have reduced their forecast over the last four weeks.
Is Verizon Stock a Good Buy?
Verizon's wireless phone business leads the overall sales of the company. The segment makes up over two-thirds of the company's overall sales. Verizon spent a massive sum of money on its 5G airwaves. In addition, the capital expenses to build out the network will also be a huge investment.
The company will charge more for wireless phone customers to upgrade to a 5G plan. In addition, Verizon should continue to add new wireless home internet customers through the network. So, sales could creep up over the next few years.
Edge computing is a huge goal for Verizon. Businesses have been moving to cloud computing at a fast pace and should continue. Verizon's network can add speed and reliability to new customers' cloud computing.
The catch is that this segment is currently much smaller than the wireless segment. So, the segment will have to continue to grow to increase the overall company's sales meaningfully.
Patient investors could be rewarded if Verizon stock can execute its strategy. As the company grows, the stock pays an attractive dividend yield of over 4.7%. In addition to the dividend, the stock is trading at a relatively low price-to-earnings ratio(P/E ratio) of just over 10.
Verizon News
As Verizon focuses on its 5G strategy, it has made a few moves in its business portfolio over the last few years. For instance, last year, the company sold its Verizon Media division to a private equity firm for $5 billion. The division included AOL and Yahoo. Readers may know Yahoo from its email, search, fantasy sports and finance app.
Verizon purchased AOL in 2015 and Yahoo in 2017 but has decided to move on from the businesses to focus on its 5G business. In 2020, Verizon bought TracFone Wireless, a leading pre-paid and value mobile provider. The purchase allowed Verizon to expand services to Tracfone customers. This includes fixed wireless home internet, 5G access and expanded international calling.
About the TracFone acquisition, CEO Hans Vestberg said, "We are excited about the opportunity to bring Tracfone and its brands into the Verizon family where we can put the full support of Verizon behind this business and provide exciting and compelling products into this attractive segment of the market. We are pursuing this important strategic acquisition from a position of strength given our very strong and prudent financial profile."
---