The stock market has had a rough go of it so far in 2022. All major U.S. stock indexes are down. For the year, the S&P 500 index is down over 11%, the Dow Jones Industrial Average is down more than 8%, and the tech-laden Nasdaq index has been hit the hardest. It has dropped over 18% in 2022. Readers may be asking themselves if there will be a stock market crash in 2022.
Historically high inflation and tensions between Russia and Ukraine are likely the primary sources of jitters in the stock markets this year.
Inflation started creeping higher at the end of 2021. In November and December, the U.S. economy saw inflation of 6.8% and 7.0%, respectively. Then in 2022, inflation moved even higher. U.S. inflation in January was 7.5%. Then 7.9% in February.
When inflation fears began to fester, the Federal Reserve took action to bring inflation under control. They first cut pandemic stimulus. After that, they said they would increase interest rates throughout 2022.
At the same time, sanctions on Russian commodities may have investors worried that inflation may persist. So, it's clear why readers may be concerned about a stock market crash in 2022.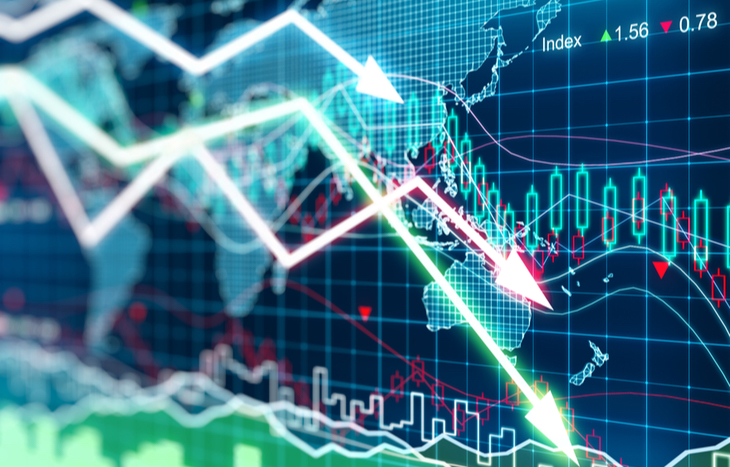 Will the Stock Market Crash in 2022?
If you're among those asking if there will be a stock market crash in 2022, you're not alone. Before making any predictions, we must define what a stock market crash is.
Although the term stock market crash is often used, there is no clear definition. There are, however, other definitions of market declines. For instance, investors use the term 'correction' to describe a stock market decline of between 10-20% from their highest point. At the close on March 16, 2022, the S&P 500 index is in 'correction territory.'
If a market correction worsens, it becomes a 'bear market.' A bear market is a stock market drop of more than 20%. Currently, the Nasdaq is flirting with a bear market.
Readers should keep in mind that market corrections are not uncommon. In the 47 years since 1974, there have been 24 market corrections. Only five of those corrections became bear markets.
So, if history is any indication, we probably won't see a stock market crash in 2022. If inflation keeps ticking throughout the year, we might use the undefined term 'crash' to describe 2022.
Recent Stock Market Crashes
Recent history has seen a few stock market crashes. Readers may remember them vividly but let's revisit some of them.
Coronavirus Crash: The most recent and probably the most memorable stock market crash was the Coronavirus Crash. As economies worldwide closed businesses and sent employees home, the stock market took a beating. On March 12, 2020, the Dow fell 9.99%. Almost a correction in a single day. Though the Dow ultimately reached the bear market territory, the index quickly recovered. By the end of the year, stocks had fully recovered into positive territory.
Financial Crisis for 2008-09: Following banner years for stocks in 2006 and 2007, stock markets crashed in 2008. After many years of low interest rates and low lending standards, a growing bubble in the real estate market finally popped in 2008. Though some financial companies began to falter in late 2007 and early 2008, the stock market peaked in October 2008. By the end of the year, the major indexes entered a bear market. Losses troughed in 2009 after the Dow Jones index fell 54%.
Dot-Com Bubble of 1999-2000: The late 90s marked the beginning of the internet craze. Investors were so enamored with internet stocks that they piled into internets stock with zero revenue. Some companies even changed their name to include '.com' at the end. Their stocks subsequently rose. After the bubble burst, the tech-laden Nasdaq index ultimately fell nearly 77% from its high.
Historical Stock Market Crashes
Of course, stock market crashes have a long history. Below are some of the most famous crashes.
Black Monday: On Monday, October 19, 1987, the Dow Jones Index saw its largest single-day drop in history. During that era, the computer began to play a more prominent role in trading. Computers were programmed to buy shares when the market was going up and sell when the market was going down. The market had a few bad days leading up to the weekend before Black Monday. When the market opened on Black Monday, computerized sell orders flooded the market. By the end of the day, the Dow Jones Index was down 22%.
The Great Depression: The Roaring 20s was great for stocks. Of course, all good things must come to an end. In 1929, stocks began to decline rapidly. In the end, the Dow Jones Index lost 89% of its value and ended at 41 (yes, 41). Unfortunately, the stock market crash led to one of the longest recessions in U.S. history.
---