We live by the adage, "There's always a bull market somewhere." Regardless of what's happening in the broader indexes, there are always stock trend opportunities, particularly in high growth, society-shaping trends. And trends have been our friend here. This is our focus.
Unfortunately, "trends" is a broad subject. And some of these are developing more rapidly than others. So, we wanted to provide investors the top 10 stock trends we believe should be on everyone's radar… if they're not already.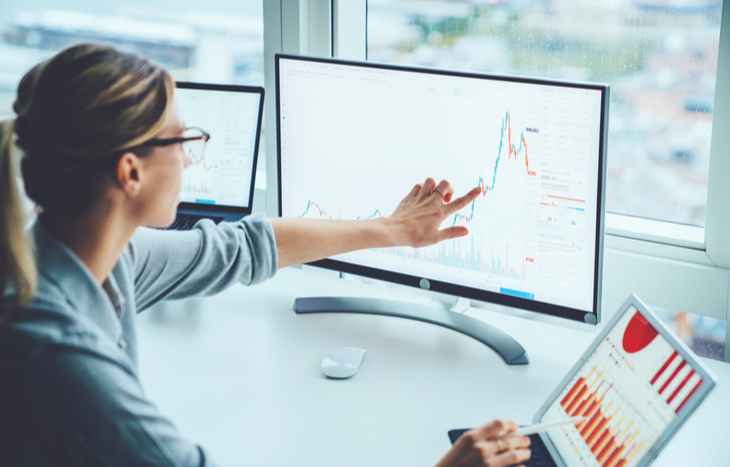 Innovative Stock Trends to Watch
5G Stock Trends
There may be no innovation having a broader impact than 5G. The next gen networks will be 100-times faster than 4G. These connectivity speeds are vital for our future. And this has led some to call it "the lifeblood of the new economy." 5G will impact more than $12 trillion of global goods and services by 2035. That's more than 10% of global GDP.
Fourth Industrial Revolution (4IR)
Next on our list of stock trends is the Fourth Industrial Revolution. 4IR technologies are dependent on 5G. This includes 3D printing, artificial intelligence (AI), autonomous vehicles, big data, the cloud, cryptocurrencies, the Internet of Things (IoT), quantum computing, robotics, smart homes, virtual reality/altered reality (VR/AR) and more. These are projected to have a combined potential impact of as much as $60 trillion over the next decade.
View More
Cybersecurity
The numbers are staggering. By 2030, projections suggest there will be more than 125 billion devices connected to the internet. And the need for protection is booming. By 2027, the global cybersecurity market is projected to be worth $326.4 billion.
Why You Should Invest in Cybersecurity Stocks
Electric Vehicles (EVs)
By 2027, global EV market will be worth more than $1.2 trillion. And by 2028, will EVs will capture more than 16% of the automotive market. More and more consumers are turning to EVs – particularly among the younger generations – as alternatives to fossil fuels are embraced. The electric vehicle market is certainly a stock trend to keep an eye on.
The Best Pick and Shovel Plays on Electric Vehicles
Renewable Stock Trends
Over the next decade, the clean energy sector will see $8 trillion to $16 trillion in new investment. Costs for wind and solar power continue to fall. And costs for energy storage are starting to drop as well. With battery prices in decline, wind, solar and storage are becoming competitive with any other forms of power generation. In conclusion, we believe fossil fuel demand peaks this decade.
Where to Invest During the Renewable Energy Transition
More Stock Trends on The Rise
Precision Medicine
Bioinformatics is surging in healthcare. And with the rising prevalence of cancer and other diseases across the globe, precision medicine is about to experience truly explosive growth. By 2026, the market is expected to top $119 billion. In addition, we're witnessing a new era of personalized treatment.
The Magic Mushroom Revolution is Here
Space Stock Trends
Commercial space investment has grown 79% since 2009. And it has been a major stock trend. That year, the entire industry changed when Elon Musk's SpaceX delivered its first payload. In 2019, the global space industry was worth $350 billion. But by 2040, it's projected to grow to more than $1 trillion. We're witnessing a revolution from commercial space tourism to satellite launches in the tens of thousands.
Space Stocks: The Space Race Is Heating Up
eSports Stock Trends
Since 2015, esports revenue has been rocketing higher. For instance, global esports revenue surged 38% in 2018 to more than $906 million. Last year, revenue jumped another 24% to more than $1.1 billion. By 2021, revenue is conservatively expected to top $1.65 billion. Yet, in North America, esports is still in its infancy. Asia, particularly China, is the main market now. But that will soon change. Esports is transforming into a global phenomenon. In 2019, the worldwide competitive video game audience was a massive 454 million people!
The Sports Betting Opportunity Investors Can't Ignore
Plant-based Food
The global plant-based food market is worth around $12 billion today. By 2027, its projected to be worth roughly $74 billion and could grow to $140 billion by the end of the decade. And by 2040, the global meat industry is estimated to be worth more than $2.7 trillion. Cultured meat and non-vegan meat replacements are projected to account for the majority of this opportunity.
Can You Buy Impossible Foods Stock?
Sign Up to Get Free Alerts
To sum up, each month we hit on one of these major trends reshaping our world. And investors can subscribe to discover what we think their portfolios must have exposure to for long-term success!
Most importantly, for all of the latest stock trends, subscribe to my free Profit Trends e-letter below. Until next time, here's to high returns!
Read Next: Stocks That Went Up This Week: 5-Day Gainers
---
Matthew Carr is the Chief Trends Strategist of The Oxford Club. His unique take on investing – which involves using a strategic system that chooses companies based on pre-momentum, high growth and discounted prices – has led to countless outsized gains.
Matthew cut his teeth in the industry as a writer for the energy trade publications Natural Gas Week, Gas Market Reconnaissance and Oil Daily. He also dug into exports and international trade finance for Business Credit magazine.
With two decades of financial experience under his belt, Matthew's expertise ranges from classic industries such as retail and oil and gas to cutting-edge markets like 5G, emerging tech, cybersecurity and cannabis. If it's moving the markets, you can bet Matthew is there.