Investors are rushing to grab a piece of the "black gold" as oil stocks lead the market so far this year. Oil prices are up another 7% today, pushing $112 per barrel after taking a breather last week. Likewise, the best oil ETFs for 2022 are returning over 40% as companies see their margins explode.
In fact, oil companies are seeing some of the highest sales growth as higher oil prices boost returns. The Energy Select Sector SPDR Fund (NYSE: XLE) is outperforming the market, up 34% so far in 2022.
After slimming down operations for several years, oil companies are seeing the returns multiply. Furthermore, the war in Ukraine is squeezing the market further as nations abandon Russian oil.
If you are looking to get your share from higher oil prices, keep reading to discover the best oil ETFs for 2022 and boost your portfolio.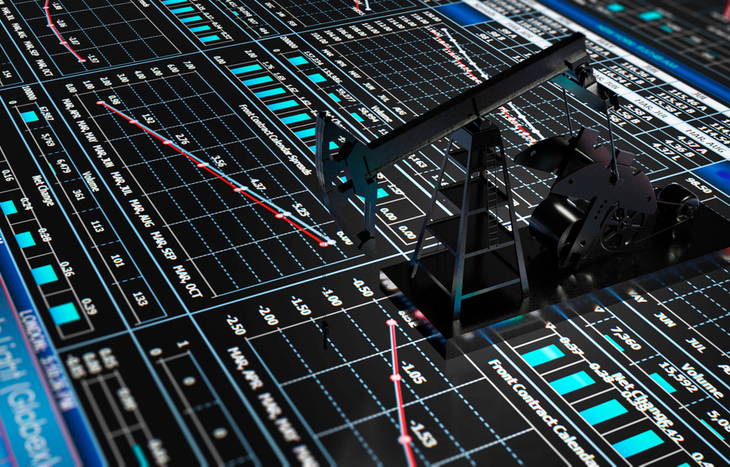 Best Oil ETFs for 2022
Investing in ETFs can be an excellent way to gain exposure to specific sectors or industries. Especially given the risk in markets (tension in Ukraine, rising interest rates, etc.) ETFs can give you a way of capturing growth while minimizing individual risk.
Below you will find the best oil ETFs for 2022 to grab your piece of the "black gold" without owning individual stocks.
No. 5 iShares U.S Oil Equipment & Services ETF (NYSE: IEZ)
Yield: 35%
Net Assets: 264M
YTD Return: +40%
Expense Ratio: 42%
The iShares U.S Oil Equipment & Services ETF, or IEZ, invests in companies providing equipment and other services to the oil industry. For example, companies offer drilling rigs, staff, cranes, and more for a rate, so oil companies have the option to rent rather than own.
With this in mind, IEZ seeks to track the Dow Jones U.S Select Oil Equipment and Services ETF. The fund's top holdings include Halliburton (NYSE: HAL) and Schlumberger NV (NYSE: SLB), both weighing over 20% of the total.
Since hitting a 52-week low in August 2021 of $11.59 per share, IEZ has nearly doubled, settling over $19.
No. 4 United States Oil Fund (NYSE: USO)
Yield: N/A
Net Assets: 3.5B
YTD Return: +42%
Expense Ratio: 83%
The United States Oil Fund is a more direct way of investing in oil as it seeks to reflect the daily price changes in light sweet crude oil. The fund produces daily changes using the near-month futures contract of West Texas Intermediate(WTI) crude oil. Specifically, USO tracks the spot price of crude oil delivering to Cushing, Oklahoma.
Moreover, USO is one of the largest oil ETFs and one of the best oil ETFs for 2022 with over $3.5B net assets. Yet investing in USO can be a bit riskier as oil prices can change rapidly.
No. 3 First Trust Natural Gas (NYSE: FCG)
Yield: 82%
Net Assets: 622M
YTD Return: +31%
Expense Ratio: 60%
First Trust Natural Gas is a diverse oil ETF chiefly investing in midstream and exploration (E&P) oil companies. With this in mind, FCG seeks to track the ISE-Revere Natural Gas Index (FUM) results.
Compared to IEZ, the fund's top holdings are equal weighing. For example, FCGs top holdings include Occidental Petroleum Corporation (NYSE: OXY), ConocoPhillips (NYSE: COP), and DCP Midstream LP (NYSE: DCP). The fund's top 10 holdings make up 38.43% of the total, while IEZ's top two holdings make up over 40%.
As a result, FCG can be less risky but can also see lower returns in the short term. Keep reading to find the best oil ETFs for 2022 portfolio growth.
No. 2 SPDR S&P Oil & Gas Exploration & Production ETF (NYSE: XOP)
Yield: 43%
Net Assets: 4B
YTD Return: +28%
Expense Ratio: 35%
One of the most well-known oil ETFs, the SPDR Oil & Gas E&P ETF, also gives access to companies in the oil E&P industry. Launched in 2006, XOP seeks to track the S&P Oil & Gas E&P Select Industry Index (SPSIOP) results.
XOP is another ETF that aims for equal weight holdings to reduce risk across segments. For this reason, the fund's top holdings include Murphy Oil (NYSE: MUR), Ovintiv Inc. (NYSE: OVV), and Pioneer Natural Resources (NYSE: PXD).
Although its main focus is E&P companies (73.46%), XOP also gives exposure to oil refining & marketing (20%) and integrated gas & oil stocks (6.54%.)
No. 1 Invesco Dynamic Energy Exploration & Production ETF (NYSE: PXE)
Yield: 16%
Net Assets: 2M
YTD Return: +34%
Expense Ratio: 63%
Topping off the best oil ETFs for 2022 is the Invesco Dynamic Energy E&P ETF. The fund also focuses on companies involved in extracting oil and natural gas.
But the fund is unique in the way it assigns weight value to holdings. Instead of focusing on just large-cap stocks like many ETFs, PXE rates by market cap group. So, every holding has a chance to pull its weight rather than relying on large caps.
On top of this, the fund has an evaluation process using criteria such as value, quality, earnings, and price momentum. Nonetheless, PXE's biggest holdings are in Occidental Petroleum (6.35%), ConocoPhillips (4.91%) and Devon Energy (4.79%).
Is Now the Time to Invest in the Best Oil ETFs for 2022?
After getting pushed aside by investors for several years, oil companies are making a comeback. That said, a few factors are pushing oil prices higher while businesses in the industry see their profits soaring.
For one thing, the pandemic disrupted supply chains while the effects are still being felt today. For instance, many companies abandoned new projects when demand for gas and oil dropped significantly due to travel bans.
On the other hand, Russia's invasion of Ukraine is shocking the oil market as nations seek other sources of oil. Russia plays a critical role in the global oil market, providing around 10% of the total supply.
To deter the tension from escalating, several nations are sanctioning Russia while either banning or reducing oil imports. Learn more about the best oil stocks during war benefitting from higher prices.
With this in mind, to plug the gap, production will need to pick up. One of the ways for this to happen is investing in new projects and expanding production.
As oil demand continues trending higher, these are some of the best oil ETFs for 2022 to profit from the industry.
---
Pete Johnson is an experienced financial writer and content creator who specializes in equity research and derivatives. He has over ten years of personal investing experience. Digging through 10-K forms and finding hidden gems is his favorite pastime. When Pete isn't researching stocks or writing, you can find him enjoying the outdoors or working up a sweat exercising.