Retirement
Top 10 Best Places to Retire in Virginia in 2022
Are you looking to find the best places to retire in Virginia in 2022? If so, you are not alone. The "Old Dominion" is a popular destination for many retirees across the country. From the Blue Ridge Mountains to the Chesapeake Bay, Virginia provides a unique lifestyle unlike anywhere else.
No matter where you settle in the state, you are only a few hours away from both the mountains and the ocean. Moreover, it's one of the safest states in the nation. According to U.S. News & World Report, Virginia has the sixth lowest crime rates in the United States overall.
What Makes Virginia One of the Best Places to Retire?
Various factors make Virginia an inviting location for retirees. There are many states you would want to avoid due to tax rates, but the Commonwealth is not one of them. For example, the benefits of retiring in Virginia include:
The state does not tax Social Security benefits.
You can deduct up to $12,000 in retirement income and pension as a senior.
Crime rates are well below national averages, including third lowest in violent crime.
It's full of history with both the city and country experience available.
Easy access to emergency medical care and primary physicians.
Virginia boasts 127 primary care physicians per 10,000 residents. Moreover, it's home to 89 full-service hospitals, which is high for a smaller state. There are also health benefits for military retirees, as the Department of Veteran Affairs has medical centers in Hampton, Richmond and Salem.
Below is a list of the top 10 best places to retire in Virginia. Each area provides a good mix of recreation, entertainment, healthcare, history and more.
10 – Woodstock, Virginia
Woodstock, in Shenandoah County, is a beautiful town near the West Virginia border. Its main highway is I-81, which gives you easy access to neighboring and major cities likeWashington, D.C.
Woodstock has a tight-knit community that is active and adventurous. The town is situated between the Blue Ridge and Appalachian Mountains. So you can enjoy kayaking, skiing, tubing, fishing, hiking and biking nearly year-round. In fact, there's hundreds of miles of trails in the George Washington-Jefferson National Forest.
If you're looking to maintain an active outdoor lifestyle in your retirement, Woodstock could be the place for you.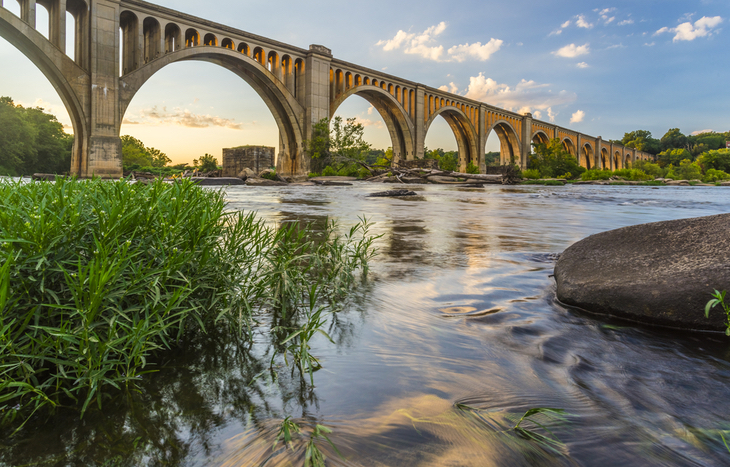 9 – Fredericksburg, Virginia
Fredericksburg is one of the best places to retire in Virginia for many reasons. First and foremost is its location. You are less than an hour away from both Washington, D.C., and the state capital of Richmond. It's an independent city that is full of history.
Fredericksburg truly embraces its past which provides residents with a beautiful setting. The National Register of Historic Places notes that the city has more than 350 buildings dating back to the 18th and 19th centuries.
8 – Bedford, Virginia
Bedford is a very small town with just over 6,000 residents. However, it's becoming a more popular retirement city and I completely understand why. It offers a little bit of everything, including hikes along the Appalachian Trail or a day on Smith Mountain Lake. The nearly 21,000 acres of national forest in the surrounding area is perfect for more adventurous retirees.
If you enjoy a nice glass of wine, Bedford has six local wineries at your disposal. It's known as the "Bedford Wine Trail" and it's a must for visitors to the area. When you aren't enjoying a glass of pinot, there's the National D-Day Memorial and Thomas Jefferson's summer home for the history buffs.
7 – Blacksburg, Virginia
You may not see Blacksburg on too many lists. Yet it rightfully deserves recognition as one of the best places to retire in Virginia. Home of the Hokies of Virginia Tech, Blacksburg is a unique town full of energy and entertainment. Furthermore, it's the fourth safest city in the state, according to SafeWise.
You can find everything from the fine arts to sports. Virginia Tech provides beautiful scenery and enough activities to keep you busy for a lifetime. The community around the university has grown as well, boasting a wide range of shops, restaurants and galleries.
6 – Abingdon, Virginia
Abingdon is the county seat of Washington County. It's located near the Tennessee border, less than 20 miles from Bristol.
Like most of Virginia, Abingdon is home to many historical sites which comes with more access to museums and galleries. This also plays a role in its growing fine arts and crafts scene.
You can enjoy the Virginia Creeper Trail for hiking and biking or even go horseback riding. The small town is always hosting yearly events as well, such as the Virginia Highlands Festival and various conventions.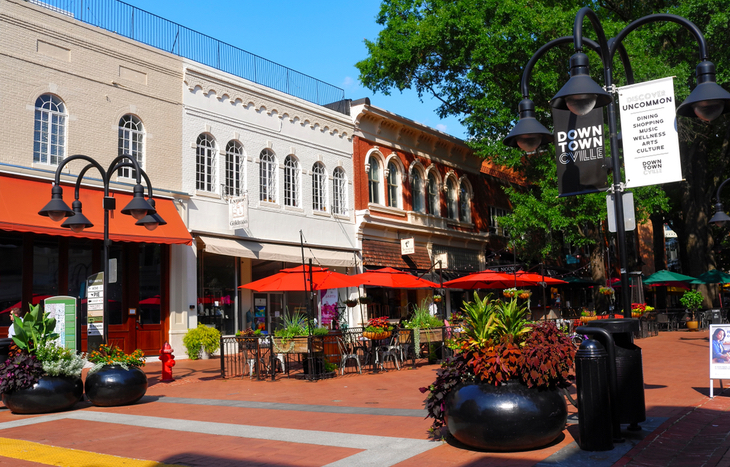 5 – Charlottesville, Virginia
Charlottesville is the epitome of history. It's home to one of the premier colleges in the country. The University of Virginia provides the local community everything it needs. This includes medical care, entertainment, recreation and fine arts.
You can enjoy the historic charm of Charlottesville in one of the most beautiful downtown areas in the state. It's also a haven for wine lovers, with 33 wineries in total that each provide their own unique landscape for visitors. Charlottesville truly does have something to offer to meet the needs of retiree.
4 – Winchester, Virginia
Winchester is on the rise in popularity among retirees in Virginia. Its rise is likely due to its recognition in national media. Reader's Digest ranks Winchester as one of the top 10 best small towns in America to retire.
The town has an active and growing retirement community. According to the U.S. Census Bureau, 15.9% of the population is over the age of 65. Winchester is home to the popular Shenandoah Apple Blossom Festival and other parades and concerts each year. With an already established senior population and a small town feel, Winchester is certainly one of the best places to retire in Virginia.
3 – Alexandria, Virginia
Alexandria is a vibrant suburb of Washington, D.C., that is one of the best places to retire in Virginia. If you are trying to expand and explore a more urban and artistic lifestyle, then Alexandria is for you.
The city itself is largely influenced by Washington, D.C., due to its proximity to the nation's capital. However, Old Town Alexandria is the crown jewel of the city. This historic area has some of the most beautiful architecture in the state. There's over 200 shops, restaurants and boutiques in Old Town. You can't go wrong with strolling down the King Street Mile at any time of year.
2 – Arlington, Virginia
Arlington is just across the Potomac River from the District of Columbia. According to its official website, you'll "discover American treasures, lively neighborhoods, carefree fun and an abundance of shops and dining."
What more can you ask for? The restaurants are renowned, the nightlife is vibrant and there's always an event on the calendar. Arlington has some of the most impressive monuments and memorials, along with an eclectic local arts and entertainment scene. Arlington is another great retirement destination for those looking for a more urban feel.
1 – Virginia Beach, Virginia
Taking the top spot in Virginia is the one and only Virginia Beach. The city is built on the foundation of our great military, with seven bases in the surrounding areas. This includes the Norfolk Naval Shipyard and Naval Air Station Norfolk.
In 2022, Virginia Beach isn't just a military marvel. It's also one of the most enjoyable and exciting cities on the East Coast. The attractions are never-ending, including the three-mile-long boardwalk which has received national acclaim. It's rated as one of America's favorite boardwalks by Discovery Channel, and has featured in magazines such as National Geographic Traveler.
Outside of the obvious entertainment benefits, Virginia Beach is one of the safest cities in the state. Out of the top 20 safest cities in Virginia, this Hampton Roads town is the only area with a population over 400,000. The next biggest city on the list is Blacksburg at just over 45,000.
Discover the Best Places to Retire in Virginia Today
The Commonwealth of Virginia has many attractive cities that draw in retirees each year. However, other states such as Florida, Georgia and South Carolina are also popular on the East Coast. You may even want to consider retirement villages that are gaining popularity across the country.
Find the best places to retire in Virginia that meet your interests and needs. From Woodstock to Charlottesville to Virginia Beach, there are numerous opportunities for everyone to make the most of their retirement.
---
Corey Mann is the Content Manager of Investment U. He has more than 10 years of experience as a journalist and content creator. Since 2012, Corey's work has been featured in major publications such as The Virginian-Pilot, The Washington Post, CNN, MSNBC and more. When Corey isn't focusing on Investment U, he enjoys traveling with his wife, going to Yankees games and spending time with his family.