Retirement
Top 10 Best Places to Retire in Georgia in 2022
Kiplinger ranks Georgia as the one of the most tax friendly state for retirees. As a result, many people began to consider the Peach State as a viable retirement option. Below is a list of the best places to retire in Georgia in 2022.
Why is Georgia One of The Best Places to Retire?
In terms of tax friendliness, Georgia does not tax social security for retirees. And for those 65 and older, the state also provides a deduction of $65,000 per person on all retirement income. However, these aren't the only factors that should play into your decision. It's also important to consider:
Access to medical centers
Recreational opportunities
Crime rates in the community
Entertainment, shopping and dining
Our list of the best places to retire in Georgia is based on the characteristics above. The cost of living in the area was also a key factor, along with the overall quality of life.
10 – Waycross, Georgia
Sneaking into our list is the quaint city of Waycross in Ware County. Just North of Okefenokee National Forest, this city provides great hiking spots and other recreational activities. It's also right up the road from the beach for families who want to be close to the Atlantic Ocean.
Waycross has a small-town charm and very reasonable cost of living. According to City Data, the median rent is just $653, while the mean prices of all housing units is $110,168. The combination of a low cost of living and excellent outdoor recreational opportunities make this small city one of the best places to retire in Georgia.
9 – Austell, Georgia
Austell is an ever-growing city that is full of life. It's close to Atlanta, which gives you access to high-quality healthcare centers, entertainment, shopping and dining options. This gives all the big-city benefits while allowing you to live the small town life.
According to the town's website, Austell has low property taxes and some of the largest population growth in Cobb County. Austell is a small town that continues to thrive, which is why it makes our list as one of the best places to retire in Georgia.
8 – Thomasville, Georgia
You might not have heard of Thomasville before now, but it's the type of place that you will never forget once you visit. There's always something to do in Thomasville. Whether it's visiting the various parks and golf courses or taking a horse-drawn carriage ride and a stroll through the lively downtown area.
It's known as the "City of Roses," and for good reason. Each April, Thomasville hosts their famous Rose Show & Festival that includes parades, concerts, community events and flower shows. It also plants and maintains over 1,000 roses throughout the city each year. Thomasville has all the recreational benefits to make it a great retirement destination.
7 – Jesup, Georgia
Jesup is perfect for retirees with an interest in culture and history. The county seat of Wayne County, Jesup is home to one of the state's only remaining drive-in movie theaters, as well as various museums. This includes the Jesup Trainwatching Platform, which brings in train chasers from across the world.
Livability notes that the median home value is at $149,682. Moreover, 31.2% of the population is over the age of 62. Making it a good choice for those looking for a strong community in their retirement.
6 – Fayetteville, Georgia
Fayetteville is a beautiful city with a bright future ahead of it. This Fayette County town is home to two great recreational parks, a vibrant downtown area and an active arts community.
Fayetteville has great access to entertainment, dining and shopping as its only 30 minutes outside of Atlanta. In addition, it's a city with low crime rates that are getting even lower. According to The Citizen, a local news outlet, Fayetteville's crime diminished by nearly 14% in recent years. Numbers don't lie, and that is why Fayetteville is one of the best places to retire in Georgia today.
5 – Marietta, Georgia
Marietta regularly ranks high when it comes to retirement cities in Georgia. Furthermore, it also ranks as one of the best places to raise a family in the state, according to HomeSnacks. With an above average public school system that's full of diversity, Marietta is a hallmark of Cobb County.
Marietta has some of the best recreational areas you can find. This includes the 25-acre Laurel Park in the heart of the city and 10 high quality golf courses. So if you're looking to get outside or hit the links, Marietta could be the place for you.
4 – Athens, Georgia
Athens is most commonly known as the home of the Georgia Bulldogs. The University of Georgia is the state's flagship public institution, and its rise in stature has brought an economic boost to Athens. According to the U.S. Census Bureau, it's now the sixth-largest city in Georgia with a population of over 128,000.
The university itself provides the community with various sporting, arts and cultural events each year. In downtown Athens, you can always find live music events, salons, shopping and other attractions.
3 – Decatur, Georgia
Decatur ranks in the top five of almost every retirement list you can find, and even holds one of the top spots at Yahoo! Finance. If Decatur didn't fall victim to the hassle of Atlanta traffic, it would certainly be in the run for our top spot as well.
Decatur has a family-friendly atmosphere and a B crime rating. It's also home to some of the best festivals in the state, including the Decatur Arts Festival and the BBQ, Blues, and Bluegrass Fest. With high entertainment value, low crime rates and quick access to Atlanta, Decatur will remain as one of the best places to retire in Georgia in 2022, and beyond.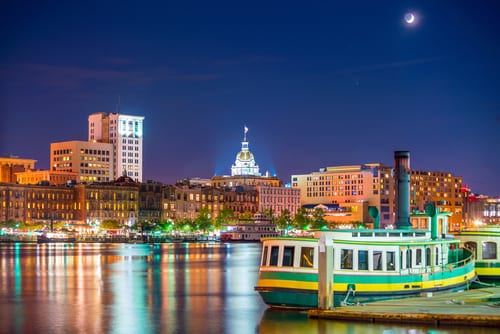 2 – Savannah, Georgia
Savannah is a popular vacation destination, but it's also a perfect city for retirees. With a breathtaking historic district and some of the best beaches in Georgia, you can't go wrong with settling in Savannah during retirement.
This city offers everything: fishing, watersports, golf, breweries, arts, museums and good 'ole fashioned family fun. It's also only 18 miles away from Tybee Island, one of the most popular beach destinations in the country.
1 – Stone Mountain, Georgia
Stone Mountain may seem like a random small town just outside of Atlanta, but it stands above the rest for retirees. If you want to be active in your retirement, then look no further. Stone Mountain Park has it all, including camping, hiking, festivals and 3,200 acres of natural beauty.
The city does a great job of complimenting its world-class park. You can visit the Contemporary Arts Center and Theatre Company or the historical Wells-Brown House. The median home cost is $211,900 and the overall cost of living is very reasonable considering the obvious benefits of Stone Mountain. All this and more make Stone Mountain deserving of the top spot on our list of the best places to retire in Georgia.
Discover the Best Places to Retire in Georgia Today
Georgia is often overlooked when it comes to retirement by its next-door neighbor in Florida. However, The Peach State deserves recognition as a great state for retirees due to its tax exemptions, natural landscapes, recreational benefits and general quality of life. If Georgia isn't the place for you, we also have breakdowns of the best places to retire in California, Arizona, North Carolina, Texas and Florida.
The overall best places to retire in Georgia will provide you with comfort, security, entertainment and adventure. These necessities will vary depending on your interests and family. Discover your forever home in Georgia today and make the most out of your retirement.
---
Corey Mann is the Content Manager of Investment U. He has more than 10 years of experience as a journalist and content creator. Since 2012, Corey's work has been featured in major publications such as The Virginian-Pilot, The Washington Post, CNN, MSNBC and more. When Corey isn't focusing on Investment U, he enjoys traveling with his wife, going to Yankees games and spending time with his family.