Retirement
Top 10 Best Places to Retire in South Carolina in 2022
South Carolina is a tax-friendly state with a very reasonable cost of living. In fact, its taxes are 27% lower than the national average, according to Movoto. Now, more families are considering the Palmetto State as the perfect landing spot for their retirement. Learn more about the best places to retire in South Carolina below.
What Makes the Best Place to Retire in South Carolina?
Planning for retirement can be a challenge. It's important to take your time deciding on the key factors that are most important to you. Outside of the cost of living and tax benefits, other variables to consider may include:
Healthcare availability and cost
Crime in the area
Entertainment and recreational value
Proximity to major cities and airports.
Overall, retirees generally want a safe and affordable city that gives them plenty of things to do. Whether you enjoy a more adventurous or laid-back lifestyle, South Carolina has you covered. Our list of the best places to retire in South Carolina will bring to light the most beautiful and retirement friendly cities the state has to offer.
10 – Columbia, South Carolina
The state capital is the second largest city behind Charleston and is home to the University of South Carolina. With various parks, sporting venues and cultural events, Columbia earns a well-deserved spot in the top 10.
Columbia has a small-town feel with big-city activities, according to the locals. It's also the perfect destination for "foodies." Columbia has become a culinary staple over the years, with world-class restaurants such as Terra, Cola's and Saluda's.
9 – Aiken, South Carolina
"A place like no other," Aiken is a quaint city with no shortage of history, culture and entertainment. The city's shopping and dining options are quickly growing, and the art scene burst into life recently.
Aiken has one of the nation's largest urban forests: the 2,100-acre Hitchcock Woods. It also has a thriving steeplechase venue, which hosts horse races, polo matches, fairs, festivals and many more events. With no shortages of things to do, Aiken is a great place to retire in South Carolina.
8 – Florence, South Carolina
Originally founded as a railroad hub, Florence is one of the major cities in South Carolina. Moreover, it's located right off I-95, the prominent U.S. highway that runs along the East Coast. The major highway access, along with its growing recreation and entertainment offerings, contributes to Florence's growth in population over the years.
Freedom Florence is a world-class recreation complex that boasts five baseball fields, a gymnastics center and a multipurpose facility. The complex offers adult programs in softball, tennis, basketball, volleyball and more. Additionally, downtown Florence has lively concert series, a performance theater and numerous museums.
7 – Gaffney, South Carolina
Gaffney, in upstate South Carolina, is full of southern charm. It's less than an hour away from major cities Greenville, SC, and Charlotte, NC. Its rich culture and beautiful surroundings make it one of the best places to retire in South Carolina.
The Cherokee County city has access to three national parks as well as museums and visual arts galleries. The Gaffney Little Theater, for example, offers plays, musicals and special theatrical events.
6 – Seneca, South Carolina
Seneca rests in the foothills of the Blue Ridge Mountains. According to the city's website, it reflects the "hospitality and beauty of this little corner of this great state."
Seneca has the beautiful backdrop of the mountains and a thriving city. The cost of living in Seneca is much lower than the national average. According to Livability, the median home cost is currently $148,378 with 42.5% of its residents being over the age of 62. As you can see, retirees gravitated to Seneca in recent years and for good reason.
5 – Greenville, South Carolina
Greenville breaks into our top five, as it's one of the most beautiful and active cities in the state. It's full of unforgettable places and recreational experiences unlike any other. From Swamp Rabbit Trail to Falls Park, Greenville is perfect for cycling, hiking or enjoying time with family.
The ever-growing town is also home to 21 breweries, a creative arts center, and various theaters and sports franchises. This, combined with its reasonable cost of living, makes Greenville one of the best places to retire in South Carolina.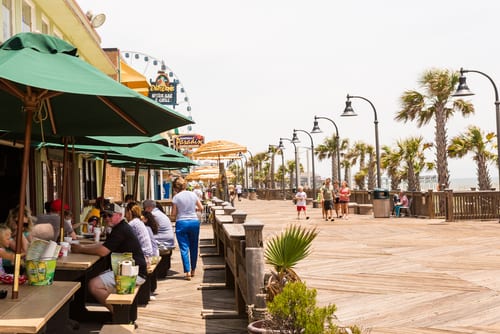 4 – Myrtle Beach, South Carolina
Myrtle Beach may be one of the East Coast's most popular summer vacation spots, but it also has a growing retirement community. More and more people are moving to this Horry County city after finishing their careers. In fact, the 2018 U.S. census noted Myrtle Beach as the second fastest-growing metropolitan area in the country.
There are 60 miles of beaches, more than 100 high-quality golf courses, and various natural attractions and entertainment options. Moreover, the cost of living composite index rates Myrtle Beach at 94.1, below the national average of 100. This rate is based on the cost of housing, utilities, transportation, healthcare and more.
3 – Sumter, South Carolina
Sumter is in the center of South Carolina. It's home to Shaw Air Force Base, which has had major effects on its growing economy. The base also attracts retired military personnel to the area. Sumter's crown jewel is Swan Lake Iris Gardens, a "floral wonderland" that attracts visitors from all over the country.
This city offers everything you could ask for in retirement. It has over 20 parks, many scenic areas, cultural events and recreational facilities. Sumter is also barbecue heaven in South Carolina. According to Men's Journal, Ward's Bar-B-Que is one of the 25 best barbecue spots in America. Sumter has everything it needs to meet the retirement needs of almost anyone, making it one of the best places to retire in South Carolina.
2 – Hilton Head, South Carolina
America's favorite continental island for the fifth year in a row, Hilton Head is home to beautiful beaches, prize-winning golf courses and plenty of natural beauty. The island has a welcoming atmosphere, and it's full of spirit and rich in culture.
Retirees who aren't looking to slow down anytime soon flock to Hilton Head for its fantastic amenities and the waterfront lifestyle. There are endless opportunities to stay active within the area, including cycling paths along the beach, professionally recognized tennis clubs and watersports. If you're looking to maintain your active lifestyle in retirement, Hilton Head could be the place for you.
1 – Charleston, South Carolina
Overall, Charleston is one of the most beautiful places you can find in America today. It's recently been recognized as one of the best places to retire in the country, not just in the Palmetto State.
As the oldest and largest city in South Carolina, it's full of history and culture, which is easy to see throughout the city with its classical street views and historic buildings and art galleries. Furthermore, the dining options include some of the best southern cuisine you can find.
Condé Nast ranks Charleston as the friendliest city in the country, while Travel & Leisure named it one of the world's best cities in 2019, higher than any other U.S. city. There's no debate that Charleston is the premier retirement spot in South Carolina. Its creative culture, friendly residents and rich history make it the perfect destination for retirees.
Find the Best Places to Retire in South Carolina For Your Family
Retirement gives you the opportunity to start fresh and begin again. Later in life, this can be refreshing for both you and your family. However, if South Carolina does not fit your specific needs as a retiree, we have you covered.
Visit our lists of the best places to retire in Florida, North Carolina, Arizona, Georgia, Texas or California. Each of these states presents their own set of benefits for retirement, including tax exemptions and low costs of living.
South Carolina can be your newfound haven that helps you transition from your career into retirement with ease. Find the best places to retire in South Carolina today, and prepare for this important stage in your life.
---
Corey Mann is the Content Manager of Investment U. He has more than 10 years of experience as a journalist and content creator. Since 2012, Corey's work has been featured in major publications such as The Virginian-Pilot, The Washington Post, CNN, MSNBC and more. When Corey isn't focusing on Investment U, he enjoys traveling with his wife, going to Yankees games and spending time with his family.