Crypto
Why Is Crypto Crashing and Will It Recover?
Investors are spooked. And the sell-off has sent crypto crashing. But this is a headline-driven market. And dips are normal when the headlines don't paint the rosiest of pictures… even when they're only half-truths.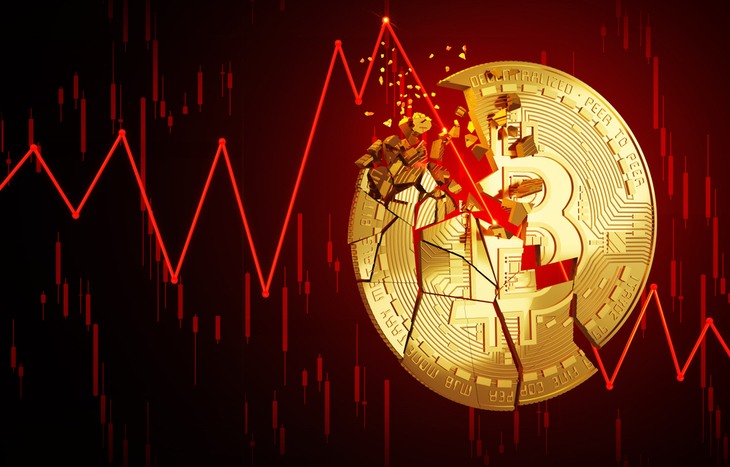 Crypto began its recent pullback after Elon Musk rescinded his pledge to allow Bitcoin as payment for Teslas. But one man does not move the markets… even one as influential as Musk. That tweet heard 'round the crypto-verse was soon followed by a disruptive headline from Reuters: "China bans financial, payment institutions from cryptocurrency business."
Considering China is among the leading countries that trade in crypto, it's not a surprise that a headline like the one above would send ripples through the crypto markets. But the headline really didn't capture the whole story. In fact, it was more misleading than anything. Here's the actual scoop we got from crypto expert Andy Snyder.
Well, it's not exactly news. What's happened is a few Chinese watchdog agencies issued a warning about the speculative nature of crypto. That's nothing new.

In fact, no new laws or rules were passed. The agencies merely restated laws that have been in place since 2013 – when Beijing announced Bitcoin was not a real currency and financial institutions could not transact with it.
Despite the clarification, it wasn't enough to send prices back near all-time highs. More sell-offs sent crypto crashing even further. And even more bad news followed…
More News to Send Crypto Crashing
In an extended series of tweets, Caitlin Long – the CEO of Avanti Bank & Trust, which specializes in digital assets – uncovered a stunning revelation about the world's largest stablecoin.
It turns out that most of the U.S. dollars the stablecoin Tether was backed by actually consist of "commercial paper." This was a major revelation because commercial paper is a riskier asset than Treasury bills. You can read Long's analysis in the thread linked below.
1/ SOME THOUGHTS on #stablecoins & the #crypto selloff, which are probably connected.

HUGE news last week & it matters far more than @elonmusk or @binance news. A long thread 👇: pic.twitter.com/itRfCfY1d3

— Caitlin Long 🔑 (@CaitlinLong_) May 15, 2021
Here's the long and short of it: Tether's possibility of default suddenly went up dramatically. Institutional investors didn't like that one bit. And to reduce exposure, a widespread sell-off took place. And because of the increased riskiness of Tether, many portfolio managers had to reduce overall crypto exposure by selling off non-Tether tokens as well.
If this is a little difficult to follow, let's lighten the load with an even more recent comment that's kept crypto crashing… or at least foiled its rebound.
Former President Donald Trump weighed in on the crypto hype. This little news bite is pretty easy to follow. In a segment on Fox News, he said, "Bitcoin, it just seems like a scam." Nothing terribly groundbreaking there. Then he went on to explain that he doesn't like it because it's another currency competing against the dollar. And he wants the dollar to be the currency of the world.
Unfortunately, that's not how monetary policy works, but point taken. And like that… another shot fired at crypto markets. This was followed by a sort of hacking of a group of hackers…
Bitcoin Gets Gassed
Remember when folks were filling up grocery bags and trash cans with gas? When the Colonial Pipeline was shut down due to a ransomware attack, some people panicked. It's almost understandable, though. It's the largest pipeline for refined oil in the U.S. It's responsible for delivering 3 million barrels of fuel per day between Texas and New York. Nonetheless, many East Coasters proved they learned nothing from the great toilet paper shortage of 2020. To hoard is American, I suppose.
However, before many folks even made it out to fill up Mason jars and pickup beds with gas, Colonial Pipeline paid the $5 million ransom. What's this have to do with crypto crashing you ask? Fast forward a month later, and the FBI did the hackers dirty… and much of the ransom paid out to the Russian hacker group DarkSide in the form of Bitcoin was recovered.
This might have been a great act of justice. But the news rattled the crypto markets. Is Bitcoin not safe and secure? Is it easy to compromise a crypto wallet? Is cryptocurrency a whole lot easier to track and seize than we thought?
At this point, the answer to all of the above is most likely no. If one were the betting type, the smart money would bet that the FBI conducted a social engineering hack. In other words, it tricked someone into getting the info it needed to access an account containing roughly 63.7 Bitcoin.
According to an assistant special agent in charge at the FBI's San Francisco office, the funds were specifically seized from hacker subcontractors who had used the DarkSide ransomware to hack Colonial. In other words, the hackers left a trail. And they were fooled into granting access to their crypto account.
Will Crypto Keep Crashing?
The latest news item to send crypto crashing still has some unanswered questions. But that's by design, of course. And that uncertainty still has many crypto investors rattled.
Elvis Chan, that FBI agent referenced above, declined to offer any specifics about how they got access to the ill-gotten Bitcoin. He mentioned only that the FBI did not have to wait for the ne'er-do-wells to use crypto services in the U.S. "I don't want to give up our tradecraft in case we want to use this again for future endeavors," the agent told NBC News.
We're unlikely to learn more about how the FBI got its hands on the stolen crypto anytime soon. And that's likely to leave an additional strain on the already stressed crypto markets. But this too shall pass. An extended series of bad news and negative headlines sent crypto crashing. But eventually, these news stories will fade. Crypto will rebound. And then it will crash again. And it will rebound. This is the natural ebb and flow of the markets.
Bitcoin has already stood the test of time. It's not about to suddenly disappear. And it's more or less designed as competition to the dollar. Sorry, President Trump. But most cryptos aren't. Most coins – at least the ones worth investing in – have some sort of inherent value and use.
Internet Computer (ICP) has designs on decentralizing the internet. Telcoin (TEL) wants to change the remittance industry. Filecoin (FIL) is creating a new way of storing and sharing data. The list goes on…
With the news of El Salvador officially approving Bitcoin as legal currency – and several others poised to follow – hopefully we're seeing the end of the latest ebbs in the crypto market. After all, it'd be nice to see an end to crypto crashing. But it is giving folks plenty of opportunities to buy the dip.
Need More Crypto News?
If you'd like to get the latest and greatest crypto analysis delivered right to your inbox, we suggest signing up for Manward Financial Digest. In it, Andy Snyder delivers detailed analysis of the crypto markets and suggests investment opportunities of all sorts. All you have to do is enter your email address in the box below.
---
Matthew Makowski is a senior research analyst and writer at Investment U. He has been studying and writing about the markets for 20 years. Equally comfortable identifying value stocks as he is discounts in the crypto markets, Matthew began mining Bitcoin in 2011 and has since honed his focus on the cryptocurrency markets as a whole. He is a graduate of Rutgers University and lives in Colorado with his dogs Dorito and Pretzel.