Recent days and weeks have seen the continued capitulation of stocks which thrived during the peak of the pandemic. When you also add in the broader market selloffs, capturing a clear picture of these companies seems almost futile. Today we'll try to do exactly that, crafting a DocuSign stock forecast for the rest of the year.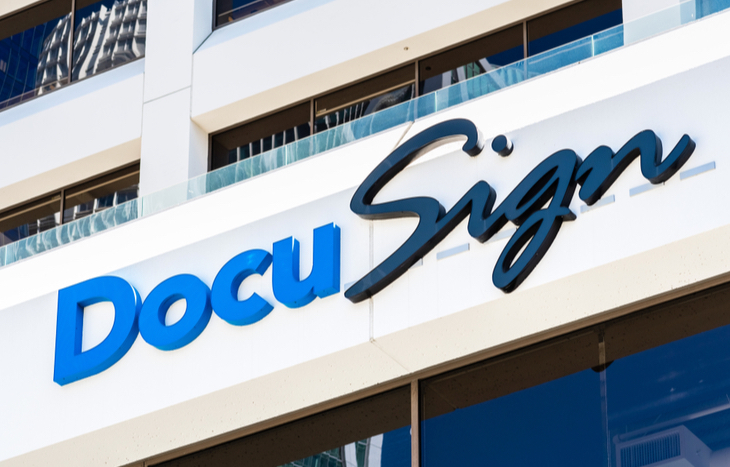 DocuSign Stock Forecast: Fundamental Analysis
Founded in 2003, DocuSign (Nasdaq: DOCU) is one of the largest e-signature companies in the world. The company has been increasing revenue(s) for years, eclipsing $2.1 billion in 2021. Having reported less than $1 billion in revenue in 2019, the growth seems quite promising. However, despite the strong growth in revenues, DocuSign is still not a profitable company. In fact, DocuSign will probably not be a profitable company for at least a few more years. With that said, net losses have actually declined in the past few years.
Overall, net losses are at their lowest since 2017, and less than one third what they were in 2020. Both the return on assets and return on equity are negative, though at improved levels compared to prior years. DocuSign has also beat on each of the last four earnings reports, providing some reason for optimism for a DocuSign stock forecast.
Creating a DocuSign stock forecast is quite difficult, even for established financial institutions. Twelve different financial institutions have released updated price targets for DocuSign since March 7 of this year. The price targets range from between $60 and $180, with four price targets being at or below $80. Given that we are all working with the same financial data, it seems clear that fundamentals are not the driving force behind DocuSign's movement.
In a bit of [negative] personnel news, DocuSign also recently lost their general counsel and senior VP. Executive resignations never leave investors feeling warm and fuzzy, especially abrupt and unforeseen ones. If more resignations follow, expect DocuSign to experience quite a bit of negative movement.
Keep reading for more on DocuSign stock forecast for 2022.
Technical Analysis
To say that DocuSign stock has fallen on hard times would be an understatement of monumental proportions. In September of 2021, the stock was trading above $310, with a 52-week high above $314. As of today, the stock trades below $72, representing a decline of more than 76.7% in eight months. If there are any silver linings, there are other companies which have had far greater drop-offs.
The price action on the stock in the last few months has also been quite volatile. On March 11, the stock was trading below $71. By April 1, it was trading above $113. Yesterday, on May 10, it hit a 52-week low, momentarily trading at $66. Those looking for a stable investment would be best suited looking for other options, DocuSign will not provide it. Looking at technical indicators, a similarly confusing tale is being told. Depending on your timeline view for DocuSign stock forecast, all or most moving averages are negative. However, most oscillators are neutral, with more being positive the longer the time horizon.
Miscellaneous
The Nasdaq is the only major American exchange which has officially entered bear market territory. With the index expected to continue even further downward, all Nasdaq listed stocks carry an elevated level of risk.
Conclusions on DocuSign Stock Forecast
After reviewing the data required for a DocuSign stock forecast, it seems DOCU is in store for a tumultuous rest of 2022. With the company not being profitable, and executives abruptly retiring, value investors will not have much interest. Looking to financial institutions for guidance is a relatively fruitless endeavor as well, as opinions and projections vary wildly. Swing and day traders may have some interest, though the volatility may be too much for the average trader. Overall, there seems to be little reason to seriously consider an investment into DocuSign right now. With potential for continued negative moves in the coming months, it may be best to steer clear of DOCU altogether.
---
Gabriel Shabat is a writer who focuses on financial literacy and investing topics. He has been studying and talking about the markets for over seven years. Last year he became a part of the instructional staff at Boston University, teaching graduate finance courses as part of their Masters degree programs. When he isn't working, he enjoys playing the guitar, working out and spending time with his loved ones.