To find the best emerging tech stocks to buy in 2022, we first need to discover the top tech trends for 2022. If you can successfully identify emerging trends in society then it makes it much easier to invest. This is because most societal trends will result in spiking profits for specific companies. For example, clearly, nobody could have predicted the 2020 pandemic. However, investors could have predicted how the pandemic would impact different companies. In 2020, technology stocks like Shopify, Amazon and Zoom all surged. On the other hand, entertainment stocks like Live Nation and Disney had a much harder time.
Luckily, there are quite a few emerging trends to capitalize on in 2022. For example, the metaverse, web 3.0, or the billionaire space race are all great starting points. However, I've covered most of these topics already. Instead, I want to focus on another rapidly growing space: NFTs.
A non-fungible token (NFT) is a unique, digital token that can represent just about anything. These tokens live on a blockchain and cannot be replicated. This makes it incredibly easy to determine a real NFT from a copy. So far, NFTs have been used for digital art, games, sports collectibles, and more. However, it's looking like their role might be expanding in a hurry.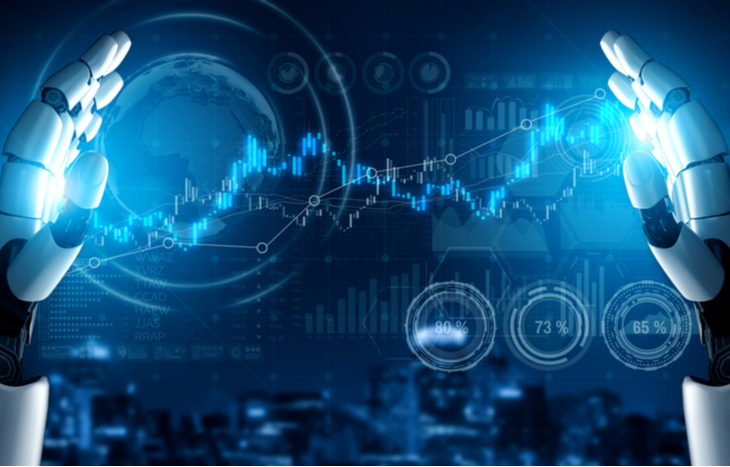 2022: The Year of the NFT?
NFTs were a technology trend that completely burst on the scene in 2021. This means that companies in the NFT space are probably some of the best emerging tech stocks for 2022.
After looking at all the data, it looks like NFTs still have plenty of room left to grow. We can determine this by looking at the total volume of NFTs traded on popular marketplaces. Right now, the most popular marketplace to buy NFTs is OpenSea. OpenSea has transacted over $10 billion in volume since it launched in December 2017.
In January 2021 OpenSea had only 36,195 registered users. By July, this number skyrocketed to 145,527. In January 2022, it now has 935,000 users. This is most definitely exponential growth.
OpenSea's total transaction volume has also skyrocketed. In 2020, OpenSea transacted about $21 million in total volume. It absolutely dwarfed this number in 2021. In August 2021 alone, OpenSea reported over $3 billion in transaction volume. This momentum has not slowed down so far in 2022. On January 3, 2022, OpenSea reported a volume of $255.9 million. This was the highest since August 2021 and more than 10X its entire 2020 volume.
There is one other way that we can tell that the NFT boom is not slowing down. This is by looking at Google search traffic volume for "NFTs". OpenSea's volume first surged in August 2021. However, search traffic for NFTs just hit an all-time high at the end of 2021. To be specific, it had its highest search volume on Dec. 12-18 2021.
With that said, let's dive into the best emerging tech stocks for 2022.
NOTE: I'm not a financial advisor and am just offering my own research and commentary. Please do your own due diligence before making any investment decisions.
Emerging Tech Stocks No. 3 Coinbase (Nasdaq: COIN)
Coinbase is the largest marketplace for trading cryptocurrencies. It also has a perfect 5/5 rating from Nerdwallet when compared to other trading platforms. Now, it is getting into the NFT game. Specifically, it is launching its own NFT marketplace. Coinbase made this announcement on October 12, 2021. Investors expect this marketplace to go live sometime in 2022. It could be so huge that CEO Brian Armstrong expects it to be bigger than Coinbase's cryptocurrency business. This makes Coinbase a prime candidate as one of the best emerging tech stocks for 2022.
The Coinbase NFT marketplace has the potential to completely dominate NFTs. Despite the numbers from earlier in this article, NFTs have still not hit the mainstream. This will probably change once Coinbase's platform goes live. This is because Coinbase has over 73 million users in over 100 countries. It is also an incredibly trusted name. This new marketplace will introduce tens of millions of people to NFTs that previously had no knowledge of them. For example, OpenSea has about 1 million users. On the other hand, Coinbase has already received more than 2.5 million emails to sign up for its marketplace.
Check the announcement page for updates on the marketplace release date. As I write this, it just says "coming soon."
In Q3 2021, Coinbase posted revenue of $1.31 billion and a net income of $406.1 million. These numbers were up 316% and 399% respectively year-over-year (YOY). Considering it just went public, Coinbase is already incredibly profitable. In 2020, it reported a profit margin of 25.28%. This number was much higher through all 3 reported quarters of 2021.
Coinbase went public in April 2021. Its stock has been a little bit of a roller coast since then but is currently down about 30%.
Emerging Tech Stocks No. 2 Gamestop (NYSE: GME)
This meme stock of 2021 short squeeze fame is also launching an NFT marketplace. "Gamestop NFT marketplace" was another term that spiked on Google trends recently. The introduction of NFTs is all part of the overhaul of GameStop's business. The new leadership team wants to transition GameStop from a brick-and-mortar company to an eCommerce/tech company. If this transition is completed quickly, it could make GameStop a top emerging tech stock over the coming year.
That said, the GameStop NFT marketplace isn't quite as exciting as Coinbases. This is mainly due to brand association. Right now, GameStop is still known for retail stores that sell video games. In 2021, it became known for short squeezing, apes, and "going to the moon". None of these things have anything to do with NFTs. Due to this, GameStop will have to do a lot more work to shift consumers' perspectives of its business.
Despite lofty plans, GameStop's business was still in the red for most of 2021. In Q3 2021, it reported revenue of $1.3 billion and a net loss of $105.1 million. In 2020, its stock was up approximately 650%.
GameStop's NFT marketplace could still be big. It will probably just take more time to materialize than Coinbasses. Its announcement page also offers very little information.
Emerging Tech Stocks No. 1 DraftKings (Nasdaq: DKNG)
There is actually at least one other public company that has an NFT marketplace. This marketplace is also already fully-live. DraftKings offers an NFT marketplace with tons of sports collectibles. Following the same NFT thesis, this makes Draftkings one of the best emerging tech stocks for 2022.
Notably, DraftKings has partnered with Tom Brady's Autograph.io. Autograph is a company that offers digital collectibles from some of the biggest names in sports. It has different collectibles from legends like Derek Jeter, Simone Biles, Tiger Woods, Tony Hawk, Noami Osaka, Usain Bolt, and (of course) Tom Brady.
DraftKings just launched its NFT marketplace in Q3 2021. So far, the marketplace has been successful. In total, it had 70 launches that were oversubscribed by 14X on average. The marketplace also generated $20 million in gross merchandising volume. I personally tried to get on the waitlist for two Simone Biles drops. I waited until the second I was allowed to enter the waitlist but ended up over 10k people deep both times.
Right now, investors have a lot of things to be excited about regarding GameStop. However, for full transparency, booming profits are currently not one of those things. In Q3 2021, DraftKings reported revenue of $212.48 million and a net loss of $545.03 million. In 2020, its net loss was over $1 billion. However, this loss might be an outlier due to the pandemic lockdowns.
Looking forward, DraftKings is looking into minting its own NFTs. This will reduce its reliance on Autograph. Overall, DraftKing's stock was down almost 50% in 2021.
I hope that you've found this article on the best emerging tech stocks for 2022. As usual, please base all investment decisions on your own due diligence and risk tolerance.
---