Crypto
GALA Crypto: Surging Over 80% This Week, Here's What You Need to Know
The crypto market is recovering after topping out in mid-November. But it isn't Bitcoin (BTC) making the headlines this time around. Instead, GALA crypto by Gala Games is exploding almost 80% in the past week as the play-to-earn (P2E) platform continues building momentum.
GALA crypto (GALA) is an Ethereum (ETH) token powering the Gala Games ecosystem. That said, players can earn rewards in GALA that they can use to buy things in the game.
For example, players can use GALA tokens to buy in-game items or transfer them to other users. The focus is to give users full control over their gaming experience using blockchain technology. That said, the P2E market is quickly gaining attention as it combines two of the biggest trends in gaming and NFTs.
With this in mind, the global gaming market is set to reach $545 billion by 2028. And as collectors look to flex their digital assets, NFT sales are soaring, earning over $41 billion in 2021.
Will GALA play a role in the metaverse? Keep reading to learn more about GALA crypto and why the token is exploding in popularity.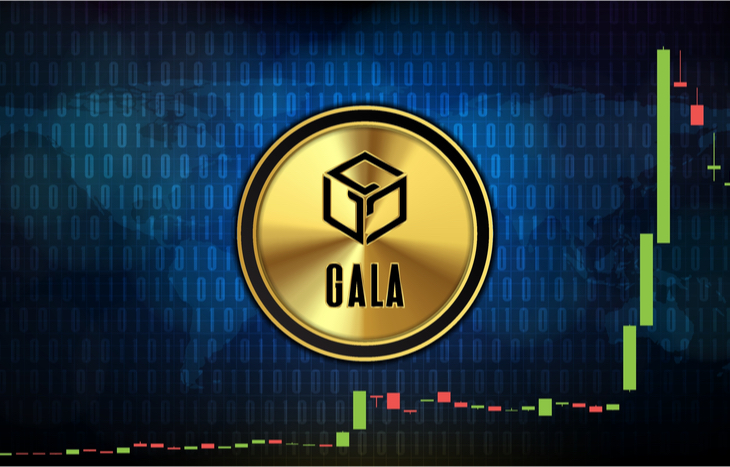 $5 Billion Ecosystem Injection
The big news surrounding GALA crypto comes as the platform pours $5 billion into expanding its NFT collection. The gaming company is planning to use the funds accordingly:
Gaming: $2B
Music: $1B
Movies: $1B
Theme Parks: $1B
So far, the platform has 1.3 million active monthly users with 26,000 total NFTs sold. And its most expensive NFT sold to date is $3 million.
The expansion is huge for GALA crypto, with NFTs gaining momentum in the mainstream among Wall St and Celebrities. The gaming NFTs can be used in-game to boost abilities and reward potential, promoting higher use.
Moreover, music, movie, and theme park NFTs will help the community reach new markets. Having said this, the company has links with high-profile celebrities like Snoop Dogg and Steve Aoki.
Gala games hosted its Galaverse in December for the community to celebrate launching into the Metaverse. The immersive event featured live performances from Maroon 5, Arcade Fire, and Kings of Leon.
And lastly, Gala teamed up with Under Armour (NYSE: UAA) and Stephen Curry (Curry Brands) to make the Genesis Curry Flow NFT. The NFT is an exact copy of Steph Curry's shoes when he broke the 3-point record.
With its foot in the door already, Gala Games is ready to make a big move in the metaverse.
Keep reading for more information on GALA crypto. 
New Game Releases
The startup is creating hype with the two highly anticipated game releases. First, the company released Town Star, a simulation game allowing users to build and earn passive rewards. And secondly, Spider Tanks, a PvP brawler featuring tanks and various weapons players own.
Gala is also releasing the first P2E first-person shooter, Last Expedition, and is bringing the hit TV series The Walking Dead to life in TWD: Empires.
Most important, the addition of new games is attracting users, further boosting the GALA ecosystem. With various types of games for every player, the company is aggressively looking to shake up the +$170 billion gaming industry.
P2E games give players a sense of time well spent with more ownership and features than traditional gaming. Instead of wasting hours gaming to no end, users can build an empire and earn passive income.
By giving players more control over their experience, Gala Games is attracting waves of users. The platform develops "blockchain games you'll actually want to play" with P2E incentives.
With a slate of new games coming this year, look for the startup to continue building its momentum. So far, with only two games out, 1.3 million players are using the platform monthly. And as the platform reaches more users, GALA crypto should continue adding value for users.
GALA Crypto: 2022 Outlook
Gala Games is on a roll between the hit new games and the growing NFT market. As a result, GALA crypto is trending again as the token looks to break out of its 3-month downtrend. Yet the company is planning to ramp up production in 2022 with big goals. Here are a few things GALA holders can look forward to.
GalaChain is coming soon. Gala Games is building its own blockchain to improve network fees and the experience.
New hit games are set to release soon. With big names like Last Expedition and The Walking Dead: Empires coming soon, Gala should continue steadily adding users.
New partnerships driving awareness. For altcoins to continue growing, awareness needs to keep spreading. With this in mind, Gala is attracting big names with its community of loyal followers.
Gala Games big focuses this year will be growing its user base, and adding utility for players. The GalaChain will be a big step in improving both of these areas. With its own blockchain, Gala can lower fees and expand its abilities.
How to Get Involved With GALA Crypto
If you are looking to get involved with GALA crypto, you're in luck. There are a few different ways you can go about investing in GALA.
First, you can sign up to play one of the company's games to start earning GALA coin. But, keep in mind you will need an NFT from the Gala Games store to unlock this ability. You can opt for free play, but you will not earn tokens this way.
Joining the weekly competition will give you access to earning GALA crypto if you are a top-ranking player.
On the other hand, if you want to invest in the token without playing, you can also do so. Many of the popular crypto exchanges support the trading of GALA coins.
Either way, GALA looks to be breaking out of a 3-month downtrend after exploding almost 800% in November. If the Gala ecosystem continues attracting new users and building value, look for the altcoin to continue adding value for holders.
---
Pete Johnson is an experienced financial writer and content creator who specializes in equity research and derivatives. He has over ten years of personal investing experience. Digging through 10-K forms and finding hidden gems is his favorite pastime. When Pete isn't researching stocks or writing, you can find him enjoying the outdoors or working up a sweat exercising.