Lithium is one of the most important components in the manufacturing of electric vehicle batteries. It's no wonder why many investors are interested in investing in lithium mining stocks right now. One of the issues with batteries is that their energy density is typically low compared to gasoline. In the early days, gas was as much as 100 times more energy-dense than batteries.
While gas is still more energy-dense than batteries, that number is more like 50 times today, thanks in large part to lithium. As a result, lithium demand is expecting to grow immensely. From 429 thousand metric tons in 2021 to 1.79 million metric tons in 2030.
With such a large total addressable market, there is a huge opportunity for lithium investors. If you want to invest in this fast-growing market, here are the best lithium mining stocks:
Lithium Americas Corp.

(NYSE: LAC)

Albemarle Corporation

(NYSE: ALB)

Sociedad Química y Minera de Chile S.A.

(NYSE: SQM)

QuantumScape Corporation

(NYSE: QS)

Tesla, Inc.

(NYSE: TSLA)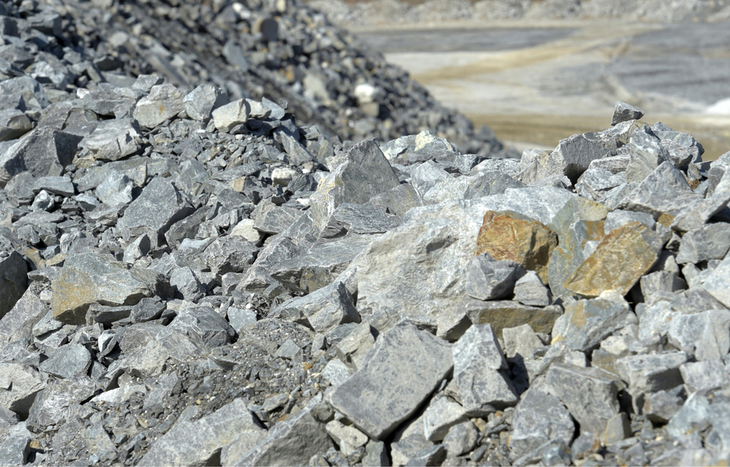 Lithium Mining Stocks to Buy
If you are new to lithium mining stocks, you may be unfamiliar with most of these names. Let's take a look at why you should add them to your portfolio.
No. 5 Lithium Americas Corp
If you live in the United States and want to invest in lithium production right here at home, Lithium Americas (LAC) might be your best bet. The company owns Thacker Pass, which is the largest known lithium mining reserve in America. This large mining reserve is capable of 60,000 tons per annum (TPA) of lithium production with a mine life of 46 years. It has a 29.3% internal rate of return and a $2.6 billion after-tax NPV.
However, one thing investors should keep in mind is that Lithium Americas isn't yet profitable. Its net income has been negative in each of the past four quarters, and, thus, its earnings per share (EPS) is negative. Investors have a bullish long-term outlook on the stock, but weak in the short term.
No. 4 Albemarle Corporation
Albemarle has a slightly wider net. It describes itself as a specialty chemicals production company that produces lithium, bromine, refining catalysts and applied surface treatments. Despite producing other materials, though, Albemarle is the world's largest producer of lithium for EV batteries. Making this a strong lithium mining stocks investment. Albemarle was named one of the 500 most responsible companies for 2022 by Newsweek.
However, something to keep in mind is that its most recent earnings report left a lot to be desired. While it has continued to increase its revenue year-over-year (YOY), its quarterly financials for September 2021 show a negative net income, a negative profit margin and a drop in cash on hand. Its cost of revenue also increased slightly compared to the previous quarter. Despite this, the outlook is still positive for ALB with an increase in share price expected over the next 12 months.
No. 3 Sociedad Química y Minera de Chile S.A.
Sociedad Química y Minera de Chile, also referred to as SQM, is a Santiago, Chile-based chemical company. It is also a supplier of plant nutrients, iodine, lithium, and industrial chemicals. As far as lithium is concerned, SQM is one of the largest producers in the world. A 2019 sustainability report from the company projected 120,000 tons of lithium production annually.
For investors, there is a lot to like about SQM. The $14.4 billion company recently paid shareholders a 3.90% dividend. And the lithium mining stock is undervalued. Plus, its net income has grown massively, with a more than 6,100% YOY increase. It has posted profits in each of the past four quarters. And its profit margin has increased by more than 4,100% YOY. SQM looks like a solid investment and its share price should grow healthily over the next year.
Best Lithium Mining Stocks No. 2 QuantumScape Corporation
QuantumScape is not itself a mining company, but a company that researches and develops lithium batteries, including solid-state lithium-metal batteries. This technology promises to be the next big thing in the electric vehicle sector, as solid-state batteries have a number of advantages over their traditional gel-based counterparts. For example, it says its batteries would have 50-80% more range than currently available batteries. If QuantumScape succeeds in mass-producing solid-state lithium-metal batteries, this could be one of the best lithium mining stocks available.
As it stands today, QuantumScape's fundamentals are mixed. Its market cap is approaching $10 billion, but it has a negative EPS and hasn't yet posted consistent profits. Most recently, its net income was a positive $15.35 million. Plus, its cash reserve in September 2021 was about half of what it was in March 2021, and its stock is currently seen as overvalued. However, if it can deliver on its promises, QS may well be a bargain at its current price of around $22. Analysts predict an approximately 60% rise in its share price over the next 12 months.
Best Lithium Mining Stocks No. 1 Tesla, Inc.
Even if every other lithium mining stocks name on this list is new to you, you have almost certainly heard of Tesla. After all, TSLA has the sixth-largest market cap in the world. And that includes Saudi Aramco at number four. That is part of the reason that CEO Elon Musk now has the highest net worth in the world. Far outpacing Jeff Bezos and Bernard Arnault of LVMH. Of course, Tesla makes and sells cars rather than mining lithium. However, Tesla is also the largest EV manufacturer in the world, meaning it is inextricably linked to lithium production.
The $1 trillion company is still something of an anomaly in the investing world, though. TSLA's P/E ratio remains painfully high at about 345, and the stock is considered overvalued. On the plus side, it appears the company is consistently profitable now. Posting profits in each of the past four quarters. Its net income and cash on hand are both improving. And its cost of revenue has increased.
Some analysts expect TSLA to decline, while others expect a big increase in its price. As usual, reaching a consensus on TSLA is a challenge.
---