Luxury consumer goods can be a bright spot in investor portfolios during periods of economic prosperity. When people have the discretionary funds to spend on brand-name items, history shows us that they will. Unfortunately, in times of economic strife, these cyclical companies are the first to suffer. It's a theory proven true in the current economic climate. Luxury brand stocks have taken a tumble in 2022, none more dramatically than LVMH stock. 
LVMH Moët Hennessy Louis Vuitton (OTC: LVMUY) has taken an especially big hit thanks in part to a series of escalating bans on imports to Russia. Here's a closer look at the situation, and why LVMH stock continues to fall on the news of protracted conflict in Eastern Europe.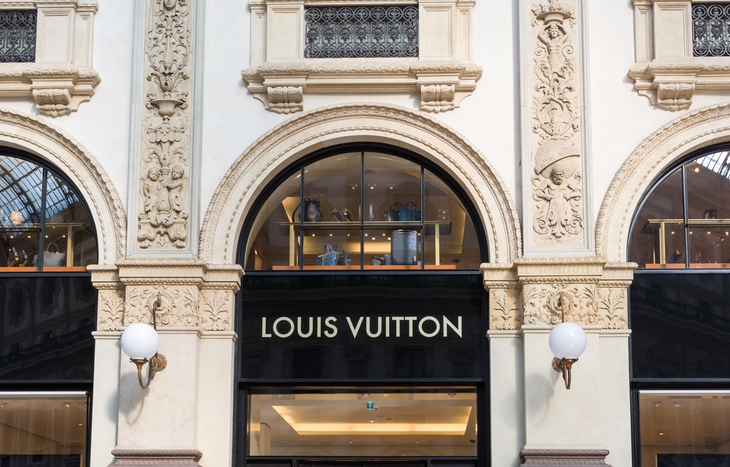 The Relationship Between Russia and Luxury Goods
As the world ramps up its collective sanctions against the country in response to its assault on Ukraine, luxury goods have fallen into the crosshairs. LVMH, alongside other luxury brands like Kering (OTC: PPRUY), Hermès (OTC: HESAY) and Moncler (OTC: MONRF) are all down 20% or more year-to-date. The reason? Russia represents a substantial market for these goods. 
Known for an oligarchic class that has no trouble spending ostentatiously, Russia is a major market for everything from designer handbags and clothing to liquor and sports cars. With bans on luxury exports to the country taking hold, producers have instantly felt the loss of a major market. The ban covers goods costing more than 300 euros and cars costing more than 50,000 euros, which encompasses virtually everything sold by LVMH and other luxury retailers. 
It gets worse for LVMH stock. As of March 4, the luxury retailer "temporarily" closed all 124 of its retail locations in Russia. Not only does this sever sales in the region, it also strands inventory. While it's possible for the company to resume operations in the future, there's no telling when. Moreover, Russia's threats to nationalize assets left behind by Western companies could mean losing everything. 
With the ban set in place so long as Russia continues to engage Ukraine, there's no telling when retailers will regain access to this market. Moreover, even when they do, the decimation of the Russian economy caused by global sanctions could stunt any future revenues from the region. 
Keep reading for more info on LVMH stock.
The Prospect of Future Sanctions
Russia's attempted invasion of Ukraine has broader geopolitical implications that are still largely unknown. There is, however, speculation as to how the situation could get worse. One such scenario involves China aligning with Russia, to provide military and financial aid. Should this happen, the global response to China's intervention would likely follow the response to Russia. 
If the United Nations places an embargo on China, luxury retailers will lose yet another major market. Chinese elites, like Russian oligarchs, are well-known for their fondness of designer goods, particularly clothing and cars. Retailers would lose the ability to export to China, isolating most of the East. 
Worse still, China is the world's leading producer of luxury goods. Sanctions on China would leave luxury goods producers with supply chain struggles and production backlogs on top of a shrinking market. It's a scenario that doesn't bode well for any retailer, let alone luxury brands. 
Troubles Extend to the West
The troubles for LVMH stock and other luxury retailers aren't centralized to Eastern Europe and Asia. As inflation rocks North American economies, luxury brands aren't seeing the traction they need to support them in a time of crisis. Discretionary spending is shrinking in the United States, which spells turbulence ahead for LVMH and other cyclical goods. 
According to a report from the Wall Street Journal, "analysts have estimated that the luxury sector as a whole makes less than 5% of its total revenue in Russia, and that the bigger risk comes from a more general economic downturn and resultant drag on consumer sentiment." 
This, on the heels of already stressful conditions due to COVID-19. The pandemic shifted consumer habits in the way of luxury brand ownership, from buying new to buying secondhand. The emergence of companies like The RealReal, Depop and ThredUp have allowed luxury goods enthusiasts to buy secondhand at a fraction of the cost of buying new. According to ThredUp, one of the trailblazers in this shifting market, during the pandemic the apparel resale business "grew 21 times faster than sales of new clothing."
Demand for luxury goods is ever-present. Unfortunately, in the current economic climate, the discretionary funds needed to buy and own these items is scarce. Fewer people are shopping for new goods, instead turning to used items. Those priced out of the used market are simply forgoing luxury goods ownership altogether. 
Tough Times Ahead for LVMH Stock and High-End Retailers
Between the current ban on exports to Russia, China's uncertain intervention and inflationary concerns in the West, LVMH and other luxury retailers face uncertain challenges in the near-term. Even if these problems evaporate tomorrow, there are still rippling implications to consider. Russia's decimated economy. The emergence of secondhand luxury goods markets. These are long-term headwinds that require a thoughtful pivot. 
LVMH stock has dropped in 2022, and it's more than likely that the bottom hasn't yet formed. Investors intrigued by the luxury goods market are likely well-aware of the uphill battle it faces. Whether it can surmount these challenges to maintain and capture market share will become apparent in time. For now, LVMH and similar stocks might be more trouble than they're worth.
---