Since March of 2020, a handful of healthcare companies have garnered most of the attention. Today we'll look at a large cap medical company which has largely gone under the radar. Medtronic (NYSE: MDT) stock has performed well this year. It's been outperforming the broader markets by a large margin. What has pushed the company forward during the last few months? Is Medtronic stock a good investment? Looking at both fundamental data and technical indicators, we'll create a Medtronic stock forecast.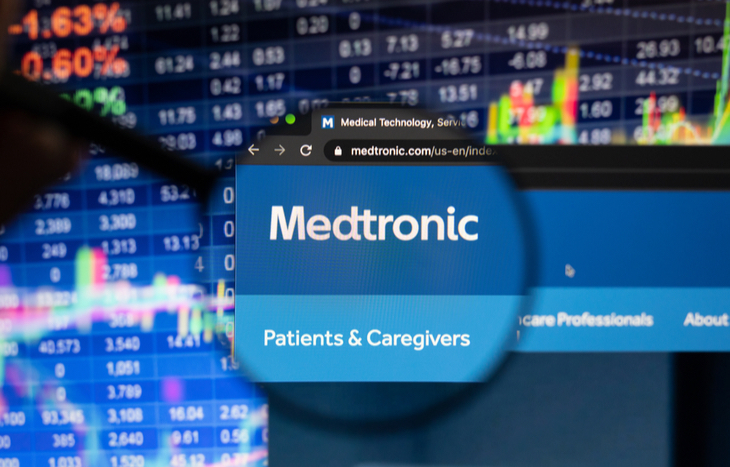 Fundamental Analysis
Medtronic stock has been kept afloat by strong company performance. The company has exceeded expectations on each of the last four earnings reports, though by reasonably small margins. The last beat sent the stock upwards. It's now sitting at just under $111, from around $100 before the earnings announcement. Looking back at Medtronic stock forecast, the stock has been profitable for years. Medtronic has been reporting net income in the billions. However, the company did see a decrease in its net profit margin in 2020. This can be attributed to the pandemic. However, given recent beats on earnings, it is reasonable to assume Medtronic's 2021 10K will be better.
By market capitalization, Medtronic is almost a mega cap stock. As such, it can be regarded as an established stock, not one you can expect to swing like EVs. With that consistency comes solid liquidity, and a low chance of bankruptcy. The company currently has a quick ratio of 2.10, and a current ratio of 2.61. Medtronic also has a debt to assets ratio below 0.3, which is quite good. The company also pays dividends to its shareholders. This alone has made it an attractive investment candidate.
Four financial institutions have released price targets for Medtronic since it last released an earnings report on February 23. The institutions also released updated investment ratings, three buy/outperform ratings and one hold/neutral rating. The price targets range from $121 to $135 per share. This represents a potential upside between nine and 21.6 percent. When adding in dividend payouts, potential returns increase even more. With continued medical testing announced, and continued tech advancements, Medtronic stock forecast seems determined to continue its positive trend.
Keep reading for an in-depth analysis of Medtronic stock forecast. 
Technical Analysis
As I mentioned above, Medtronic stock has been on a recent upswing. Previously trading around $100, the stock seems to be trading in what seems to be an ascending channel. In fact, the stock seems to be directly on the support line of the channel. If accurate, this would seem to indicate that the stock would see a reversal in the coming day or so. The stock is already outperforming the broader markets this year. It's up over 6.7% thus far. However, over the last six months and year, the stock is down. Medtronic hit a yearly high of just under $136 early last September, before beginning a steep drop. By mid December, the stock was trading below $100. Since then however, the stock has begun to rebound. The stock recently broke out of a channel, beginning after its last earnings report.
Conclusions on Medtronic Stock Forecast
Having completed our Medtronic stock forecast, a few things stand out. Medtronic is not the most flashy stock on the market. In fact, recent stock performance might indicate a bit of weakness. However, if we look beneath the surface, we find a reasonably solid company. Though, it may fall short of being a blue chip. Continued profitability, combined with beats on earnings reports, have boosted Medtronic stock forecast. Given the unease in the broader markets in recent months, its performance has calmed shareholders. In addition to stock performance, dividends have provided additional income to shareholders. While the company may not be a growth stock, it seems clear that it won't bankrupt you either. Whether or not it's the best investment, even in the broader healthcare markets, is something for you to decide.
---