Despite another strong Nvidia earnings report, NVDA stock is down 11% since the release. The selloff is a part of a broader market trend rippling across most sectors this year.
Nvidia (Nasdaq: NVDA) invented the GPU in 1999 and has been pushing the market to new heights ever since. Now, the chipmaker has its sights set on four high potential markets in:
Gaming
Data Centers
Professional Visualization
Automotive
The chipmaker is growing on all levels, but investors are not convinced. That said, the demand for computer chips is not slowing anytime soon. In particular, JP Morgan (NYSE: JPM) sees strong demand remaining in the auto industry, with electric vehicles and self-driving leading the way.
On the other hand, the investment firm also sees an oversupply sometime in 2023. Will this affect future Nvidia earnings? Keep reading to learn how the company plans to continue its dominant growth.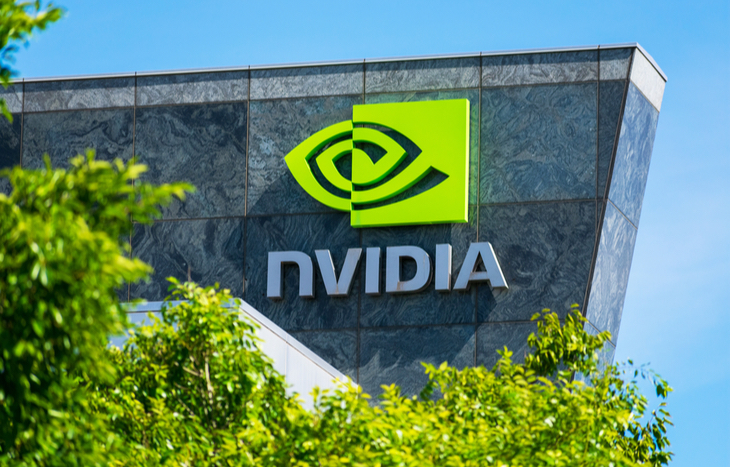 Nvidia Earnings Highlights
Although semiconductor stocks are known for their cyclical nature, Nvidia's growth into new categories creates stable earnings improvement. That said, the fourth quarter was another record-breaking one for the chipmaker.
The company beat both top and bottom-line estimates.
Revenue: $7.64 billion vs $7.43 billion expected.
Earnings Per Share (EPS): $1.32 vs $1.22 expected.
Nvidia's top line rose another 53% year-over-year (YOY) in Q4, marking the 6th straight quarter with +50% revenue growth. Not only that, but the additional earnings are trickling to the bottom line, with net income up 71% from a year ago.
The explosive growth is supported by solid revenue growth across all business segments.
Gaming: Up 37% to a record $3.42 billion. Nvidia's most significant segment in terms of revenue is being supported by new RTX games such as Call of Duty: Vanguard and Horizon Zero Dawn. That said, for the best quality gaming experiences, top gaming companies are turning to Nvidia.
Data Center: Up 71% to a record $3.26 billion. The company's second-largest group is quickly outpacing gaming as demand for data solutions heats up. Nvidia provides AI, machine learning, and high-performance computing to simplify workflows.
Professional Visualization: Up 109% to a record $643 million. Nvidia's tools for professionals and creators help bring data to life with high-performance abilities. The tools make an immersive experience to see the data in real-time.
Automotive: Fell 14% to $125 million. Despite the sector slipping this quarter, the outlook is favorable, with vehicles requiring more tech. More important, self-driving will be a big factor in Nvidia's future growth.
New Partnerships & Products
Although Nvidia is scrapping the Arm deal, the company is partnering with top brands as demand for high-performance chips increases.
The deal would have given Nvidia powerful control over another market in smartphones. But, its latest deal with Jaguar Land Rover will help boost the lagging Auto segment. The multi-year partnership will start in 2025 with all-new Jaguar and Land Rover vehicles built on Nvidia Drive.
On top of this, the company is already partnering with NIO (NYSE: NIO), Xpeng (NYSE: XPEV) and Mercedes to boost the segment further.
Furthermore, industry giants AT&T (NYSE: T) and Samsung are joining forces to offer GeForce Now to their customers. The company's cloud gaming service now includes over 1,200 titles.
And lastly, Meta (NYSE: FB) is building an AI Research Supercluster using Nvidia's DGX systems.
Looking through the list of companies partnering with Nvidia, one thing is evident. Nvidia's chips are being used to power industry-leading tech.
NVDA Stock Analysis
Nvidia was one of the first stocks I covered writing for InvestmentU. At the time, NVDA shares were running hot after strong headwinds from the pandemic. In the article, I noted although NVDA stock was at an all-time high (ATH), it still had a lot of room to run. And it did. In fact, Nvidia ran up another 65% to reach a new ATH of $346.47 per share.
Then, the tech selloff started with shares of leading software and semiconductor stocks leading the fall. Rapid growth companies with higher valuations like Nvidia and AMD (Nasdaq: AMD) are getting hit the hardest this quarter.
Lower value semi stocks like Qualcomm (Nasdaq: QCOM) and Intel (Nasdaq: INTC) are still down this quarter but not to the same extent.
With this in mind, NVDA stock bounced off its 200-day SMA on Friday, the second time this year. The trend line can either act as support or suggest further downside is ahead. So far, NVDA shares are holding strong. But the next few trading sessions will be telling in its short-term direction.
After running up over 840% the past five years, investors may be looking to take profits in an overheated market.
A Few Risks to Consider
The computer chip industry is cyclical in that technology is constantly evolving, requiring more powerful devices. That said, Nvidia will need to continue funneling money into research and development (R&D). For the 12 months ending Jan 30th, 2022, Nvidia increased its R&D spending 34% from 2021.
On top of this, new competition is entering the market, with demand for chips skyrocketing. If there is an oversupply next year like JP Morgan predicts, we could see margins fall.
More importantly, with interest rates likely rising this year, will the heavy tech spending continue? When it becomes more expensive to finance big purchases, companies may not spend the extra money for premium abilities.
After Nvidia Earnings Selloff, Is It a Buy?
Even with the risks, the company is forecasting strong growth. In the latest Nvidia earnings report, the chipmaker expects around $8.10 billion in Q1. Although this wouldn't continue the streak of +50% revenue, it leaves the door open for another earnings beat.
Nvidia has been a leader in this industry since inventing the GPU. With growing industry use for advanced chips and new selling verticals, Nvidia's run will likely continue.
Nevertheless, the market continues to look shaky. As the Federal Reserve prepares to fight the nagging inflation, investors are taking profits after several big years in the market.
Like the last time I wrote about Nvidia, I have an optimistic outlook for the future. I believe Nvidia still has a lot of room to grow. Yet, this time, NVDA stock could see more pressure ahead in the short term.
---
Pete Johnson is an experienced financial writer and content creator who specializes in equity research and derivatives. He has over ten years of personal investing experience. Digging through 10-K forms and finding hidden gems is his favorite pastime. When Pete isn't researching stocks or writing, you can find him enjoying the outdoors or working up a sweat exercising.