Crypto
The Ox Crypto Token Is Up: Here's How Long That's Likely to Last
Some crypto traders like to buy on good news. And others wait for the good news to sell. And both of those things have happened recently with the Ox crypto protocol token ZRX.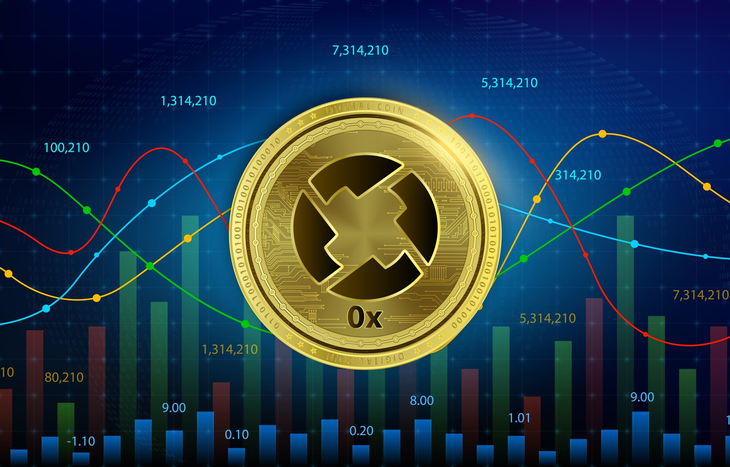 For a token that's been around as long as Ox crypto, a jump in value of more than 50% in a 24-hour period is usually a sign that something big happened. And in this case, it was the announcement of a partnership with one of the biggest names in crypto: Coinbase.
Now, the Ox blockchain project had already made a respectable name for itself as a liquidity aggregator. It supports the likes of the new BNB Smart Chain, Ethereum and Fantom, among others. But the reason for the recent 50% spike of the Ox crypto token was due to the announcement that Ox will power the social NFT marketplace on Coinbase.
We're proud to partner with @Coinbase_NFT to power their new social marketplace for NFTs! ⚡️

By using 0x Protocol, Coinbase provides better ways to discover, buy, sell, and connect around NFTs at the lowest transaction costs for users ⛽️https://t.co/GwZUsh3xzj

— 0x (@0xProject) April 20, 2022
The reason behind Coinbase's decision was straightforward. It's simply more gas efficient than the other protocols that were under consideration – up to 54% more efficient, according a statement from Coinbase.
But on top of this, Ox was able to provide simple NFT swaps supporting major token standards. Plus there will be non-custodial listings with off- and on-chain ordering options with instant royalties for creators.
While it's good to see more competition in the NFT space, not everyone embraced the news with open arms. Since the announcement, Ox crypto's value has dropped back down to pre-announcement levels. And Coinbase's (Nasdaq: COIN) stock price has retreated to all-time lows.
Obviously, the crypto-verse (and investors in general) were none too thrilled with Coinbase's late entry into NFTs. But this story is far from over…
Why the Ox Crypto Token Has Slid With Coinbase
A lot of folks believe that the NFT craze has peaked. The trend is over. And there are some figures that support that sentiment. More than half of the active, unique buyers and sellers have left. At the beginning of the year, there were more than 21,000 NFT sellers. That number has fallen to roughly 7,000. And the numbers of buyers have fallen about the same.
On top of this, some griped that the market is simply too crowded at this point. Above and beyond OpenSea, there are several other popular NFT outfits like SuperRare, Nifty and LooksRare. Plus, Coinbase's NFT marketplace doesn't offer minting at this point.
But do keep in mind, Coinbase's NFT marketplace is still in a limited beta stage. Some have derided this as a drawback. But it's a pretty common way for companies to slowly roll out and test new projects. It's a cheaper alternative to hiring a whole bunch of new research and development teams. Plus those that get in early for the beta get to feel a sense of exclusivity.
But beyond all of this, we believe the Coinbase NFT market is far from DOA. And the same goes for the Ox crypto token. The NFT market as we've seen it may be fading. But the capabilities of this nascent technology are far from fully realized.
We've got enough gray hairs in our beard to remember when naysayers thought that whole internet thing would fade away too. And as our friend Andy Snyder of Manward Press recently wrote:
In the 1970s, most folks used typewriters. Few folks believed there'd someday be a computer on every corporate desk… let alone one in every house.

The internet, too, faced skepticism. Plenty of big-name experts said it was a fad. It'd never go anywhere.
How NFTs Are Evolving
Coinbase may be late to the NFTs. And it is indeed entering a rather crowded field. But it stands out in terms of its user experience. We've used dozens of exchanges. Decentralized exchanges and other centralized ones like Coinbase both have their merits. But if Coinbase's NFT marketplace can replicate the simplicity of its crypto exchange, it could help usher in a whole new wave of NFTs. And that bodes very well for Ox crypto, which inadvertently helps power it.
Getting back to our analogy above, in the old days, the internet was just a means for those with the know-how to communicate. The media derided it too as a fringy thing that'd come and go without much need to pay it any mind. But again, here are some thoughts from Andy Snyder:
But others saw the nuance in it. They saw the potential the headline writers missed. They got rich.

The internet, as we all know now, does a lot more than let a couple of nerds write to their code-typing pals on another campus.
To us, this whole NFT thing seems strangely reminiscent of those heady days the internet was built on. Illustrations of apes, punks and anime characters aren't the only thing NFT tech can be applied to. And because of this, the Ox protocol and Coinbase would be opening up a whole new world of possibilities.
It's certainly not out of the realm of possibilities that Coinbase could use its forthcoming public NFT marketplace for a slew of opportunities. It could bring the ability to buy concert tickets though Coinbase instead of Ticketmaster. Entering the NFT market could allow Coinbase to get into the real estate market. One day, folks might be able to store their medical records and academic credentials in their Coinbase wallets.
Speculation Is Still the Name of the Game Though
You probably noticed a lot of italics up there. Those were used to accentuate the point that this is all still a big maybe. Coinbase's NFT market could just as easily become the Netscape of the NFT markets.
That being said, it's proved itself well in the crypto market. And extending into the NFT market (even if it is tardy) opens up a new realm of possibilities. Remember, Apple (Nasdaq: AAPL) started out as a computer maker. And now, the first American trillion-dollar company makes most of its revenue from phones and it's app and music stores.
It took a while for Apple to pivot. And we expect it to take a while for Coinbase to make any sort of pivot too. Nonetheless, the partnership with Ox crypto opens up new possibilities. It wouldn't be at all surprising to see Coinbase follow Apple's lead and become a place to download NFT music a couple of years from now.
However, if Coinbase sticks to just proprietary illustrations in its NFT marketplace, then we will begrudgingly eat our words here. And it'll be both a waste of the Ox protocol and its underlying Ox crypto token. But that just doesn't seem likely. It would be leaving an awful lot of money on the table in doing so. And again, it would be bringing down Ox crypto tokens with it in the process.
For our money, that just doesn't seem likely. That's why we think Ox crypto is trading at a discount right now. And that's despite its recent big gains. It could be in the process of helping launch any number of new revenue streams for Coinbase. And any of them could do wonders for the value of Ox crypto.
---
Matthew Makowski is a senior research analyst and writer at Investment U. He has been studying and writing about the markets for 20 years. Equally comfortable identifying value stocks as he is discounts in the crypto markets, Matthew began mining Bitcoin in 2011 and has since honed his focus on the cryptocurrency markets as a whole. He is a graduate of Rutgers University and lives in Colorado with his dogs Dorito and Pretzel.