The Polestar IPO is the newest opportunity in the EV market. The company is going public via a SPAC deal with Gores Guggenheim. Let's look at the details…
Polestar SPAC IPO: About the Electric Vehicle Company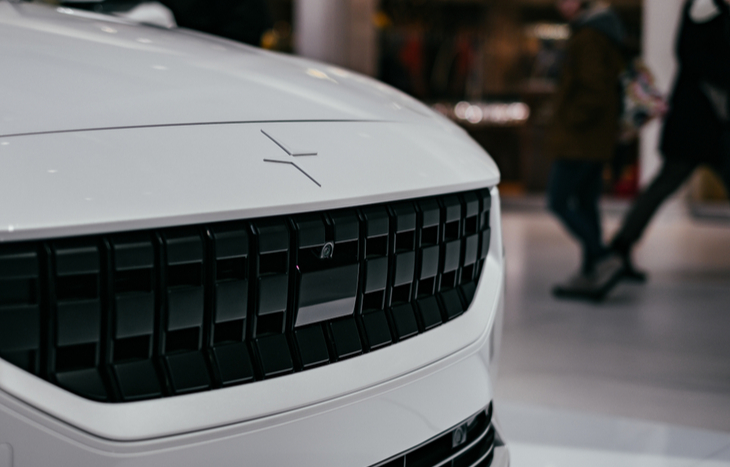 Polestar is a Swedish electric vehicle (EV) manufacturer. The company has become an award-winning name for its cutting-edge electric performance cars. Polestar falls under Volvo Car Group's electric performance brand. However, both Polestar and Volvo belong to Chinese car maker Zhejiang Geely Holding Group.
Founded in 2017, Polestar stands out for making high-quality, innovative cars with a sustainable focus. The company has developed two award-winning electric vehicles…
The Polestar 1 is a low-volume electric hybrid car. In pure electric, the vehicle has a range of 60 miles. The Polestar 1 has the longest range of any gas-electric hybrid in the world. The car costs over $150,000.
The Polestar 2 is an electric performance luxury car. It's the company's first fully-electric, high-volume car. The car has a range of 260 miles. It starts retailing at $59,900.
Both models are being sold in 14 markets throughout Europe, North America and Asia. Polestar delivered approximately 10,000 vehicles in 2020, according to a Reuters report. It expects to sell approximately 290,000 vehicles per year by 2025. Furthermore, the company plans to launch three new models by 2024.
Polestar Announces Plans to Launch Three New Models by 2024
In June, the automaker announced its plans to manufacture its first SUV, the Polestar 3. It plans to build the SUV at Volvo's U.S. plant in South Carolina. Production of the Polestar 3 will launch at the beginning of 2022. However, an American manufacturing facility and high-quality parts are not cheap. Polestar may be able to get the funds it needs by going public if the reports are true.
A Polestar SPAC IPO will also help the company reach the U.S. market faster, enabling it to compete with Tesla. Polestar claims its car is better than Tesla. Yet, the company lacks the capital to make it the same sort of household name in the EV industry.
Polestar has to be a reliable and trusted brand to compete with market leaders. After Polestar recalled all of its global vehicles due to faulty components last year, this is especially important.
Polestar to Create Climate-Neutral Car in Polestar 0 Project
In April 2021, Polestar announced plans to create a truly climate-neutral car by 2030 in its Polestar 0 project. The company aims to go beyond producing toxic emissions. It is working to eliminate all emissions throughout the supply chain and production of its cars.
In a statement, Polestar's Head of Sustainability said…
As an electric car maker, we don't have to worry about combustion engines producing toxic emissions, but that doesn't mean our job is done. Now we must focus all our efforts on cutting emissions in the supply chain and in the production of our cars. This is a historic and exciting time for car makers, an opportunity to seize the moment and do better. For the first time, we can dare to dream about a future with climate-neutral, circular, but still beautiful cars, and the human right to air that is cleaner to breathe.
Polestar's commitment to sustainable efforts could lead to the world's first climate-neutral car. In a report, Polestar's CEO Thomas Ingenlath said…
Offsetting is a cop-out. By pushing ourselves to create a completely climate-neutral car, we are forced to reach beyond what is possible today.  We will have to question everything, innovate and look to exponential technologies as we design towards zero.
With groundbreaking technologies in development, the company could change the way we live forever. For this reason, investors are eager to capitalize ahead of a revolution in EVs.
Polestar Has Not Achieved Profitability Since Inception
Throughout two funding rounds, Polestar has raised $550 million in total. Despite the company's growth, the company has yet to achieve a profit. According to the Volvo Cars Annual Report 2020, Polestar reported an annual loss of MSEK 3.56 billion ($415.43 million.) Despite that, Polestar earned MSEK 5.54 billion ($645 million) in revenue in the same period.
Investors aren't likely to lose interest in Polestar because it hasn't turned a profit yet. Rumors suggest that the Polestar SPAC IPO will have a $25 billion post-valuation. The figure is 38x the company's 2020 revenue. For reference, Tesla trades at 19.96x its 2020 revenue.
So what are the Polestar IPO details?
Polestar SPAC IPO via Merger with Gores Guggenheim
The company announced plans for a Polestar IPO via a SPAC deal with Gores Guggenheim. The deal could value the firm at around $25 billion, according to Bloomberg.
Upon closing of the deal, the combined company will be publicly traded under the name Polestar Automotive Holding UK Limited. It will trade on Nasdaq under the ticker symbol PSNY.
The Polestar IPO is expected to take place in the first half of 2022. Upon approval by Gores Guggenheim's stockholders, the deal will close. Deals involving SPACs are usually done much faster than traditional IPOs and provide investors with less notice. To learn more, here's what a SPAC deal is and how it differs from an IPO.
The SPAC deal expects to generate $800 million in proceeds from Gores Guggenheim. As part of the deal, institutional investors are investing $250 million in PIPE, or private investment in public equity.
The Polestar SPAC IPO is banking on a hot market that shows no signs of slowing down this year, just like other EV companies. EV-related companies like Amazon-backed Rivian are making a public debut after Lucid Motors' successful IPO.
Make sure you do your research before investing. IPOs can be volatile for the first few months. Moreover, if IPO investing interests you, check out our top recent IPOs and IPO calendar. We update the calendar daily to give you the latest news on upcoming and filed IPOs.
If you're looking for the latest investment opportunities, consider signing up for Liberty Through Wealth. This free e-letter is full of market insights from leading experts. You'll hear from bestselling author and investment expert Alexander Green. It's one of the easiest ways to stay on top of market news out there. All you need to do is enter your email address in the box below to get started.
---
Aimee Bohn graduated from the College of Business and Economics at Towson University. Her background in marketing research helps her uncover valuable trends. Over the past year, her primary focus has been researching IPOs and other trends.