The Toast IPO made its debut on the NYSE on September 22.
Shares surged over 60% after the company priced above the expected price range of $34 to $36 per share. Here's what we know…
Toast IPO: About the Business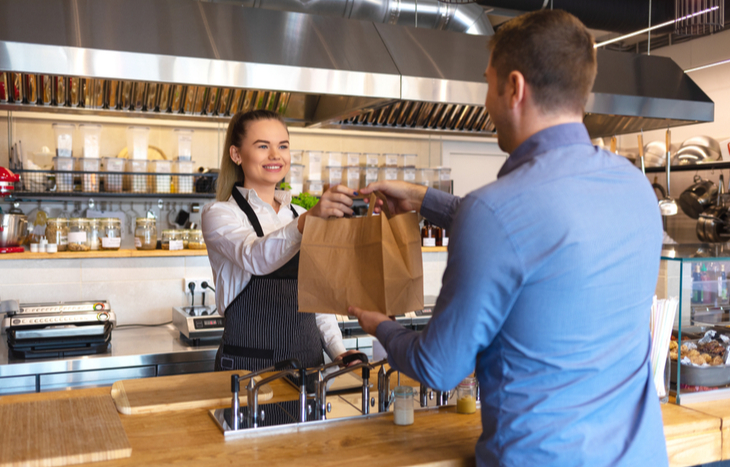 Toast is a mobile and digital payment processor operating in the restaurant industry. Aman Narang, Jon Grimm and Steve Fredette founded the company in Aman's basement. The three faced humble beginnings with a failed initial launch and a lack of resources. Today, the company is the leading cloud-based restaurant management platform.
Toast helps restaurants to streamline online and in-store orders. The platform manages online ordering, on-demand delivery and integrates all payment channels. As of June 30, Toast works with around 48,000 restaurant locations across 29,000 customers.
Restaurant Industry Faces Hard Hit During COVID-19
The restaurant industry took a hard hit in the wake of the pandemic. Restaurant sales declined by 80% in most cities. Many businesses closed temporarily to never reopen. Toast cut about half of its workforce as the virus forced businesses to close.
The restaurants that could stay open were only able to serve food via delivery and takeout. And even though Toast provides delivery and takeout services, the company took a hit from customers that closed or opted out. But the company bounced back as more restaurants implemented online ordering services. From March to December 2020, Toast processed nearly 50 million orders through digital platforms.
The push for digital, contact-free payment in the restaurant industry is stronger than ever. And investors could win big with the Toast IPO. Last year alone, the company's recurring revenue increased by 70 percent. Let's dive into Toast's finances…
Toast IPO: Financial Information
Detailed financial information is in the Toast IPO prospectus, allowing you to gain more insight into the company's finances. If you're in the market for TOST stock, let's look at the details.
Toast highlights some key information for investors. The company's balance sheet data is summarized as follows…
Revenue: The company recorded an increase in revenue. Toast recorded $665 million in revenue for the 2019 fiscal year. In 2020, Toast reported an increase to $823 million.
Gross Profit: The company's gross profit has grown. Toast recorded a gross profit of $62 million for the 2019 fiscal year. In 2020, the company recorded $140 million in gross profit – representing year-over-year growth of over 125%.
Net Income (loss): Toast's net loss has grown. For the year 2019, the company recorded a net loss of $209 million. By the end of 2020, the company's net losses grew to over $248 million.
Cash: Toast's cash flow has skyrocketed. The company recorded $150 million in cash as of 2019. For the year 2020, the company's cash grew to $582 million in 2020. In just a year, Toast's cash grew by almost 287%.
Total Assets and Liabilities: Toast's total assets have decreased and total liabilities have increased. As of December 31, 2020, the company reported $776 million in total assets and $398 million in total liabilities. As of June 30, Toast has $696 million in total assets and $462 million in total liabilities.
Toast raised $400 million in a funding round in February 2020. The Series F funding round landed the company a valuation of $4.9 billion.
Toast's filing valued the company at $23 billion post valuation. For those interested in the Toast IPO, let's look at the details.
Toast IPO Values Company at $23 Billion
The company hit the New York Stock Exchange (NYSE) under the ticker symbol "TOST" on September 22.
In the offering, Toast offered over 21.7 million shares. The company raised $870 million in its public offering, pricing at $40 per share.
Shares surged 63% after the company priced above the expected price range of $34 to $36 per share.
The Toast IPO gave the company a fully diluted market value of $22.9 billion.
Goldman Sachs, Morgan Stanley and JP Morgan are leading the offering.
If you're interested in other food industry investing opportunities, check out the Zomato IPO and these top restaurant stocks.
As always, make sure to research before you invest. IPOs can be volatile for the first few months and share prices are constantly changing. But if IPO investing interests you, check out our top recent IPOs and our IPO calendar. It's updated daily to give you the latest news on upcoming and filed IPOs.
If you're looking for the latest investment opportunities, consider signing up for Liberty Through Wealth. This free e-letter is full of market insights from leading experts. You'll hear from bestselling author and investment expert Alexander Green. It's one of the easiest ways to stay on top of market news out there. All you need to do is enter your email address in the box below to get started.
---
Aimee Bohn graduated from the College of Business and Economics at Towson University. Her background in marketing research helps her uncover valuable trends. Over the past year, her primary focus has been researching IPOs and other trends.