The Virgin Orbit IPO is on its way. CEO Dan Hart announced the company was going public via SPAC (special purpose acquisition company) merger earlier this week.
But should you invest in the Virgin Orbit IPO? Here's what we know…
Virgin Orbit IPO: About the Business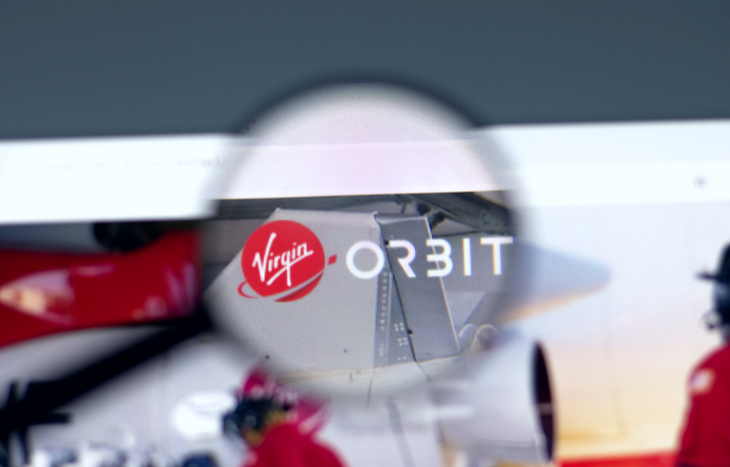 Virgin Orbit is a small-satellite launch service. Richard Branson founded the company in 2017, and it's owned by the Virgin Group. It aims to revolutionize the small satellite industry and serve military and commercial customers at the lower end of the space market.
The company uses an unconventional launching technique compared with Jeff Bezos' Blue Origin and Elon Musk's SpaceX. Virgin Orbit uses a special "air launch" system in which a spacecraft is attached to the undercarriage of a Boeing 747 plane. Once conditions are appropriate, the plane sends the spacecraft into orbit. The air launch approach provides more flexibility than the industry standard vertical launch rockets, the company has said.
Virgin Orbit has launches booked by customers ranging from the U.S. Space Force to the U.K.'s Royal Air Force. The company's customer base also includes commercial customers like Swarm Technologies, Italy's Sitael and Denmark's GomSpace.
In January, Virgin Orbit successfully reached orbit during its second test flight with its LauncherOne system. The company modified a Boeing 747-400 to launch a rocket into space. The plane flew out to a launch site 50 miles south of California's Channel Islands. Once the plane reached a 35,000-foot altitude, the booster released, fired up its own engine and ascended to orbit. Virgin Orbit's launch demonstrated that affordable access to space is possible, according to the company.
In a press release, the company stated that the successful demonstration will allow the company to transition into commercial service for its next mission. Let's see how the Virgin Orbit IPO could help fund growth initiatives…
Plans for Growth
In a press release, Virgin Orbit stated…
Proceeds from the business combination and PIPE [private investment in public equity] transaction are expected to provide growth capital to further scale rocket manufacturing to meet customer demand and to fund growth in [the] space solutions business and Virgin Orbit's ongoing product development initiatives.
Going public can help give a company funds to help facilitate growth. But investors interested in the Virgin Orbit IPO should know that the company didn't choose to go public through a traditional IPO.
Virgin Orbit SPAC IPO
A SPAC is also referred to as a blank-check company. It is a shell company with no active business operations. It lists on major exchanges where investors can buy shares. The companies use funds raised by their sponsors and investors to acquire other companies. In this case, Virgin Orbit is combining with SPAC NextGen Acquisition Corp. II (Nasdaq: NGCA).
The founder of Virgin Orbit, Richard Branson, commented…
The Virgin Orbit team has proven its ability to create new ideas, new approaches, and new capabilities. They are building on the incredible foundation of their rapid transition into successful commercial launch operations to find new ways to solve big problems that uplift our customers' amazing ideas, again and again. I'm very excited we are taking Virgin Orbit public, with the support of our partners at NextGen and our other wonderful investors. It's another milestone for empowering all of those working today to build space technology that will positively change the world.
George Mattson and Greg Summe, the co-founders of NextGen, added…
We are delighted that our search for a great company with strong organic growth in a large and growing market, disruptive technology, and a world-class management team has led to our partnership with Virgin Orbit. The space economy is developing rapidly, and Virgin Orbit is well positioned to benefit through its ability to competitively launch at any time, from any place on Earth, to any orbit and inclination. This is a truly unique and differentiating capability. We have worked with Sir Richard and the Virgin Group on various projects, including Virgin Galactic, over the last few years, and [we] admire their vision and commitment as they have built Virgin Orbit from an idea to a commercial reality. We look forward to leveraging our industry and financial experience, along with our public company leadership and governance experience, to help Virgin Orbit deliver the next chapter of its exciting journey as a public company.
So what are all the details you need to know about the Virgin Orbit IPO?
Virgin Orbit IPO Filing Details
The Virgin Orbit IPO began when the company entered a merger agreement with NextGen Acquisition Corp. on August 23. Former Goldman Sachs and PerkinElmer executives founded the special purpose acquisition company.
Virgin Orbit and NextGen expect to complete the business combination at the end of 2021. Virgin Orbit will keep its name, and shares of stock will trade on the Nasdaq exchange under the ticker symbol VORB.
The deal values the combined company at $3.2 billion. Upon closing, the combined company expects to generate $483 million in cash proceeds. This includes a $100 million PIPE round raised by investors including Boeing and AE Industrial Partners.
Investors can find more information on the Virgin Orbit IPO in NextGen's most recent Form 8-K filed with the Securities and Exchange Commission (SEC).
As always, make sure to do your own research before you invest. IPOs can be volatile for the first few months. And share prices can change quickly. But if IPO investing interests you, check out our top recent IPOs and our IPO calendar. We update the calendar daily to give you the latest news on upcoming and filed IPOs.
If space-related investing opportunities catch your eye, check out these space stocks to keep an eye on this year.
If you're looking for the latest investment opportunities, consider signing up for Liberty Through Wealth. This free e-letter is full of market insights from leading experts. You'll hear directly from bestselling author and investment expert Alexander Green. He also worked as an investment advisor, research analyst and portfolio manager on Wall Street for 16 years.
---
Aimee Bohn graduated from the College of Business and Economics at Towson University. Her background in marketing research helps her uncover valuable trends. Over the past year, her primary focus has been researching IPOs and other trends.