Walgreens just recently announced its FY Q1 2021 earnings. The stock fell on the news even though Walgreens beat analysts' expectations. It also raised its income projections for the entire year. On the back of this good news, many investors are taking another look at Walgreens stock.
Right now, there are several reasons to be excited about drugstores in general. Over the past 2-3 years, there have been more reasons than normal to visit one. Mainly, to get a COVID-19 shot, testing kit, or a facemask. For better or worse, COVID-19 has boosted foot traffic in America's drugstores. Additionally, "America's drugstores" really only refers to two companies. The two major pharmacies in the U.S. are CVS and Walgreens. To a lesser extent, you have Health Mart, Rite Aid and Good Neighbor Pharmacy. You also technically have Walmart, although that's much more than just a pharmacy.
With so many more people visiting drugstores, is this a good time to invest in Walgreens stock? Or, is the surge of traffic finally dying down? Let's take a look and find out.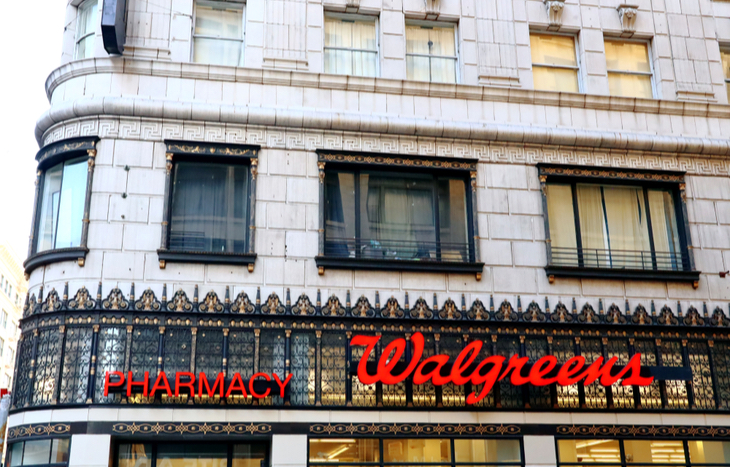 Walgreens Stock Forecast
What does Walgreens do?
Walgreens Boot Alliance is a holding company that's headquartered in Illinois. You probably recognize it from its two integrated pharmacies, Walgreens and Duane Reade. Every day, Walgreens helps millions of people get access to healthcare staples. It has about 13,000 locations in the U.S., Europe, and Latin America. However, the bulk of its income comes from the U.S.
Walgreens is also a member of the Dow Jones Industrial Average. This means that it is one of the thirty most important companies in the United States.
Let's take a look at what Walgreens has been up to recently.
Recent Announcements:
Recently declared a quarterly dividend of 47 cents per share.
Began the process of selling Boots Pharmacy division – This pharmacy mainly operates in Britain. It is valued at US$9.6 billion.
Last fall, Walgreens increased its ownership stake in VillageMD. This partnership will help Walgreens bring full-service primary care to customers. It is the first pharmacy to put physicians and pharmacists under one roof.
Stock Predictions
As mentioned, Walgreens reported its earnings for FY Q1 2022. In good news, it beat analysts' expectations. It also raised its guidance for the rest of the year. Here are a few of the takeaways from the report:
Total sales of $33.9 billion, up 7.8% from last year.
Earnings per share of $4.13, up from -$0.45 from last year.
Operating income of $1.3 billion. Up from a loss of $535 million last year.
For the full FY 2021, Walgreens reported annual revenue of $132.51 billion, up 8% year-over-year (YOY). It also reported a net income of $2.54 billion, up 457% YOY.
CEO Rosalind Brewer believes that the company is "well-positioned for sustainable, long-term value creation." More recently, Walgreens declared a quarterly dividend of 47 cents per share. This brings their dividend yield to 3.84%.
It wasn't all good news for Walgreens though. According to CFO James Kehoe, the company is getting hurt by the current labor shortage. Moving forward, it will spend $120 million more on wages. This is mainly to compete with other retailers in a tight labor market.
So, does this mean that it's a good time to buy Walgreens stock? Let's take a look at some of the pros and cons of investing in Walgreens.
Should I Buy Walgreens Stock? Potential Upsides
Walgreens is undoubtedly profiting from the coronavirus pandemic. It benefits directly from the sale of coronavirus-related products. For example, COVID-19 vaccines, face-masks and tests. However, Walgreens also profits indirectly from the surge of people visiting its stores.
Same-store retail sales increased 10.6% from the previous year. This is the largest jump in 20 years. It's safe to assume that this increased foot traffic is helping boost sales in other areas. For example, more people than ever are visiting Walgreens locations for covid-related products. However, while they are there, these people are also likely to buy aspirin, tissues, and other products.
All of this is good news for Walgreens. However, from an investing perspective, any COVID-19 news will most likely not impact the stock greatly in the short term. This is mainly because investors have known this information for a while. Since the start of 2020, Walgreen's stock is down 15%. By this point, any good news from vaccine sales has been priced into the stock. Increased sales have also been offset by labor shortages and inflationary expenses.
Need A Doc? Head To Walgreens!
In today's volatile market, trying to invest around COVID-19 news is not the most reliable strategy. With that said, there are still plenty of upsides to buying Walgreens stock. In particular, its investment in VillageMD is particularly exciting.
Right now, pharmacies in the U.S. have become fairly interchangeable. There might be mild differences between CVS and Walgreens. But, for the most part, they offer the same service. It's tough to name any major products that CVS sells that Walgreens doesn't (and vice versa). Your decision on which to visit will probably come down to which one is closest. With that said, Walgreens' investment in VillageMD could be the gamechanger that it needs.
In the United States, primary-based service is a trillion-dollar market. It is also the fastest-growing segment of the healthcare industry. With its investment in VillageMD, Walgreens wants to break into this market. By 2021, it plans to operate over 600 primary care practices. By 2027, it plans to operate 1,000. Many of these will be in undeveloped areas.
This investment could allow Walgreens to tap into a massive new revenue stream. Mainly, people with limited access to healthcare. By bringing new customers into the market, it will also set up its pharmacies to become the de facto stop to pick up prescriptions. On top of all this, Waglreens is condensing the healthcare process. Now, consumers can visit a doctor and pick up prescribed medication all in one visit.
This may sound like a small tweak to most people's healthcare routine. However, it could end up being a big reason to own Walgreens stock over the coming years.
So what about the major downsides of owning Walgreens stock?
Should I Buy Walgreens Stock? Potential Downsides
Walgreens stock is down almost 40% in the past five years. For comparison, rival CVS is up about the same amount. In fact, since 2010 Walgreens stock is up only 30%. Even during its best run-up of the decade, it only rose 160%. For whatever reason, this stock just doesn't move much. Therefore, the biggest downside to owning Walgreens stock is the opportunity cost. By this, I mean that your money could be generating a much higher return elsewhere.
There are so many new and exciting places to put your money. For example, some cryptocurrencies and NFTs generate weekly returns that rival Walgreens' decade return. If these sound too risky, there are still plenty of growth stocks to consider. Or, you could invest in a massive trend such as the metaverse.
You could even just invest in an exchange-traded fund. This is a very safe way to let your money consistently grow. For example, you could buy a fund that tracks the Nasdaq or S&P 500. Over the past five years, these indexes have returned 149% and 98% respectively. Both of these funds have vastly outperformed Walgreens. You could even invest in the Dow Jones, of which Walgreens is a member.
At the end of the day, there really is no "right" or "wrong" answer. It just comes down to what your goals are as an investor. Walgreens pays a massive dividend and is a fairly stable stock. This might appeal to a lot of investors. However, it does not have a history of massive growth which probably discourages a lot of investors. t all depends on what you are looking for.
I hope that you've found this Walgreens stock forecast to be valuable! As usual, please base all investment decisions on your own due diligence and risk tolerance.
---